Shoulder bags and briefcases are popular means of carrying around your belongings. Especially when commuting to work or school every day. However, it can be tiresome and inconvenient to carry around when traveling on business trips. Therefore, in such cases you need a business travel backpack. Business backpacks are more comfortable and easier to carry around. Also, they provide more storage and better organization for all important items you need to bring along.
Business backpacks are designed for people who travel to work or fly around the globe for professional or business-related commitments on a frequent basis. The backpacks are ideal to carry important documents, laptop, and other personal items such as a phone charger or even your makeup kit without causing lower back and neck pain. They are also made from strong and durable materials and feature great padding to keep your laptop and other delicate gadgets safe from damage.
A high-quality backpack increases efficiency and makes life easier for the frequent traveler. It will help you get through airports, train stations, cabs, and other stops in your business trip without having to suffer the inconvenience of dragging around bulky rollers or heavy duffel bags that will often slow you down and ruin your traveling experience.
(TIP: Read to the end to find a gift)
Our Best Business Travel Backpacks
If you frequently go on business trips and you are looking for a backpack that you could drag along across the country, then you have to check out our best business travel backpacks. We narrowed down to best 5, because anything above that is just too much to make a quick decision. So, without further ado, here they are:
1. Leather Laptop Backpack – Nagoya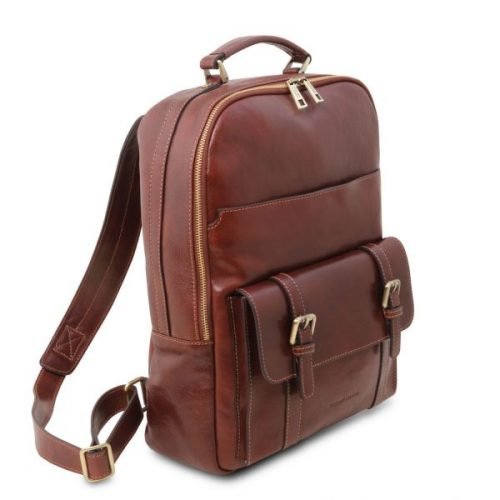 This beautiful leather laptop backpack Nagoya is elegant, practical and extremely durable business travel backpack. It is made of full grain leather crafted to ensure durability, comfort, and a classy style. Its interior features 100% cotton material that's not only soft but also keeps your stuff safe from scratches and damage. It is loaded with plenty of very useful features that even a seasoned traveler will appreciate. Nagoya is not the most spacious backpack out there, however we believe it's not about the quantity that you bring along that matters. Therefore, Nagoya will allow you to really think it over what items deserve to be in it, and what not.
The backpack comes equipped with 1 main compartment that is suitable for laptops, document folders and anything else of similar size. Its semi-rigid structure will protect whatever you throw at it, but will also feel nice when you have to actually touch it with your own hands. In other words, Nagoya is quite a balanced backpack.
So if you are looking for practical and cozy backpack to bring along on your business trip, it should be no other than Nagoya.
Useful features:
Shock-absorbent;
Open pocket on the front side;
Pocket with closure on the front side;
2 openings on the back side to be attached to a trolley;
Interior padded partition;
Numerous inner pockets;
Suitable for A4 format;
12.2 x 15.35 x 5.91 inch;
2.98 Lbs
Buy it here
2. Leather Laptop Backpack for Travel – Phuket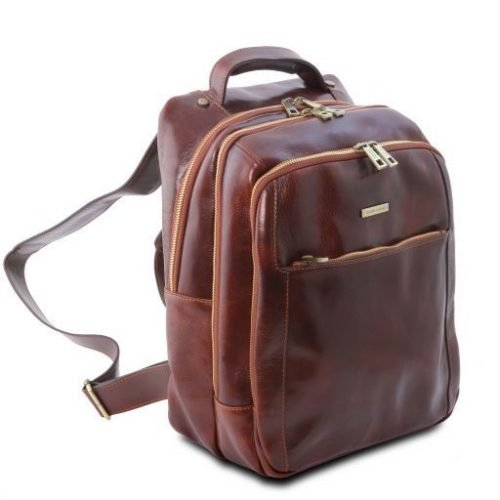 The Phuket leather laptop backpack is a great backpack with all the features needed in a business travel backpack. It comes equipped with 3 well-padded compartments to accommodate delicate items such as your laptop without having to worry about damages caused by knocks and drops. It's important to note, however, that it is better to avoid knocks and drops entirely. But if it does happen, shock absorbent system will come in handy. 3 compartments will expand your possibilities and will make it easy to stay well-organized and prepared for whatever life throws at you.
Phuket has a design that goes well with both formal and casual occasions. It is only possible so thanks to the material it was made of – full grain leather. And not just any. It's full grain Italian leather, which is absolutely known for being the top-notch material used in manufacturing leather business travel backpacks. So if you are looking for an excellent backpack to accompany you during your business travels, look no further.
Other useful features:
Semi-rigid structure;
Shock absorbent;
Front pocket with closure;
Multiple interior pockets;
Adjustable shoulder straps;
Suitable for A4 format document folders;
Suitable for 10″ tablets;
Holds a laptop up to 13.3″;
10.63 x 6.69 x 14.57 inch;
3.09 Lbs.
3. Books Travel Leather Backpack – A Brief Story of Time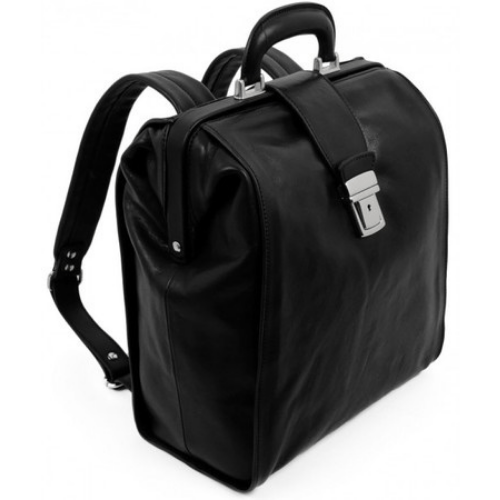 One thing you will like about this books travel backpack is its high level of comfort and even higher level of practicality. Meet our Brief Story of Time, an amazing backpack for those travelling on business trips. Why you may ask. Well, its formal appearance will ensure you don't stand out too much in formal environments, where standing out is something not welcome, as it can be pulled of as a briefcase in the moments, due to its rigid looking form. However, once you wear it as a backpack, all eyes will be on you. Ask yourself when is the last time you have seen a backpack like this? Probably never.
The backpack comes with two main compartments, and is filled with features. After all, it was made in modern days and was designed with a modern man or a woman in mind. Therefore, don't get fooled by its classical-briefcase-looking exterior. In addition, it was made of full grain leather that will ensure your experience with it will last as long as you choose. Something great to think about.
Useful features:
Organizer panel for two smartphones;
Convenient pocket for your tablet;
Suitable for 15″ laptop;
Suitable for A4 format;
1 interior zip pocket;
Push-button lock with key;
11.81 x 13.77 x 6.5 inch;
3.96 lbs.
4. Leather Travel Backpack – Pechino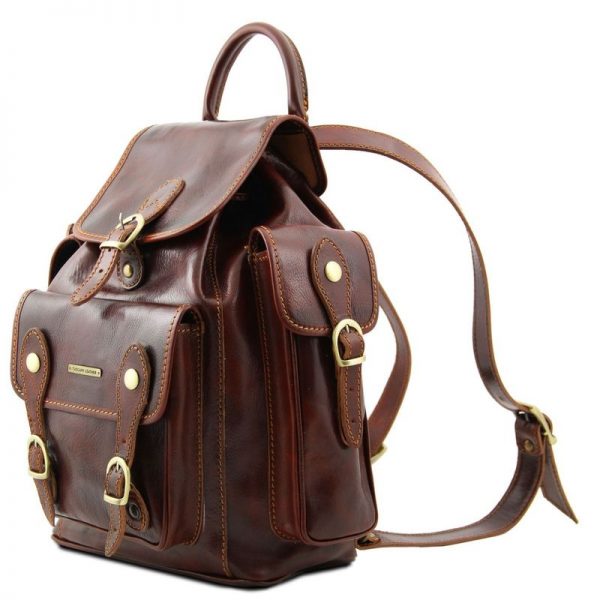 This leather travel backpack Pechino is perfect for travelers of all kind, whether it'd be leisure or business. It might not give an impression of being quite spacious, but trust us, it is. Pechino backpack is made of full grain leather, which will ensure that it lasts you a lifetime. Just imagine for a second having a backpack that has been to practically every business trip you have gone to. Impossible one might say, but we know it could be the case only if you choose to.
Pechino travel backpack comes with one main compartment, which is suitable for a laptop or standard A4 sized document folders. Therefore, if you are looking for a beautiful, durable and practical backpack for your business travels, Pechino will get the job done.
Useful features:
2 front pockets with closure;
2 side pockets with closure;
Suitable for A4 format;
Button closure;
Drawstring closure;
12.6 x 14.96 x 6.3 inch;
3.31 lbs.
5. Leather Laptop Backpack – Kyoto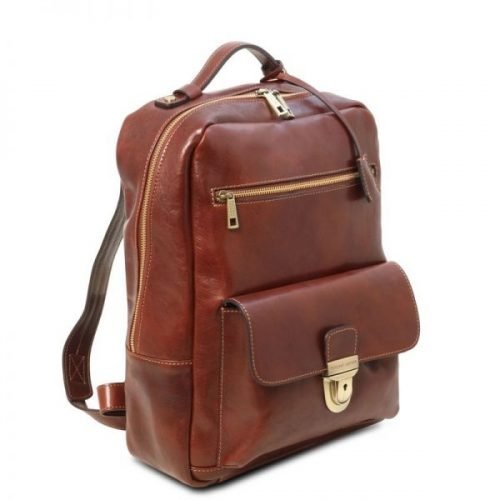 This is truly elegant, fashionable and at the same time laid-back backpack whose design is inspired by the Tokyo fashion scene style. Meet Kyoto, our outstanding leather travel backpack. It is made of high-quality full grain leather with a little bit more sophistication added to enhance its stylish look. It is extremely durable backpack that can accommodate all your essential items when you are out on a business trip. It will protect your laptop, tablets, folders and whatever else you throw at it like they are its own children. Therefore, you can travel with your mind at ease no matter where you go.
It is equipped with one main compartment to ensure you have enough space for your main and larger item, whatever it may be. Kyoto also comes in a semi-rigid structure, which is clearly our favorite due to practicality and comfort. So, if you have any doubts about what exactly you are looking for, give Kyoto a chance and you will not regret it. It is, after all, one of the best business travel backpacks we can propose to you.
Useful features:
2 outer pockets with closure;
2 openings on the back side to be attached on the trolley;
Numerous inner zip and open pockets;
Suitable for A4 format;
Kiss-lock;
3 way zip closure;
12.2 x 15.35 x 5.91 inch;
2.98 Lbs.
Other Best-Selling Business Travel Backpacks
Final Words
The backpack market is full of all types and styles of products. Each of them promises to provide great service and convenience when carrying your personal items when traveling for business or pleasure. These five backpacks are among the best business travel backpacks on the market today. We chose the products based on several factors including the type of laptop compartment each has, size, organizational features, style, and comfort.
Each of the backpacks we have covered comes with awesome organizational features such as separate open and zip pockets, organizer panels and special smartphone pockets. They are filled with various type and size external pockets, ensuring that every possible need is met with the greatest detail and care.
Another feature that we considered in our selection of backpacks is the fit and comfort level of each product. Our top five backpacks are neither too bulky nor too small for the average person's body frame. They come with strong, durable, and comfortable handles and shoulder straps. Each of the backpacks is a perfect choice for business travel.
Also, as promised, a little gift. For all of those who read to the end, these 5 laptop backpacks can be purchased with 15% discount using the code bestbackpack. 
So, without further ado, grab a discount and pick a backpack. Life is simple if you don't overcomplicate it 🙂
Hope you enjoyed the read. Follow us on Facebook!