Shoulder bags and briefcases are popular means of carrying around your belongings. Especially when commuting to work or school every day. However, it can be tiresome and inconvenient to carry around when traveling on business trips. Therefore, in such cases you need a business travel backpack. Business backpacks are more comfortable and easier to carry around. Also, they provide more storage and better organization for all important items you need to bring along.
Business backpacks are designed for people who travel to work or fly around the globe for professional or business-related commitments. The backpacks are ideal to carry important documents, laptop, and other personal items such as a phone charger or even your makeup kit. They are also made from strong and durable materials and feature great padding to keep your laptop and other delicate gadgets safe from damage.
A high-quality backpack increases efficiency and makes life easier for the frequent traveler. It will help you get through airports, train stations, cabs, and other stops in your business trip without having to suffer the inconvenience of dragging around bulky rollers or heavy duffel bags that will often slow you down and ruin your traveling experience.
(TIP: Read to the end to find a gift)
Our Best Business Travel Backpacks
If you frequently go on business trips and you are looking for a backpack that you could drag along across the country, then you have to check out our best business travel backpacks. We narrowed down to best 5, because anything above that is just too much to make a quick decision. So, without further ado, here they are:
1. Kobe Leather Backpack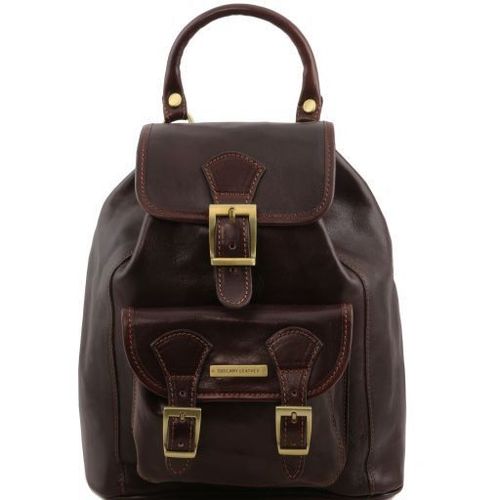 The Kobe Leather Backpack is a beautiful, practical, and extremely durable business travel backpack. Its exterior is made of full grain leather crafted to ensure durability, comfort, and a classy style. Its interior features 100% cotton material that's not only soft but also keeps your stuff safe from scratches and damage. Some of the key features of this backpack include a single but well-padded roomy compartment, exterior front pocket, two interior pockets and an extra zipped pocket, two adjustable shoulder straps made of leather, and a magnetic button closure. If you are looking for a comfortable full grain leather backpack, the Kobe Leather Backpack is a great option.
To check it out, click here.
2. Phuket 3 Compartments Leather Laptop Backpack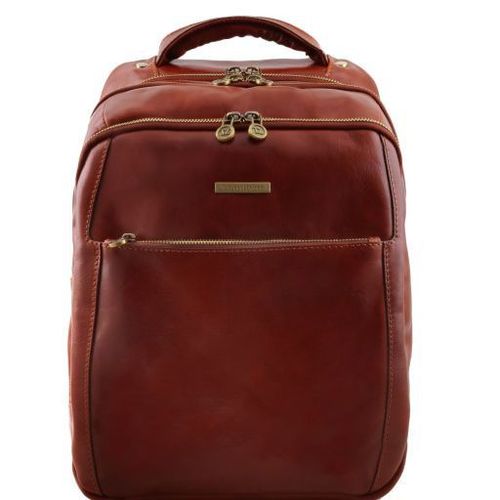 The Phuket leather laptop backpack is a great backpack with all the features you need in a business travel backpack. It has well-padded compartments to accommodate delicate items such as your laptop without having to worry about damages caused by knocks and drops. It has a design that goes well with both formal and casual occasions. Some of its key features include three well-padded compartments, exterior protective metal on the backpacks' bottom, a roomy exterior front pocket with closure, an interior zip pocket, exterior partitions, and adjustable shoulder straps made of leather. The backpack can comfortably fit at 13.3-inch laptop and features firm and secure zip closures.
To check it out, click here.
3. Osaka Leather Laptop Backpack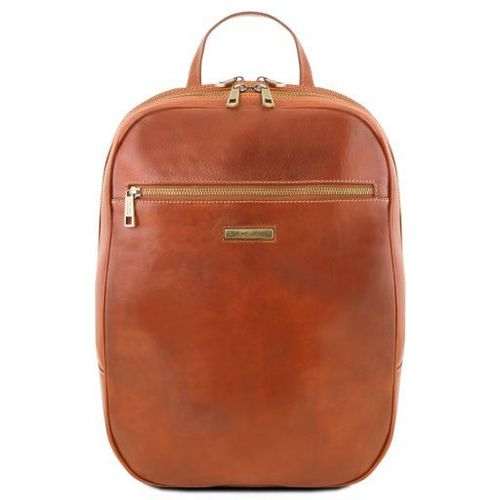 One thing you will like about this travel backpack is its high level of comfort. It also looks good on both formal and casual environments while providing you with a functional and secure way to carry your stuff when traveling. It has a well-padded safe compartment dedicated to your laptop, tablet, or any other delicate electronic gadget you'd need while traveling. Its stylish exterior is made of full grain leather that ensures durability, comfort, and a classy style. The interior is covered in soft 100% cotton material. With all these features, the Osaka Leather Laptop Backpack provides an easy and practical way to store your important stuff when you are out on a business trip.
To check it out, click here.
4. Women's Brown Leather Laptop Backpack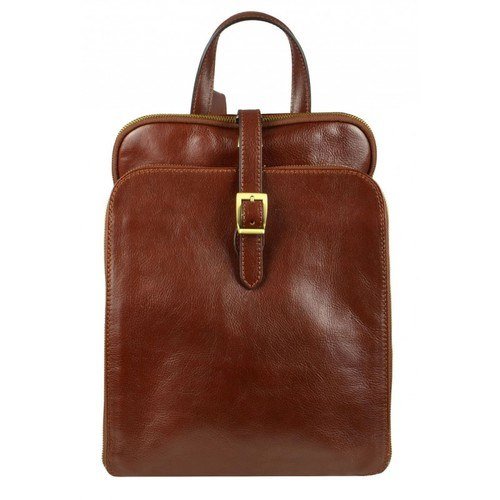 This leather laptop backpack is perfect for students and professionals who carry around their laptop wherever they go. It comes with soft padded compartments and pockets that can securely hold all your important items such as your phone, keys, cosmetics, books, and documents. The backpack also features a strong, comfortable, and durable handle as well as two shoulder straps. You can adjust the shoulder straps for a more comfortable fit and feature easy-to-maneuver brass buckles. The bottom part of the backpack is designed to sit perfectly on a flat surface without toppling over. Each of its zippers has a durable brass pull. The bag is designed to complement your dress style, whether you are in jeans or dress.
To check it out, click here.
5. Tokyo Leather Backpack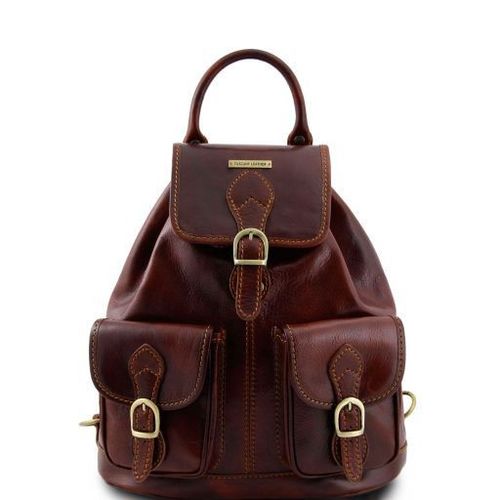 This is a simple laid-back backpack whose design is inspired by the Tokyo fashion scene style. It is made of high-quality leather with a little bit more sophistication added to enhance its stylish look. It is a feel-free but extremely durable backpack that can accommodate all your essential items when you are out on a business trip. Some of its key features include a single but roomy compartment, two exterior front pockets each with its own closure, a snap button closure, and a buckle closure. The Italian made pure leather backpack has been manufactured under a strict quality control process. It even comes with a 24-month warranty from the manufacturer.
To check it out, click here.
Best Business Travel Backpacks
The backpack market is full of all types and styles of products each promising to provide great service and convenience when carrying your personal stuff when traveling for business or pleasure. The five backpacks that we have discussed above are among the best business travel backpacks on the market today. We chose the products based on several factors including the type of laptop compartment each has, size, organizational features, style, and comfort.
Each of the backpacks we have covered comes with a separate padded laptop compartment to keep your important electronics secure whether you are traveling on road or by air. The padding is important to ensure that your laptop is safe from cracks, knocks, and any other physical damage. The backpacks also come with organizational features such as separate pockets for specific items. They have internal external pockets that will help you organize your stuff and make it easy to access anything you need fast and easy.
The type of backpack you carry also says a lot about your personal style. A good backpack should look sleek and stylish. The backpacks covered here have sleek designs that match both formal and casual situations. Therefore you can rest at ease knowing you look professional.
Another feature that we considered in our selection of backpacks is the fit and comfort level of each product. Our top five backpacks are neither too bulky nor too small for the average person's body frame. They come with strong, durable, and comfortable handles and shoulder straps. Each of the backpacks is a perfect choice for business travel.
Hope you enjoyed the read. Join our family by subscribing to our newsletter and follow us on Facebook!