It doesn't matter if you have a doctor in the family or you are a doctor yourself, out brown leather doctor bag is the perfect buy for any medical student or licensed doctor. With enough storage space to store all your everyday tools and a durable construction, our bag really can stand up to the test of time, while providing you with the organization and convenience that you need. This gadget friendly device has several different pockets that are capable of storing every device that you could need including a pocket for your laptop, and a pocket for your business cards and pens.
With an ergonomically designed carrying handle, you can lug this bag around all day and never worry about wearing out your hands. When you combine this with the lightweight design of 3 pounds and 8 ounces, this truly is one convenient and lightweight bag that can accommodate all your needs.
Features
Enough room for a laptop up to 15";
Pocket to keep your tablet at convenient reach;
Pockets for cards and pens;

Meets cabin size requirements with room to spare;

Carry handle with pleasant grip for easy carrying in hand;

Suitable for A4 documents and folders.
Dimensions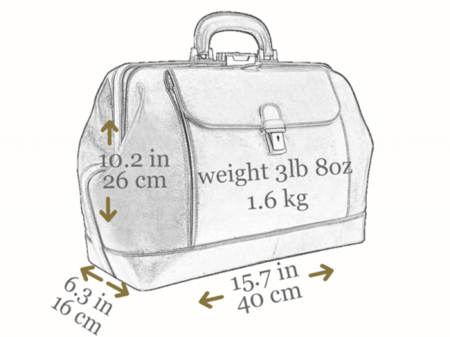 Materials and Tanning
This brown leather doctor bag is made of full grain leather. It was diligently used for the exterior part of the bag to ensure durability, classy look and comfort. The interior part of the bag is covered with 100% cotton. It makes sure that the bag's practicality is at the highest level possible. Therefore, in addition to easy and convenient storing, searching and navigating within, it also becomes easy to maintain and keep it clean.
The color of the doctor bag is extracted by a method called vegetable tanning. The whole process includes the use of hands and requires nothing less than the highest quality of natural dyes. We guarantee that the dyes are pure and natural, containing NO unethical and/or harmful ingredients. This method allows us to retain the natural look of leather while adding the uniqueness and authenticity to each and every product of ours. In addition, vegetable tanning method gives the leather natural smell of earth, which makes this doctor bag even greater.
You will also find a dust bag included in the package. It is necessary in case you have to store your doctor. The dust bag will keep it in the best possible shape while protecting it from sun, dust, accidental stains and scratches.