Our company is proud to offer this magnificent practical brown business duffel bag. We sincerely believe that consumers will absolutely love our duffel bag's versatility, sleek style and low-cost. Our bags are designed to provide the consumer with many years of use and pleasure. We always go above and beyond to use the best and most authentic leather for each and every one of our bags. On top of that, we practice the strictest quality control standards to ensure that our bags are flawless when they leave our facility.
The bag is slightly smaller than some of the alternatives, but this makes it perfect for numerous occasions. If you want to live a minimalist lifestyle or you're going on a short vacation, this bag will prove to be a great addition to your upcoming trip. The bag's interior is covered with cotton, so it is convenient to clean. Our bag is sophisticated, but convenient and affordable.
Features
Two carry handles with comfortable  grip for easy carrying in hand;
Detachable shoulder strap, adjustable in length;
Room for laptop up to 13";
One spacious compartment with inside pockets;
Pocket to keep your tablet at convenient reach;
Meets carry-on baggage requirements.
Dimensions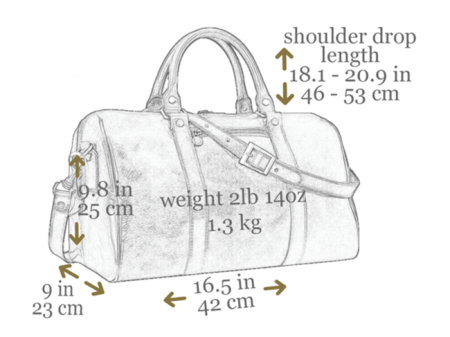 Materials and Tanning
This practical brown business leather duffle bag is made of full grain leather. It was diligently used for the exterior part to ensure durability, classy look and comfort. The interior is covered with 100% cotton. It makes sure that the duffle bag's practicality is at the highest level possible. Therefore, in addition to easy and convenient storing, searching and navigating within, it also becomes easy to maintain and keep it clean.
The color of the duffle bag is extracted by a method called vegetable tanning. The whole process includes the use of hands and requires nothing less than the highest quality of natural dyes. We guarantee that the dyes are pure and natural, containing NO unethical and/or harmful ingredients. This method allows us to retain the natural look of leather while adding the uniqueness and authenticity to each and every product. In addition, vegetable tanning method gives the leather natural smell of earth, which makes this duffle bag even greater.
You will also find a dust bag included in the package. It is necessary in case you have to store your bag. The dust bag will keep it in the best possible shape while protecting it from sun, dust, accidental stains and scratches.