If you are looking for an amazing women's leather clutch purse, then our Gone Girl is a great choice. Its modern design might not be for every lady. It's one of those designs that you either love it or hate. Therefore, if you are already here, you must already love it. Gone Girl is made of full grain leather, which is assurance of durability and longevity. It has a large pocket for a smartphone and plenty of interior pockets for bank cards and other important items. If you are not fond of carrying it in your hand, then you might like the detachable chain strap to carry it on your shoulder. Give this beauty a chance, and you will love it.
Features
Materials
Exterior made from full-grain calfskin that will last you for decades
Interior lined with cotton and leather
Tan
Hand-dyed using the vegetable tanning method that utilizes only natural materials and doesn't contain harmful chemicals
This artisan technique maintains the natural look of leather, rendering each skin one of a kind with a slightly different pattern
As an added bonus, vegetable tanning gives the leather a natural earthy smell
Gadget friendly
A large pocket for a smartphone
 For your carrying comfort
Detachable leather band to secure it in your palm
Detachable chain shoulder strap for carrying it on the shoulder or crossbody
To stay organized
Zip opening allows convenient access
A large compartment and an inside pocket
Better safe than sorry
Dimensions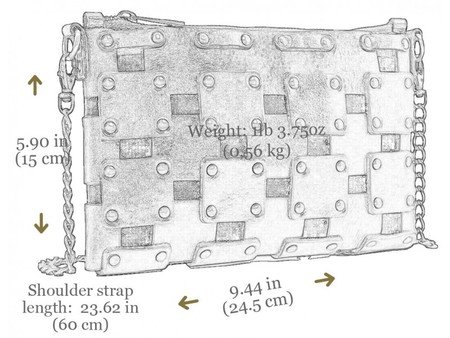 Materials and Tanning
This leather clutch purse – Gone Girl is made of full grain leather. It was diligently used for the exterior part to ensure durability, classy look and comfort. The interior is covered with 100% cotton. It makes sure that the bag's practicality is at the highest level possible. Therefore, in addition to easy and convenient storing, searching and navigating within, it also becomes easy to maintain and keep it clean.
The color of the clutch purse is extracted by a method called vegetable tanning. The whole process includes the use of hands and requires nothing less than the highest quality of natural dyes. We guarantee that the dyes are pure and natural, containing NO unethical and/or harmful ingredients. This method allows us to retain the natural look of leather while adding the uniqueness and authenticity to each and every bag. In addition, vegetable tanning method gives the leather natural smell of earth, which makes the item even greater.
You will also find a dust bag included in the package, which is necessary in case you have to store your purse. The dust bag will keep your clutch bag in the best possible shape while protecting it from sun, dust, accidental stains and scratches.