Our Women's orange leather laptop backpack is something that every professional, student or mother needs to tote around their items. The vivid, bold coloring gives the backpack pizazz and this is not even mentioning its brass hardware. The bag includes a handle and a shoulder strap, so you can grab it or sling it over your shoulder and go. The handle is padded to ensure your comfort throughout, even when the backpack is filled with your personal belongings.
The orange leather backpack features a special zippered compartment for your laptop. The interior lining will protect the laptop from scratches and scuffs, while you are traveling about. The larger zippered compartment is held together with a buckled strap so you can leave it open when not in use. There is also a hidden compartment between the two zippered compartments, with brass snaps to keep everything neat and tidy.
Features
Carry handle for easy carrying in hand;
Adjustable shoulder straps;

Organizer panel for smartphone and cards;

Room for laptop up to 12";

Suitable for A4 documents and folders;
Floor-to-floor double zipper openings allows convenient access.
Dimensions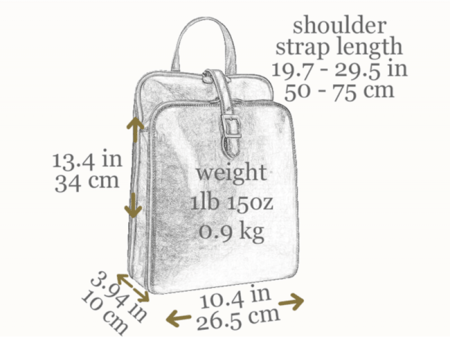 Materials and Tanning
This amazing women's orange leather laptop backpack Clarissa is made of genuine and pure Italian leather. It was diligently used for the exterior part of the backpack to ensure durability, classy look and comfort. The interior part of the backpack is covered with 100% cotton. It makes sure that the backpack's practicality is at the highest level possible. Therefore, in addition to easy and convenient storing, searching and navigating within the backpack, it also becomes easy to maintain and keep it clean.
The color of the leather backpack is extracted by a method called vegetable tanning. The whole process includes the use of hands and requires nothing less than the highest quality of natural dyes. We guarantee that the dyes are pure and natural, containing NO unethical and/or harmful ingredients. This method allows us to retain the natural look of leather while adding the uniqueness and authenticity to each and every backpack. In addition, vegetable tanning method gives the leather natural smell of earth, which makes the backpack even greater.
You will also find a dust bag included in the package, which is necessary in case you have to store your backpack. The dust bag will keep it in the best possible shape while protecting it from sun, dust, accidental stains and scratches.