The black premium leather briefcase is one of the most fashionable accessories on the market. On top of that, our briefcase is designed for practicality. It'll look amazing, while still keeping your documents safe and protected from start to finish. With this authentic leather briefcase, you'll be able to make yourself look professional and elegant. Be prepared to receive a lot of compliments and questions about your brand-new briefcase. This briefcase is unlike anything else on the market. It is sleek, elegant and classic.
It truly possesses all of the attributes that you need to transform yourself into an authentic business man. The bag offers plenty of compartments and slots to ensure that it'll keep your items organized throughout the day. You'll never have to go hunt through your bag to find your items, because they'll always be right there for you! The bag gorgeous enough for any man and practical enough for the modern businessman!
Features
Crafted to meet today's contemporary needs:
You can easily fit a laptop up to 15″;

Organizer panel for smartphone, cards and pens;

Pocket to keep your tablet at convenient reach;
Carry handle for easy carrying in hand;
Detachable shoulder strap, adjustable in length;

Multiple pockets both outside and inside to organize all your belongings;

Suitable for A4 documents and folders;
Dimensions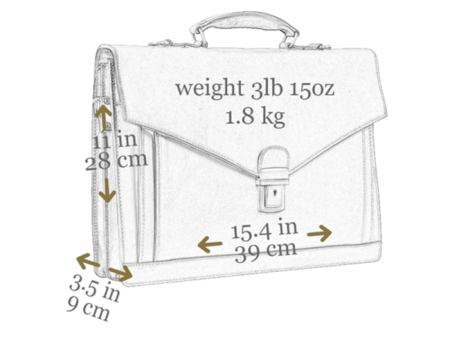 Materials and Tanning
We made this black premium leather briefcase The Magus from full grain leather. It was diligently used for the exterior part of the briefcase to ensure durability, classy look and comfort. The interior part of the briefcase is covered with 100% cotton. It makes sure that the briefcase's practicality is at the highest level possible. Therefore, in addition to easy and convenient storing, searching and navigating within the briefcase, it also becomes easy to maintain and keep it clean.
The color of the bag is extracted by a method called vegetable tanning. The whole process includes the use of hands and requires nothing less than the highest quality of natural dyes. We guarantee that the dyes are pure and natural, containing NO unethical and/or harmful ingredients. This method allows us to retain the natural look of leather while adding the uniqueness and authenticity to each and every bag. In addition, vegetable tanning method gives the leather natural smell of earth, which makes the bag even greater.
You will also find a dust bag included in the package. It is necessary in case you have to store your briefcase. The dust bag will keep it in the best possible shape while protecting it from sun, dust, accidental stains and scratches.