When it comes to protecting your laptop, it's better to be safe than sorry. After all, it may contain thousands of hours of hard work, and one accident can erase it all. Therefore, we suggest you to consider buying one of our black real leather laptop sleeves. The black colored leather looks stunning, allowing you to make great first impressions. Don't leave your job interview to a chance. Every detail matters, and this leather laptop sleeve may do the trick. It's suitable for 13″ laptops as well as for A4 document folders. Therefore, you are not obliged to carry your laptop inside, if you don't want. It can be used as a carry-on case as well as a case that you would place inside your leather bag. It always depends on the circumstances. The sleeve is also equipped with a special charger access allowing you to charge your laptop while it's inside. It comes in handy when you are on a train and want to charge it, but also keeping it safe at all times. And did we say that it makes a perfect gift? Inexpensive, beautiful and stylish – who would not like it?
Features
Fits a 13″ laptop;
Suitable for A4 document folders;
Charger access;
Magnetic closure type.
Dimensions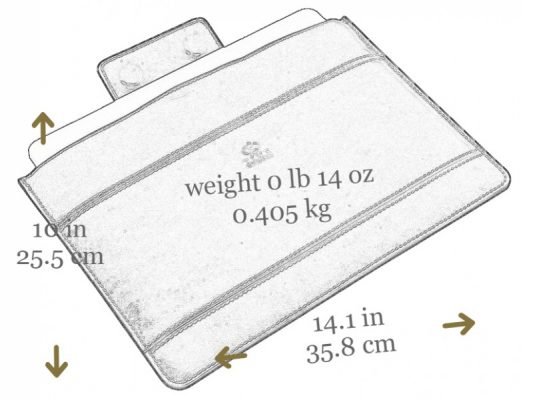 Materials and Tanning
This black real leather laptop sleeve is made of genuine and pure leather. To ensure the durability, comfort and classy look of the sleeve, we used only the full grain leather on the exterior part of it. Interior part of the sleeve is fully and diligently covered with cotton and polyester. It ensures the highest level of practicality. Therefore, it becomes easy to navigate, store, search and also clean the inside of the laptop.
We used a special vegetable tanning method to extract the natural color of leather. The whole process includes the use of hands and requires nothing less than the highest quality of natural dyes. We assure that the dyes are pure and natural containing zero unethical or harmful ingredients. The vegetable tanning method allows us to retain the natural look of leather. And it also adds uniqueness and authenticity to each and every product. In addition, vegetable tanning method gives the leather natural smell of earth. It reminds us of where we came from, what we have gone through, and what are we ready to accomplish.