If you happen to carry a laptop everywhere you go, you'll want to keep it safe and you'll want to look amazing while doing so. This is why you should consider adding the brown leather laptop bad with shoulder strap to your collection. Our meticulously crafted brown leather laptop bag will look amazing on your shoulder and it will be sure to keep your equipment safe. The interior of the bag is completely lined with textile. The exterior is crafted from authentic calfskin, so you can guarantee that this piece will be eye catching.
This stylish and sleek laptop bag will look great in your hand or around your shoulder. The padded pocket is very big, so it should have no trouble carrying pretty much any modern laptop. If you want to protect your belongings, while also looking amazing, this bag is for you. With this bag, you can rest assured knowing you've gotten your money's worth.
Features
Crafted to meet today's contemporary needs:
Enough room to fit a laptop up to 14″;
Padded pocket for a tablet or a smaller laptop;
Specialized pockets for smartphones, pens and cards;
Two carry handles for comfortable carrying experience;
Detachable shoulder strap;
Two large compartments and an inside zip pocket;
Perfect for A4-sized folders and documents;
One outside zip pocket.
Dimensions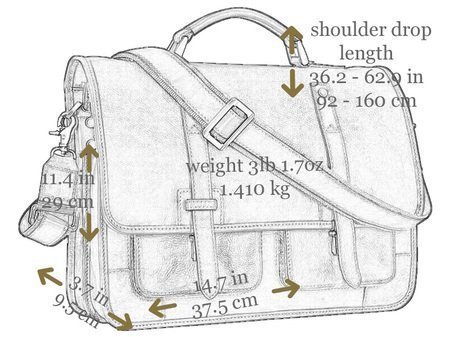 Materials and Tanning
This brown leather laptop bag is made of genuine and pure Italian leather. Full grain leather was carefully used for the exterior part of the bag, which ensures the durability, comfort and classy look. Interior part of the bag is fully diligently covered with 100% cotton in order to ensure the highest level of practicality. Not only it becomes easy to navigate, store and search the inside of the bag, but also it makes it easy to clean.
The color of the laptop bag is extracted by a special vegetable tanning method. The whole process includes the use of hands and requires nothing less than the highest quality of natural dyes. We assure that the dyes are pure and natural containing zero unethical or harmful ingredients. The vegetable tanning method allows us to retain the natural look of leather while adding uniqueness and authenticity to each and every bag. In addition, vegetable tanning method gives the leather natural smell of earth, which reminds us of where we came from, what we have gone through, and what are we ready to accomplish.
You will also find a dust bag included in the package in case you have to store your laptop bag. It will keep it in the best possible shape while protecting it from sun, dust, accidental stains and scratches.