Looking for a beautiful duffel bag that will be sure to make your life so much better? If you answered yes to this question, you should definitely consider checking out our brown leather duffel bag with shoulder strap. The bag is gorgeous and it will be sure to serve numerous purposes. For instance, it can be utilized to carry an abundance of items. The bag can easily protect your cellphone, tablet and other belongings. On top of that, the bag itself is gorgeous and luxurious. It will make a great addition to all of your favorite, go-to wardrobe options.
If you want to look stunning and wish to become the center of attention, this bag will definitely accommodate your wishes. The amazing brown leather looks great and it'll withstand the test of time, without any hiccups. This ensures that you'll be able to use this bag for many years to come!
Features
Two carry handles with comfortable  grip for easy carrying in hand;
Detachable shoulder strap, adjustable in length;
Enough room to comfortably fit a 15" laptop;
One spacious compartment with inside pockets;
Three sided foldaway opening for convenient access;
Meets the carry-on baggage requirements of American Airlines, Virgin America, Lufthansa, British Airways.
Dimensions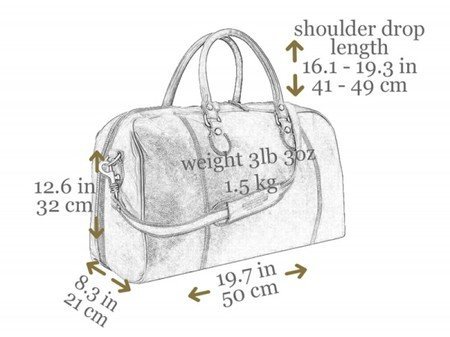 Materials and Tanning
This brown leather duffle bag with shoulder strap is made of full grain leather. It was diligently used for the exterior part to ensure durability, classy look and comfort. The interior is covered with 100% cotton. It makes sure that the duffle bag's practicality is at the highest level possible. Therefore, in addition to easy and convenient storing, searching and navigating within, it also becomes easy to maintain and keep it clean.
The color of the duffle bag is extracted by a method called vegetable tanning. The whole process includes the use of hands and requires nothing less than the highest quality of natural dyes. We guarantee that the dyes are pure and natural, containing NO unethical and/or harmful ingredients. This method allows us to retain the natural look of leather while adding the uniqueness and authenticity to each and every product. In addition, vegetable tanning method gives the leather natural smell of earth, which makes this duffle bag even greater.
You will also find a dust bag included in the package. It is necessary in case you have to store your bag. The dust bag will keep it in the best possible shape while protecting it from sun, dust, accidental stains and scratches.