In today's time, every businessman needs a good dependable laptop in order to get his work done. However, keeping up with that laptop and protecting it can be quite the task. Or, at least it was until you discovered this elegant brown and simple leather messenger bag. With an outside zipper pocket located right on the side of the bag, you can always keep you laptop safe. All that while ensuring that you have quick and easy access to it. In addition to storing your laptop, you can also store files and other documents inside the bag.
Whether you are 6-feet or 5 -feet tall, with the adjustable shoulder strap this marvelous bag can be adjusted to fit any sized man. When you combine all of this with the durable metal hardware and magnetic closure, you truly have one reliable and durable messenger bag that will not let you down in any situation.
Features
One compartment and an inside zip pocket ;
An outside zip pocket right at your side; for things you want to keep close for safety, but still have easy access to while on the go;
Suitable for A4 documents and folders;
Can fit a small laptop;
Organizer panels for smartphone, cards and pens.
Dimensions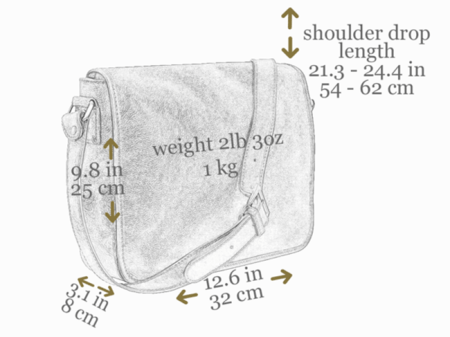 Materials and Tanning
This amazing men's leather messenger bag is made of genuine and pure Italian leather. Full grain calfskin was carefully used for the exterior part of the bag, which ensures the durability, comfort and classy look. Interior part of the bag is fully diligently covered with 100% cotton in order to ensure the highest level of practicality. Not only it becomes easy to navigate, store and search the inside of the bag, but also it makes it easy to clean.
The color of the bag is extracted by a special vegetable tanning method. The whole process includes the use of hands and requires nothing less than the highest quality of natural dyes. We assure that the dyes are pure and natural containing zero unethical or harmful ingredients. The vegetable tanning method allows us to retain the natural look of leather while adding uniqueness and authenticity to each and every bag. In addition, vegetable tanning method gives the leather natural smell of earth, which reminds us of where we came from, what we have gone through, and what are we ready to accomplish.
You will also find a dust bag included in the package in case you have to store you bag. It will keep your bag in the best possible shape while protecting it from sun, dust, accidental stains and scratches.