As a man you truly have an endless amount of options when it comes to choosing a wallet. However, there is a good chance that you have never seen anything on the market quite like our modern brown leather wallet. This is not just your average wallet, as it is the perfect companion designed to resemble a small briefcase. However, with the detachable shoulder strap you can either choose to carry or wear this stylish accessory any time of the day.
With an interior design that is constructed of calfskin leather and textile, you need have to worry about your items being safe and secure. In addition to this, the leather and textile in extremely ease to keep clean. Weighing in only at 1 pound and 12 ounces, you won't be strained or too weighed down by this small wallet, but you will still have enough room to store everything that you could need in a single day.
Features
Tablet sized – fits iPad Mini, Kindle, Nook. All at once if you wish;

Carry handle with pleasant grip for easy carrying in hand;
Detachable shoulder strap, adjustable in length;
Two main compartments and additional pockets outside and inside.
Dimensions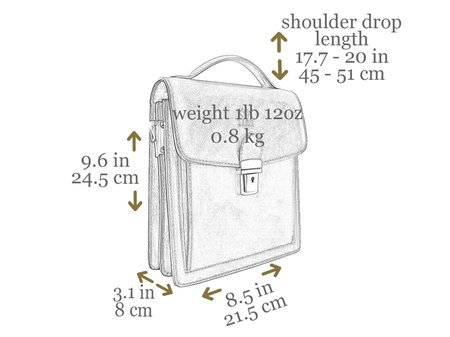 Materials and Tanning
This modern brown leather wallet with detachable shoulder strap is made of genuine and pure Italian leather. Full grain leather was carefully used for the exterior part of the wallet, which ensures the durability, comfort and classy look. The interior is fully diligently covered with 100% cotton in order to ensure the highest level of practicality. Not only it becomes easy to navigate, store and search withing, but also it makes it easy to clean.
The color of the wallet is extracted by a special vegetable tanning method. The whole process includes the use of hands and requires nothing less than the highest quality of natural dyes. We assure that the dyes are pure and natural containing zero unethical or harmful ingredients. The vegetable tanning method allows us to retain the natural look of leather while adding uniqueness and authenticity. In addition, vegetable tanning method gives the leather natural smell of earth, which reminds us of where we came from, what we have gone through, and what are we ready to accomplish.
You will also find a dust bag included in the package in case you have to store your wallet. It will keep it in the best possible shape while protecting it from sun, dust, accidental stains and scratches.