You really don't need to be a doctor or medical student to appreciate the elegance, design, beauty, and craftsmanship of our small brown doctor bag. While the design is smaller than your average doctor's bag, this bag truly has a big enough personality to hold everything that any doctor or medical student could need on a daily basis. Coupled with a durable full grain calfskin construction this handy bag is capable of standing up in a variety of different harsh environments and conditions. The interior is lined with 100% cotton to make cleaning easy and quick, while ensuring that all your medical documents and devices are safe and secure.
With a comfortable grip-carrying handle, you can literally carry this bag around all day without straining your hands or wearing yourself out. Along with this, our bag comes equipped with a gaping frame to ensure that the bag always keeps it shape and provides users with wide enough access to store and remove their items with ease and efficiency.
Features
Gaping frame opening that keeps shape and allows convenient access;
One spacious compartment and an inside zip pocket;
Room for a 12" laptop;
Pocket for a smartphone;
Meets cabin size requirements with room to spare.
Dimensions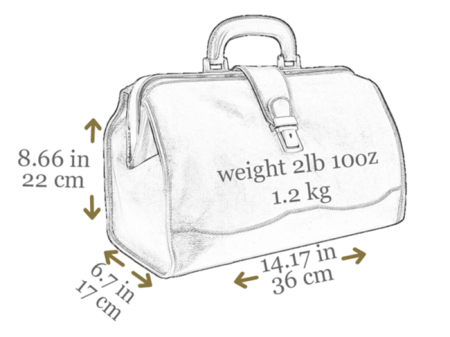 Materials and Tanning
This small brown leather doctor bag is made of full grain leather. It was diligently used for the exterior part of the bag to ensure durability, classy look and comfort. The interior part of the bag is covered with 100% cotton. It makes sure that the bag's practicality is at the highest level possible. Therefore, in addition to easy and convenient storing, searching and navigating within, it also becomes easy to maintain and keep it clean.
The color of the doctor bag is extracted by a method called vegetable tanning. The whole process includes the use of hands and requires nothing less than the highest quality of natural dyes. We guarantee that the dyes are pure and natural, containing NO unethical and/or harmful ingredients. This method allows us to retain the natural look of leather while adding the uniqueness and authenticity to each and every product of ours. In addition, vegetable tanning method gives the leather natural smell of earth, which makes this doctor bag even greater.
You will also find a dust bag included in the package. It is necessary in case you have to store your doctor. The dust bag will keep it in the best possible shape while protecting it from sun, dust, accidental stains and scratches.