If you are a person who loves or seeks to stay organized, then you will need to find yourself that perfect backpack. There are many options currently on the market, and it might be difficult to make the right choice. Therefore, we will try to help you with a search of the best backpacks with lots of pockets!
The backpack that you should consider purchasing should feel sturdy, yet not to weigh you down. In other words, the backpack has to be made of high-end materials. The second you touch any low quality product, be it a briefcase, purse or a backpack, you can immediately tell that there is something wrong with it. Well, the wrongness lies within the quality of the materials, so you should not expect a comfortable and durable backpack for a hundred bucks.
Furthermore, when it comes to organization, pockets are the main feature you should be paying attention to. Does the backpack of your choice has plenty of pockets? Are they well placed around it? Are they easy to reach? Will your items be safe and sound? There are many questions to ask solely on the question of pockets. But gladly for you, we are here to narrow things down and take away this overwhelming feeling you might be having once you type "BEST BACKPACKS WITH LOTS OF POCKETS" on google search.
[Read to the end to find a gift]

Our top 5 pick
As promised, we will not get too philosophical, but will rather remain practical and to the point. Below you will find our 5 best backpacks with lots of pockets. We have chosen these particular five, because they are our best sellers, and clients seem to love each and every one of them.
They are given in order by price, from low to high. Each human is so different from one another, that factors like size, number of pockets, laptop compatibility and so on are too hard to go by when ranking any product, not just these backpacks. Therefore, you know your budget, and here are our 5 backpacks wit lots of pockets:
1. Leather Backpack with 3 Compartments – Taipei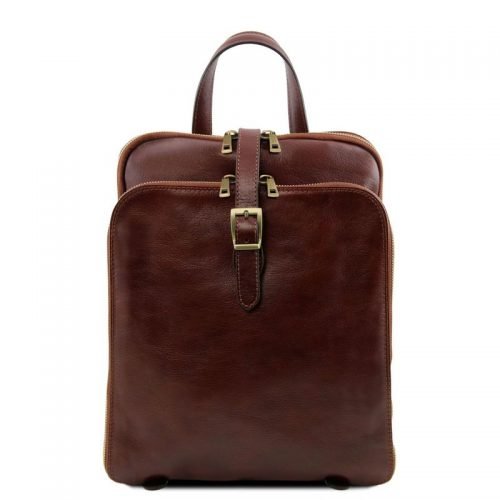 Taipei is an excellent backpack if your goal is to always be well-organized and on top of the game. This beautiful leather backpack comes in multiple colors, and has three main compartments. This will allow you to keep your document folders, notebooks and a laptop all separated one from another. The ability to reach into your backpack and find what you are looking for in the matter of seconds is priceless.
In addition to three compartments, Taipei is also well equipped in terms of smaller pockets. There is one on the back of the exterior part of the backpack, as well as one opened and one zippered pockets on the inside. To top it all off, there is an inner special pocket for credit and other cards. Therefore, you can see that this is a truly great backpack with lots of pockets for a very attractive price.
Price: USD 238.71
Other useful features:
Full grain leather;
Cotton lining;
Semi-rigid structure;
Zip closure on three sides;
Magnetic button closure;
Antique brass hardware;
Comes with a dust bag;
10.43 x 12.99 x 3.54 inch;
Weight: 1.98 lbs.
2. Oldschool Backpack – The Sun Also Rises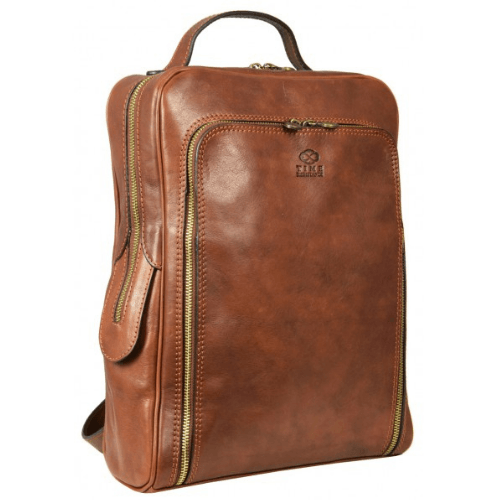 Don't be scared away by the word "oldschool" in the title of the backpack. All that it's trying to say is that the backpack's style is a mixture between classic and vintage. When it comes to meeting the requirements of today's modern men and women, THE SUN ALSO RISES surpasses all of them. It comes with one main compartment, which is suitable for a 13″ laptop and A4 document folders, as well as multiple pockets both, on the inside and on the outside.
To be more precise, there are two larger inner pockets suitable for your smartphone. Then there is an organizer panel perfect for various cards and pens. And to top it all off, there are two exterior zippered pockets, one on the front of the backpack and another on the back. Therefore, you will certainly get yourself a good deal by considering this backpack.
Price: USD 266.83
Other useful features:
Top grain leather;
Cotton lining;
Wide opening;
Antique brass hardware;
Comes with a dust bag;
11.22 x 14.17 x 3.94 inch;
Weight: 2.2 lbs.
3. Leather Laptop Backpack – Bangkok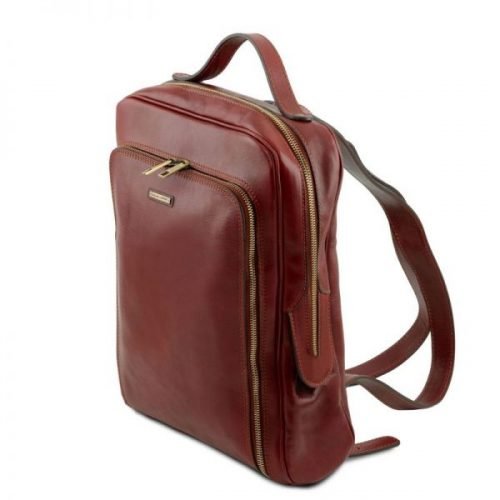 Bangkok is an amazing backpack ready to withstand whatever you throw at it. It is very similar to the backpack mentioned above, with slight differences. First of all, it is a bit larger, giving just somewhat more room inside. Bangkok comes with one main compartment which is suitable for A4 document folders, and thus will also easily fit a laptop up to 17″.
There are two external pockets with zip closures that will surely come in handy. The inner part of the backpack is even more impressive. There are two opened pockets, one zip pocket, credit card pocket and a pen holder. To top it all off, there is an inner padded partition, which sort of turns one compartment into two.
Price: USD 350.54
Other useful features:
Full grain leather;
Cotton lining;
Semi-rigid structure;
Key ring attachment inside;
Antique brass and nickel hardware;
Comes with a dust bag;
13.58 x 17.13 x 3.94 inch;
Weight: 3.09 lbs.
4. Leather Backpack for Men – The Perks of Being a Wallflower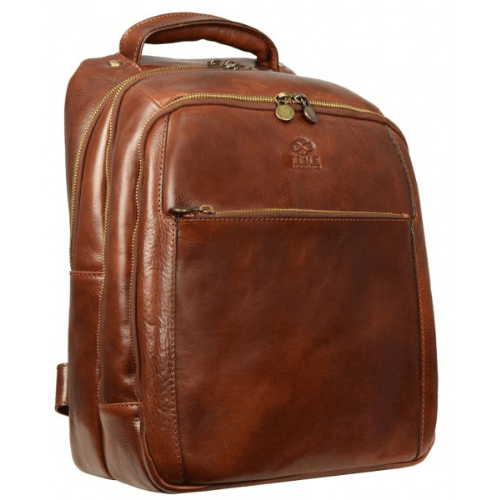 Now you may wonder why there is a word Geek in the title. Well, it's because if this backpack had brains, they would be bigger than the ones of an average Joe. Geek's backpack is one of the best backpacks with lots of pockets that we can offer. This backpack comes only in brown color, which is a staple color for any leather product. When it comes to pockets, the Geek is filled with them. First of all, it has a padded compartment for a laptop up to 12″, and the main compartment can fit a laptop up to 13″. Your A4 format files will be more than safe inside the Geek.
The backpack has an organizer panel for your pens, cards and a smartphone. In addition, there are two exterior pockets, one on the front and one on the back, equipped with reliable brass hardware. To summarize it all, Geek's brown leather backpack is for those who love quality, have an extra dollar to spend and absolutely adores to stay organized.
Price: USD 355.77
Other useful features:
Full grain leather;
Cotton lining;
Metal studs on the bottom;
Comes with a dust bag;
3 compartments;
11 x 14.2 x 6.7 inch;
Weight: 3.3 lbs.
5. Leather Laptop Backpack with 3 Compartments – Phuket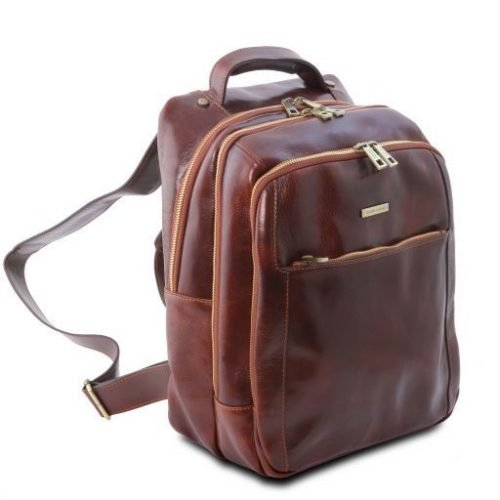 Phuket is another amazing leather backpack with lots of pockets. It is extremely loved by our clients due to its quality and practicality. Phuket has three main compartments, which are more than suitable in protecting your belongings like A4 format document folders, laptops, tablets and whatever else you would carry in the main compartments. It also comes with a shock absorbent system which will buffer some of the damage away if you drop your backpack with a laptop inside.
When it comes to pockets, Phuket is second to none. It has one exterior pocket with zip closure on the front, as well as two interior pockets – one opened pocket and one zip pocket. It also has a special pen holder, just to increase the level of practicality and comfort.
Price: USD 369.51
Other useful features:
Full grain leather;
Cotton lining;
Semi-rigid structure;
Shock absorbent system;
Protective metal feet on the bottom;
Antique brass and nickel hardware;
Comes with a dust bag;
10.63 x 14.57 x 6.69 inch;
Weight: 3.09 lbs.
Size
You don't need a huge backpack. However, a small one is not convenient because you never know how much stuff you'll need to carry. Therefore, a medium sized backpack proves to be the perfect solution. The abovementioned ones actually are not all that big, and could fall within the category of the medium-sized backpacks.
You should pick the one that corresponds to your built. Even if the backpack is not all that big, but you need to be conscious of your own frame when picking one. You don't want to get a backpack that surpasses your width making you look like a skinny 8-year old boy with a way-too-huge backpack on his back.
Material
Backpacks can be made from all kinds of materials, however we believe that leather beats them all. And we are not talking about "genuine" or "real" leather. We are talking about full grain and top grain leathers only. These type of leathers are the only ones you should ever consider when purchasing a product like a backpack.
When it comes to purses, you could opt for a lower quality material, because you will probably buy another one in a year or two. However, backpacks are a different story. You need them to endure heavy loading, constant wearing and so on. Therefore, they must be made of high quality materials just to ensure you don't waste your money down the drain.
And trust us when we say it – you will drop the money down the drain by purchasing "real" or "genuine" leather backpacks for 100 bucks. That does not exist.
Straps
If you are going to carry a lot of stuff in your backpack, then you ought to pick one that comes with wide straps. The straps will not dig into your shoulders or your back, and they will provide additional support.
However, thin straps are also popular, and they can look quite stylish. These types of straps are usually seen on backpacks for women which don't require heaving loading on consistent basis. Taipei has slightly thinner straps, which by no surprise is favored by women. The Sun Also Rises and Bangkok are the true definition of unisex backpacks, as they are favored almost equally between the two sexes. Their straps are of medium width and can withstand heavier loading while not digging into the wearer's shoulders.
Geek's and Phuket's straps are the largest ones, protecting your shoulder even if you load them with bricks. Therefore, you need to consider all that when making a purchasing decision.
Conclusion
We live a fast-paced lifestyle in a fast-paced world. While maintaining the level of fashion is absolutely necessary, however we cannot neglect our level of comfort. Therefore, by choosing the perfect leather backpack you can shoot two rabbits with one shot.
And if by some chance you realized that a backpack is not the way to go, then go ahead and read our Shoulder Bags With Lots Of Pockets to compare the two. We have also distinguished the best laptop bags for travel and top leather messenger bags among many other subjects to help you make the right decision. Just jump into our blog and find exactly what you are looking for.
Now as promised, a little gift to our dearest readers. Please use coupon code bestbackpack to receive 15% discount on any of our backpacks.
Hope you enjoyed the read. Join our family by following us on Facebook!