When choosing an executive leather briefcase online, anyone can get easily overwhelmed. After all, the choices are unlimited and the quality is always questionable. Therefore, in this article we will cover some of the best briefcases at an executive level. These leather briefcases will ensure the highest level of protection of your belongings and are suitable for multiple professions like lawyers, accountants, salespeople, business executives, and any other professional who loves storing and transporting their items in a fashionable and secure way. So, what are the best executive leather briefcases?
Leather Briefcases
The name briefcase was first used by lawyers in reference to the bags they used to transport documents to the court. Today's briefcases are more than just "brief document" bags. The cases are large enough to carry a laptop, work files, documents, stationery, and even traveling gear if the work takes you out of town for a day or two.
Most briefcases have a similar internal design but differ on external appearance. When it comes to choosing a briefcase that matches your style, you might find yourself overwhelmed. The choices are unlimited and therefore it becomes hard to pick just one.
Executive leather briefcases come in a wide range of styles, features, and prices. The good news is that you can get a top quality option without necessarily having to break the bank. These are briefcases with the best construction and multiple compartments. They will be able to hold your smartphone, laptop, notepads, and much more. In addition, they are also durable and come with all the necessary features that you need on daily basis.
To help you narrow down your options, we did our research and came up with the following list of the best executive leather briefcases.
1. Brown Leather Business Briefcase for Men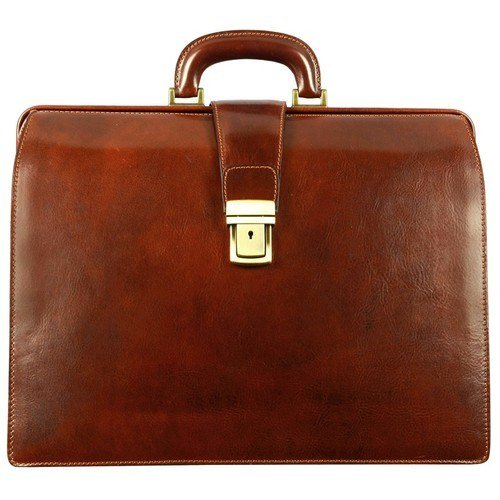 This is a perfect option for anyone looking for an executive leather briefcase that will set him apart from the rest of the crowd at the office. If you are a man, than it's for you. The briefcase is made of genuine leather which embodies a high level of professionalism and is extremely durable besides giving you a sleek professional look. The interior of the briefcase is also lined with soft leather which ensures that your important items stay protected all day long. This is the perfect bag for the business executive as it can carry a laptop of up to 15 inches. It also comes with a detachable shoulder strap.
To learn more, click here.
2. Gentlemen's Brown Leather Briefcase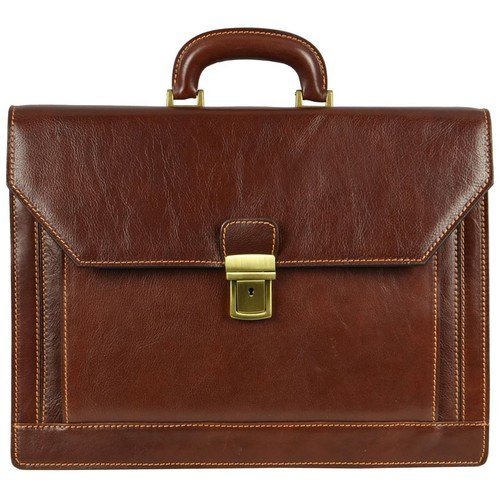 Exclusively made in Italy, the Gentlemen's Brown Leather Briefcase is a perfect combination of style and functionality for the business executive who wants to maintain a professional look. The briefcase is made of authentic leather both outside and inside to give you the best value for your money. It is also a good option for doctors, lawyers, and other professionals who want to maintain a good corporate image when meeting clients or simply walking into the office. It is a classy, practical, and affordable briefcase made of extremely durable materials.
To learn more, click here.
3. Men's Brown Leather Briefcase with Detachable Shoulder Strap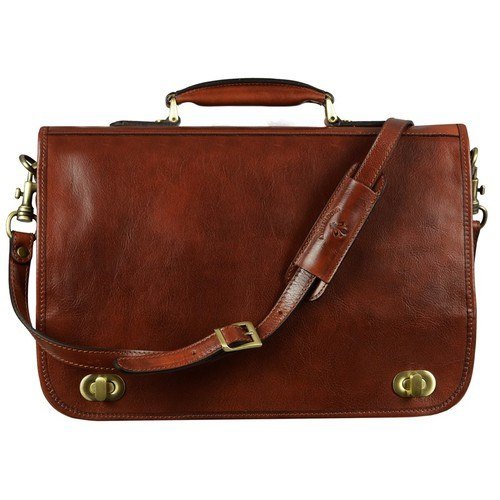 Are you a business owner or someone who works in an executive level? If so, then you definitely need a professional-looking briefcase that reflects the executive in you. This men's brown leather briefcase that comes with a detachable shoulder strap is a perfect option for you. It is a gorgeous executive briefcase guaranteed to set you apart from the rest of the crowd at the office. The briefcase features a shoulder strap and a soft handle, which allow you to carry it in different ways. It is strong enough to hold most of the items you carry around in your business meetings and other engagements. It has enough room to carry a laptop of up to 15 inches. Also, it and comes with padded pockets for all your electronic gadgets.
To learn more, click here.
4. Amalfi Leather Briefcase 1 Compartment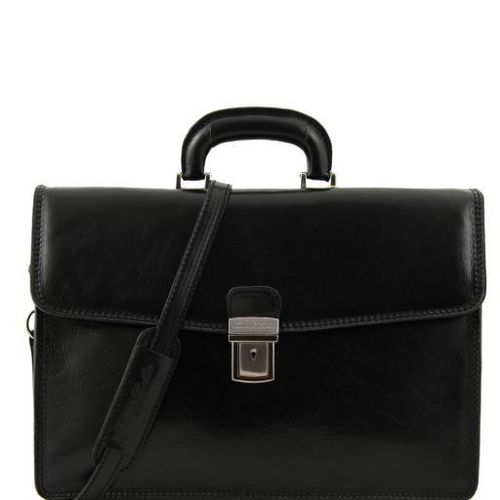 Unlike other briefcases that come with multiple compartments, the Amalfi Leather Briefcase features a single roomy compartment that is not only spacious but practical for other uses. It contains multiple pockets and holders to carry little items such as your phone charger, keys, and much more. The case has a detachable shoulder strap to give you more carrying options. It is also large enough to accommodate a laptop with a size of up to 15.6 inches. This is a top briefcase for the executive who wants to leave a professional impression at the office or in an important business meeting.
To learn more, click here.
5. Brown Ageless Classic Doctor Bag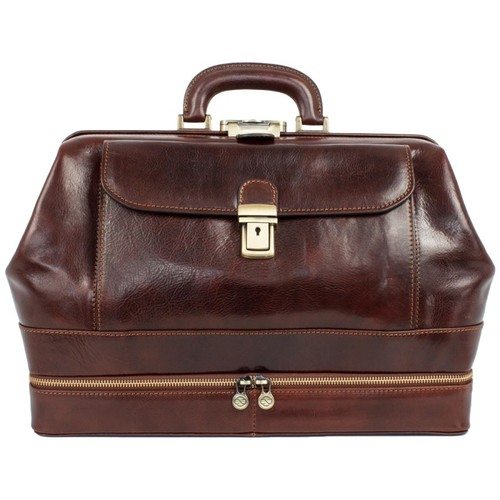 This briefcase is for doctors, but can also be used by an executive in any other profession. It is designed for the busy professional who shuttles between different places on a daily basis. The briefcase has a classic look but comes with a newly upgraded design that can hold newer gadgets such as your laptop and smartphone. It's made of extremely durable full grain leather with a cotton-lined interior that is not only soft but long-lasting too. Also, it can carry a laptop with a size of up to 13 inches and features extra pockets for your tablet, smartphone and other accessories. And finally, it will carry A4 documents and folders with pleasure.
To learn more, click here.
Best Executive Leather Briefcases
The briefcase is one of the most essential items in a man's wardrobe. You need a professional-looking and durable briefcase to carry your work belongings to and from the office every day. Any one of these 5 best executive leather briefcases will get the job done.
All the products mentioned above have the right qualities for an executive or business owner who wants to maintain the right corporate image. There are also quite durable given that they are made of full-grain leather which not only looks good, but can also last extremely long. The leather is hand dyed using vegetable tanning methods which ensure that the briefcase doesn't contain harmful materials and has an earthy natural smell.
Another important factor we considered is the ease of carrying. The executive briefcases reviewed here come with a padded upright handle as well as a comfortable leather shoulder strap. You don't really need to carry a briefcase that will end up giving you calluses. Durability is an important factor too, considering that you are investing in a product meant to serve you for years to come. Buying a briefcase once is definitely better than having to buy twice or thrice over a short period of time. All the products above also feature soft and secure padded compartments to carry a laptop and other essential items.
Hope you enjoyed the read. Join our family by subscribing to our newsletter and follow us on Facebook!