When choosing an executive leather briefcase online, it's easy to get overwhelmed. After all, the choices are practically unlimited and the quality is always at question. To simplify things a little bit, we will cover some of the best briefcases at an executive level everyone should consider having. These leather briefcases ensure the highest level of protection of your belongings and are suitable for any professional like a lawyer, an accountant, a salesman/saleswoman, a business executive, and any other. As long as you love storing and transporting your items in a fashionable and secure way, any one of these briefcases will get the job done. So, what are the best executive leather briefcases? Let's dive right in.
(TIP: Read to the end to find a gift)
Our Best Executive Leather Briefcases
So in order to really save you some time, we went ahead and narrowed down the options for you. Just pick one out of these five, and you will certainly be a happy man.
1. Leather Briefcase with 3 Compartments – Canova
This is a perfect option for anyone looking for an executive leather briefcase that will set him apart from the rest of the crowd at the office. Canova is made of full grain and hand stained calfskin leather, which embodies a high level of professionalism and is extremely durable in addition to giving you a sleek professional look. The interior of the briefcase is lined with a natural lining which demands practically no effort to keep it clean. It comes in a rigid structure ensuring your laptop's safety at all times.
Other useful features:
3 main compartments;
Inner open and zippered pockets for credit cards, keys and other valuables;
Pen holder inside;
Suitable for A4 format;
Can hold 15.6″ laptop;
Metal closure;
16.54 x 6.1 x 12.2 inch;
4.48 lbs.
Buy it here
2. Leather Briefcase with Front Pocket and 2 Compartments – Napoli
Exclusively made in Italy, this beautiful leather briefcase with front pocket and 2 compartments Napoli is a perfect combination of style and functionality. It's perfectly suitable for business executives who want to not only maintain a professional look, but also improve it. Napoli is made of full grain hand stained calfskin leather to give you the best value for your money. It is also a good option for doctors, lawyers, and other professionals who want to maintain a good corporate image when meeting clients or simply walking into the office. It's classy, practical, and affordable briefcase made for real gentlemen.
Other useful features:
2 compartments;
Exterior front and back pockets with closure;
Interior credit card and zippered pockets;
Suitable for 15.6″ laptop;
Metal closure;
Detachable and adjustable shoulder strap;
16.54 x 3.74 x 12.4 inch;
3.53 lbs.
Buy it here
3. Leather Briefcase with 3 Compartments – Assisi
Assisi is yet our another option with 3 compartments. We understand the need to stay well organized, and multiple compartments allow to do just that. In addition, this beautiful leather briefcase will provide a professional-looking image that you seek. After all, a briefcase is not just a bag. Assisi is made of full grain and hand stained calfskin leather and comes with a natural lining inside. It's an optimal combination for durability and exclusivity. This briefcase is loaded with pockets, both opened and zippered, thus your organizational skills will not be put to test. So if you are a modern man with modern needs, Assisi might just as well assist you.
Other useful features:
Semi-rigid structure;
3 compartments;
2 exterior front pockets;
1 exterior back pocket;
Multiple pockets for pens, credit cards, etc;
Keyring attachment;
Kiss-lock closure;
Detachable and adjustable shoulder strap;
15.94 x 4.33 x 11.81 inch;
3.9 lbs.
Buy it here
4. Leather Briefcase with 2 Compartments – Venezia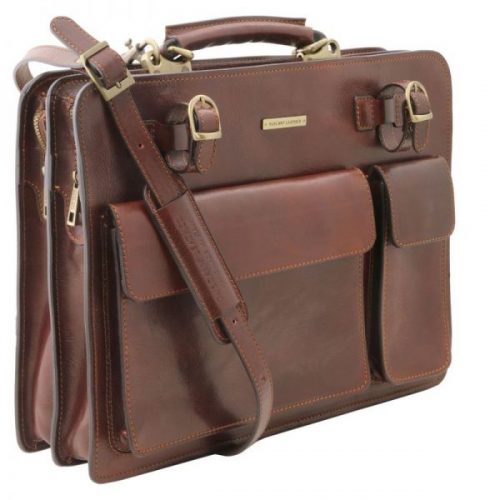 Venezia is a trending briefcase nowadays. Its appearance slightly differs from its more conservative brothers, however different is not a bad thing at all. It comes equipped with 2 compartments, which we find the very minimum required by today's contemporary needs. Venezia is made of full grain leather and is a top-notch leather briefcase. The interior is covered with natural lining and will be easy to maintain it clean. Its semi-rigid structure will keep your belongings, including your laptop, safe and sound. Therefore, if you are looking for something exclusive and somewhat different, Venezia is your to-go option.
Other useful features:
Exterior 2 front pockets with closure;
Exterior pocket on the back with closure;
Interior pen holder;
Detachable and adjustable shoulder strap;
Suitable for A4 document folders;
Suitable for laptops;
Zip closure;
15.75 x 4.33 x 11.81 inch;
3.31 lbs.
Buy it here
5. Leather Multi-Compartment Smart Laptop Briefcase – Alessandria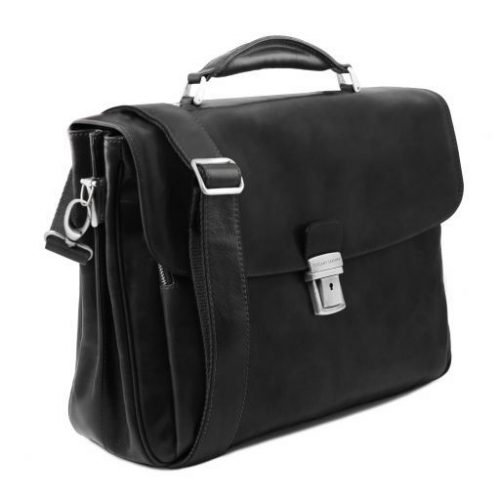 If you are an extremely busy person who likes to keep his entire life in a briefcase, we got you covered. Alessandria, a leather multi-compartment smart laptop briefcase, is for truly unique individuals. It might seem like another briefcase, but trust us, it's not. Alessandria comes equipped with 4 inner compartments and a shock absorbent system. In other words, you can be certain that your laptop will be safe and sound no matter the circumstances. It's made of full grain leather and is of a semi-rigid structure. The inside of the briefcase is covered with cotton and pigskin linings. Therefore, if you are looking for a truly exclusive executive leather briefcase, you have found it.
Other useful features:
4 compartments;
Exterior front and back pockets with closure;
Special outer openings to be attached to a trolley;
Multiple interior open and zippered pockets;
Holds 15.6″ laptop;
Detachable and adjustable shoulder strap;
Metal closure;
16.14 x 4.72 x 12.4 inch;
3.97 lbs.
Buy it here
Elegant, Durable and Timeless Executive Leather Briefcases
The name briefcase was first used by lawyers in reference to the bags used for document transportation to the court. Today's briefcases are more than just "brief document" bags. The cases are large enough to carry a laptop, work files, documents, stationery, and even traveling gear if the work takes you out of town for a day or two.
Most briefcases have a similar internal design but differ on external appearance. When it comes to choosing a briefcase that matches your style, you might find yourself overwhelmed. The choices are unlimited and therefore it becomes hard to pick just one.
Executive leather briefcases come in a wide range of styles, features, and prices. The good news is that you can get a top quality option without necessarily having to empty your pockets. These briefcases are made from the best materials known to leather makers – full grain leather. It will ensure your briefcase to last a long time, meaning you will get tired of it before it breaks down.
In addition, every single one from our best 5 list comes with multiple compartments. Although classic from the outside, they are made with a modern man in mind. These briefcases are designed to specifically meet today's needs. You will be able to find just the right pockets for your phone, wallet, laptop, document folders and anything else really.
Other Best-Selling Executive Leather Briefcases
Final Words
The briefcase is one of the most essential items in a man's wardrobe. You need a professional-looking and durable briefcase to carry your work belongings to and from the office every day. Any one of these 5 best executive leather briefcases will get the job done.
All the products mentioned above have the right qualities for an executive or business owner who wants to maintain the right corporate image. There are also very durable given that they are made of full-grain leather which not only looks absolutely amazing, but will also last extremely long. The leather is hand dyed using vegetable tanning methods which ensure that the briefcases don't contain any harmful materials and have an earthy natural smell.
Another important factor we considered is the ease of carrying. The executive leather bags reviewed here come with a padded upright handle. Except for Canova, they all come equipped with  a comfortable leather shoulder strap as well. You don't really need to carry a briefcase that will end up giving you calluses. Durability is an important factor too, considering that you are investing in a product meant to serve you for years to come. Buying a briefcase once is definitely better than having to buy twice or thrice over a short period of time.
Also, as promised, a little gift. For all of those who read to the end, these 5 briefcases can be purchased with 15% discount using the code bestbriefcase. 
Hope you enjoyed the read. Join our family by following us on Facebook!