Travelling for business in a luxurious way is a pleasure only a few get to have. However, flying a business class can be a bit more pleasant and comfortable if you have a good laptop bag with you. Many of you already know how much work in general traveling is. You have to bring your luggage, handbag, and on top of that – a laptop bag. I mean there is always something that comes up that can't wait and needs a Microsoft Word or PowerPoint to be done. So, it is no wonder that laptop bags are becoming more and more popular among travelling business individuals. If you are to travel, you might as well get one of the best laptop bags for business travel there is.
The best laptop bags for business travel should be easy enough not to any shoulder discomfort. Yet convenient for work engagements. It does not matter if you are a man or a woman. Laptop bags are unisex. They are extremely valuable accessory to any workaholic out there.
Best Laptop Bags For Business Travel
Unfortunately, many of these so called "nerdy" bags come in rather plain designs. They are usually black or gray, with no style whatsoever. They can make you look unprofessional, non-confident and dull. I mean who wants that first impression with potential business partners or colleagues. That is why it is important to consider investing in a beautiful leather laptop bag. A leather bag will provide so much more than the regular ones you can find anywhere.
First of all, leather is extremely durable material, which comes in handy given the fact that laptops can weigh a lot. Furthermore, leather straps are stronger than others which will play a key role for your bag to last a lifetime. And in addition, they are also more comfortable for your shoulders resulting in less tension, reducing the chances of impairing your posture in a long run.
Comfort and durability are important, but your style should not suffer because of that. What's the use of an excellent luggage if your laptop bag looks like something a schoolboy might carry? Luckily, there are many models available. Still, quality varies from store to store. You have to consider the material, the fastening and the strap they come with.
Nevertheless, leather is the best option, and a bag like that can last a lifetime if you take a good care for it. Maintain it with the proper cleaning treatments and keep it in a dust bag when you are not using it. That way, you can rest assured that it will travel around with you for many years to come.
[Good Read:
How to take care of leather bags
]
1. Leather Messenger Bag for Small Laptops – The Stranger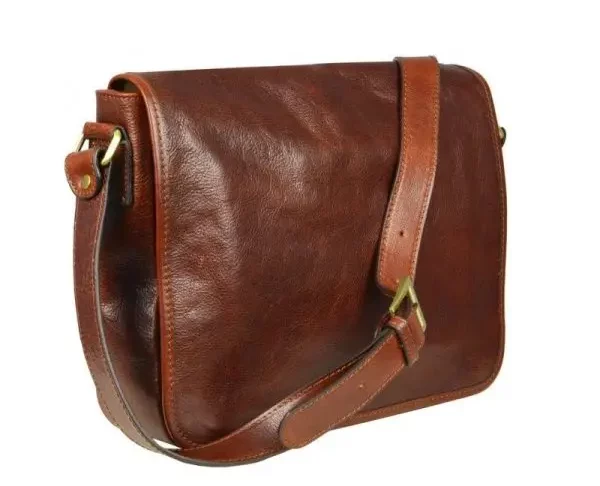 The Stranger, which is an amazing small laptop messenger bag, offers a minimalist design, yet it has perfect looks for business occasions. This bag is perfect for everyday work engagements, as well as travel. It is compact  and yet large enough to fit a small laptop up to 12″ and A4 sized document folders. In addition there is an outside pocket in the back where you can put your passport, boarding passes, smartphone and anything else you will be needing during the trip. It's made of full grain leather, which will ensure it looks stunning and lasts you a lifetime. Therefore, if you need something elegant and yet compact, the Stranger is second to none.
Other useful features:
Cotton lining;
1 main compartment;
Interior zip pocket;
Suitable for A4 documents and folders;
Can fit a 12″ laptop;
Organizer panels for smartphone, cards and pens;
12.6 x 3.1 x 9.8 inch;
2.2 lbs.
Buy it here
2. Premium Professional 17″ Laptop Briefcase – Canova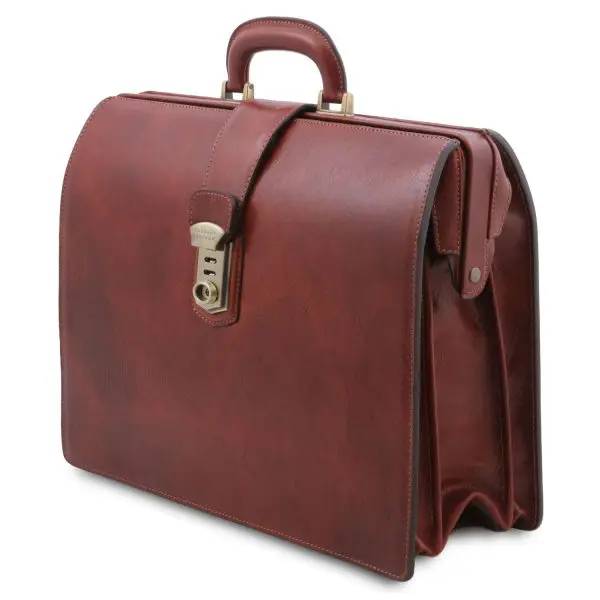 Canova is an amazing leather business briefcase for men (and women, if its size and weight does not scare you away) is a great investment if you have a large laptop that you need with you wherever you go. Business meetings and traveling are made easy with this laptop briefcase, and there is enough room to fit a laptop up to a whooping 17″, A4 document folders and of course many other belongings. Furthermore, the stylish design will surely get you compliments from your peers wherever you are. Canova is not for everyone, that is for certain. But if you think you can handle it, then you should not second-guess it.
Other useful features:
Full grain hand stained calfskin leather;
Natural lining;
Rigid structure;
3 compartments;
Credit card and pen pockets;
Can fit A4 format;
Can hold a 17″ laptop;
Metal closure;
16.54 x 6.1 x 12.2 inch;
4.48 lbs.
Buy it here
3. Exclusive Leather Laptop Briefcase – Urbino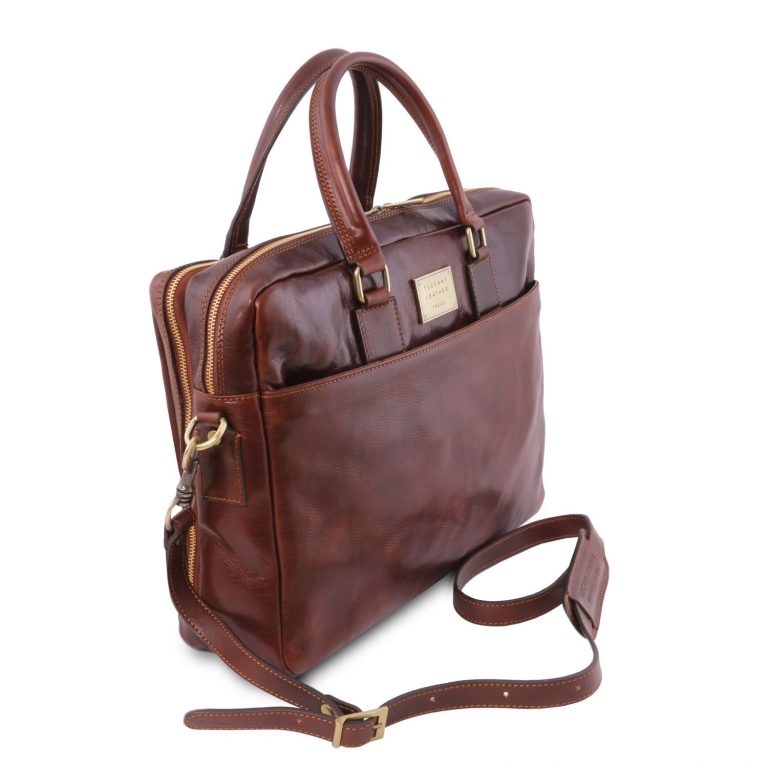 This is a fantastic option for any business professional in the world. The meticulous design offers a lot of space, yet the bag is still compact enough to bring as a carry-on. Furthermore, this style is everlasting, so you can rest assured that it will serve you well for many years to come. It perfectly fits a 15.6″ laptop within a specialized and padded compartment. It comes with a detachable shoulder strap, which gives more flexibility depending on your situation at any given time. Therefore, if you are looking for a specialized laptop bag that also gives you some more flexibility, our Urbino should be seriously considered.
Other useful features:
Full grain hand stained calfskin leather;
Cotton lining;
Soft structure;
2 compartments;
Trolley sleeve to attach to rolling suitcase;
Credit card and pen pockets;
Internal padded partition;
Can fit A4 format;
Suitable for 15.6″ laptops;
15.75 x 5.91 x 11.81 inch;
3.09 lbs.
Buy it here
4. Exclusive Leather 17″ Laptop Bag – Vicenza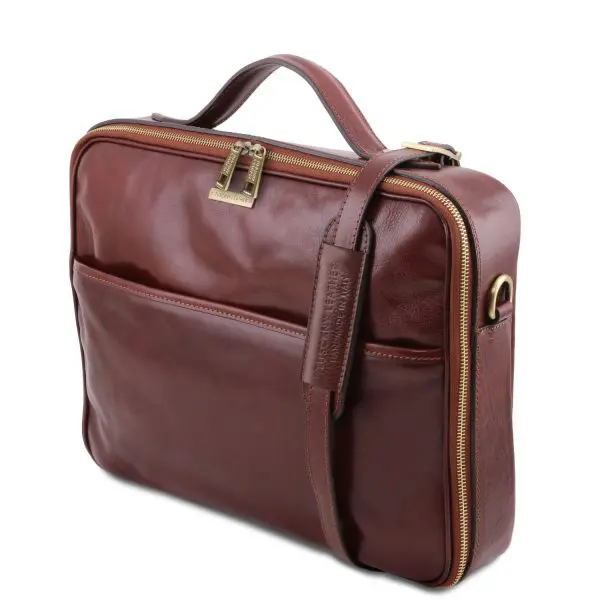 If you are looking for a bag that would be dedicated to carrying your laptop, then Vicenza is the right one. It's an exclusive and unique leather laptop bag made from Italian full grain leather and is here to make its owner happy. Inside you will find one main compartment with specialized belt to keep your 17″ laptop safe and in place. Vicenza is also full of pockets and other cool gadgets, and even contains a handle allowing its owner carry it as a semi-briefcase. Therefore, if you want a superb laptop business bag for your travels, this bag is second to none.
Other useful features:
Cotton lining;
Semi-rigid structure;
1 compartment;
Interior 2 pockets;
Zip closure;
Suitable for A4 document folders;
Suitable for laptops up to 17″;
15.75 x 3.15 x 11.02 inch;
2.65 lbs.
Buy it here
5. Exclusive Premium Leather Messenger Laptop Briefcase – Ventimiglia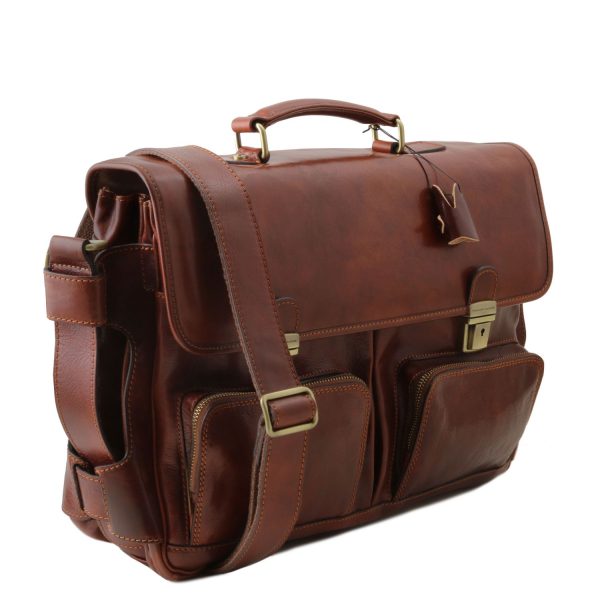 They say save the best for last. So here it is: our one of the most exclusive and best laptop bags for business travel, or not, your choice, that no one can say no to. Ventimiglia is truly an amazing briefcase ready take up your 17″ laptop right inside of it. It's made of the pure full grain leather that no one can resist to. Besides its large size, Ventimiglia contains many pockets, more than most briefcases, which makes it even more prestigious. So, if you want to travel in style while giving you enough space for all your tech gadgets, travel documents, A4 document folders and a laptop, we beg you to consider this briefcase, because we are certain that you will absolutely love it.
Other useful features:
Features
Full grain leather;
Cotton and pigskin lining;
Semi-rigid structure;
2 compartments;
5 exterior pockets;
Suitable for A4 document folders;
Suitable for up to 17″ laptop;
Metal closure;
18.11 x 4.72 x 12.6 inch;
3.95 lbs.
Buy it here
Leather Is Just The Way To Go
Leather laptop bags are not usually considered an important accessory.  Many people tend to overlook them, and then they repurchase low-quality items again and again. However, you have to bear in mind that a bag like this is not just for putting your stuff inside. It is rather a piece, a detail, of yourself. A little statement maker. That is why opting for a better quality leather laptop bag is the right choice when traveling for business. You will not make a mistake if you pick out one of these bags. Not only will they help you stay organized wherever you go, but they will also allow you to maintain a professional look at every business meeting.
Hope you enjoyed the read. Join our family by subscribing to our newsletter and follow us on Facebook and Instagram.