Unlike women, men sometimes have a tough time finding the right bag for work or everyday errands. Furthermore, they need their bag to be spacious enough, because they usually carry some gadgets with them as well. Of course, not like women, but men love their stuff too. One of the gadgets that men usually bring everywhere with them is their laptop. A laptop is a convenient device for all working professionals, and it is a must-have for business travels. However, laptops come in all different shapes and sizes. Some of them are quite large and bulky, while others are slimmer. Therefore, let's cover some of the best laptop messenger bags for men that they could use for work as well as for pleasure
Messenger One Compartment Leather Shoulder Bag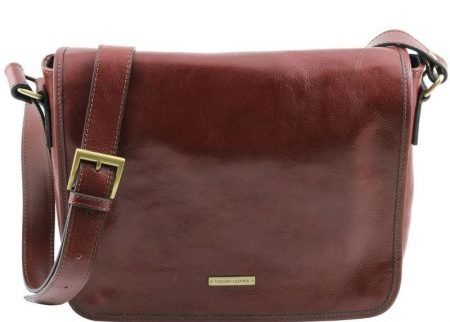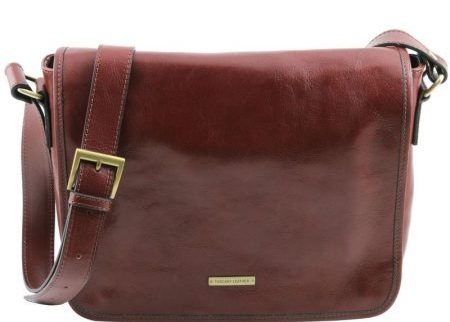 It's a flexible and a very versatile model that will boost your fashion side to the next level. It comes in multiple awesome colors that will suit any outfit you may choose. Also, user experience is very dependent on a quality of a shoulder strap. Therefore, we made sure it's soft and wide enough to avoid any sort of digging into your shoulders. Furthermore, this bag offers a clean look so your professional look will never be damaged or messed with when you carry it. This bag is certainly designed with a modern man in mind. And of course, with his laptop in mind. So if you are looking for a clean and classic look while maintaining your laptop protected, look no further. Our messenger one compartment leather shoulder bag is the one for you.
Click here to see the product:
Men's Brown Leather Briefcase With Detachable Shoulder Strap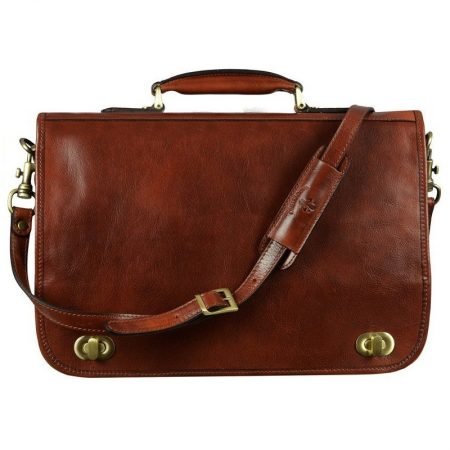 It's one of those multi-functional bags that are always in style no matter your profession. Not only this messenger bag is spacious, but it also features a comfortable wide strap and multiple interior and exterior pockets. Furthermore, you can rest assured to be able to fit your laptop inside. After all, it's one of the main functions of the bag, if not the main. The bag also comes with a comfortable handle just in case you want to give your shoulders some rest. Thus it can be turned into a briefcase in a matter of seconds. This messenger bag is for everyone that wants to have one of the best messenger bags out there. The high quality Italian leather will ensure this bag will be your partner in crime for years to come. All while keeping your laptop in best possible shape.
Click here to see the product:
Dark Brown And Simple Leather Messenger Bag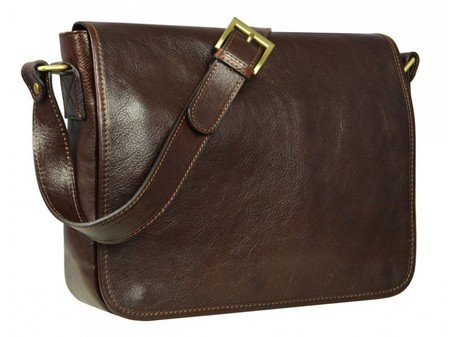 This is the perfect example of a laptop messenger bag for men. It comes in a vibrant, brown color that will compliment any suit or outfit you might choose that day. Furthermore, the lining is 100% cotton, so this bag is also quite easy to clean and maintain. The dark brown and simple leather messenger bag is for those who want to keep their laptops safe and sound while showing off their fashionable side. A win-win situation for the owner. The dust storage bag that comes with the bag will keep it in a great condition for years to come.
Click here to see the product:
Leather messenger bag ANCONA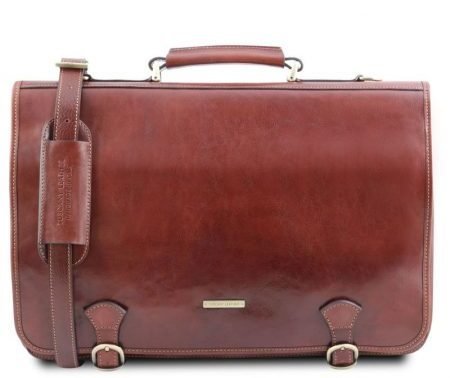 This is a fantastic laptop messenger bag for men that will surely get you noticed in the office and beyond. You will be able to choose one of three classic colors that are perfect for any wardrobe, occasion and event. The handle will give your detachable shoulder strap a rest. As the result, this leather messenger bag Ancona might be turned into a briefcase just in case you need a more formal outlook for certain occasion. And finally, this messenger bag is meant to take care of your laptop. Therefore you can rest assured it's spacious enough to fit your work laptop as well as A4 document folders. In short, it's exclusive Italian messenger bag that is suitable for any situation in life.
Click here to see the product:
Capri Leather Messenger Bag 2 Compartments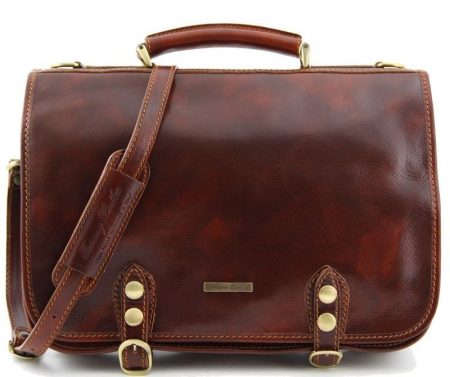 It's a beautiful messenger bag for men who want more organization options. It's spacious to fit a 16″ laptop, making it absolutely perfect laptop messenger bag for men. Also, you get multiple interior and exterior pockets for your phone, cards and other necessities. The bag comes with a snap button closure type, so you could open it easily while keeping your items well protected. Shoulder strap will let you carry it on a shoulder, or as a true briefcase, thanks to the strap being detachable. It's your choice. It is truly crafted to meet today's contemporary needs while maintaining solid and exclusive self-image.
Click here to see the product:
Best Laptop Messenger Bags For Men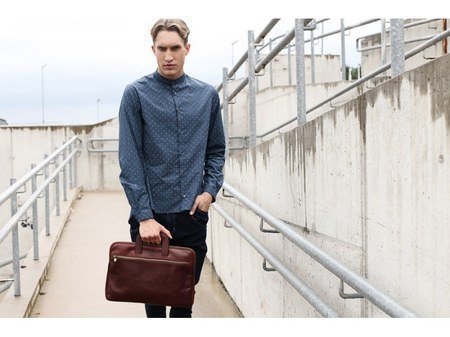 A typical laptop bag resembles a messenger bag. There are many reasons why messenger bags are a fantastic option for men all over the world. First of all, most of the leather messenger bags offer enough of room inside so that they can fit a laptop, wallet and many more necessary to carry around items. Furthermore, if the inside lining of a messenger bag is soft enough, the laptop will not get scratched. Some of the low-quality bags use poor materials, so there is a chance that the laptop may get scraped.
In addition to the quality, men should also look for leather laptop bags. Not only will leather last decades longer than other materials, but it will also compliment every outfit. It does not matter if you are wearing a suit or just shirt and trousers. A great leather messenger bag will make you look professional and put together at all times. There is just something about men that look like they have their stuff together.
Finally, there is the issue of the weight. Laptops can be quite bulky and carrying them around in a poor quality bag may be risky. That kind of a bag may break at any moment, and your laptop could end up on the curb. That is why leather is such a convenient and reliable material. It is strong enough to carry a lot of weight without any risk of breaking. Furthermore, if the bag comes with a wide shoulder strap, your hands will be free, and your shoulder will not hurt afterward. It is also important in a long run keeping your posture as stable as possible. I mean we don't want to get back problems simply because we made a poor decision while purchasing a bag.
Leather Is Reliable Material
It is extremely important to note that leather can endure almost any weather conditions. Therefore, you may carry your fantastic laptop messenger bag anywhere for decades to come. It is easy to take care off it. In fact it does not require much of attention. Applying some of the special leather lotion onto your bag will increase it's longevity that much more. But on the other hand, leather ages like wine. As years pass, leather bags look better. You two can grow old together with so many stories to tell.
Conclusion
Laptops are a significant investment, and carrying them around means that we have to protect them adequately. Rain or shine, your equipment should be safe, and the only way to do it is using the best laptop messenger bags for men. Or women. However, low quality is out of the question. Your laptop is a valuable item. Therefore, you must pick out a high-quality bag for it. Leather is the best quality material, but you also have to make sure that the bag can fit other important things like document folders, smartphones and anything else. Luckily, among these models, there is something for everyone's taste and need. Invest your money in a high quality leather laptop messenger bag, and you will use it for the rest of your life.
Hope you enjoyed the read. Join our family by subscribing to our newsletter and follow us on Facebook!