With one of the best luxury Italian briefcases, it will not only reflect your high level of professionalism, but you will also have a convenient way of carrying your accessories and staying organized throughout your busy days. A briefcase is an extremely practical item to have in every profession. Whether you work in finance, law, medical, research, or any other profession, it's likely you could use one yourself. There are many options for someone who needs a high-quality Italian-made briefcase, and we will be providing the reasons for five of our best ones.
The best part of the Italian briefcases is that luxurious feeling you have when carrying one around. It does not have to be a fancy brand, because brand alone determines solely the price you pay. What matters is the superiority of the design, material and actual handcraft mastery needed to put together such beautiful and luxurious briefcases. And no one is actually better at that than Italians themselves.
So, without further ado, let's discuss the best luxury Italian briefcases Domini Leather can offer.
Our 5 Best Luxury Italian Briefcases
To help you find the perfect briefcase to match your needs, we have rounded up the following best luxury Italian briefcases you must consider before making your final choice:
1. Leather Laptop Briefcase with Zip Closure – Vizenza

This luxury briefcase is exclusively made in Italy and provides a perfect way to carry and care for your important documents, laptop, and other business accessories. It comes with a zip closure that provides easy access to your items. The briefcase has a versatile design that suits both men and women in different professions. It is made of full grain leather that is not only durable but amazingly cool and slick too. The single compartment case also features protective metal feet at its bottom, exterior front pocket with its own closure, and a detachable shoulder strap. It is a perfect Italian-made luxury briefcase for any serious professional – man or woman.
Useful features:
Made of full grain leather;
1 compartment;
Protective metal feet on the bottom;
2 exterior pockets with closure;
2 interior pockets;
Adjustable and detachable leather shoulder strap;
Zip closure;
Suitable for A4 document folders;
Suitable for laptops;
15.75 x 3.15 x 11.02 inch;
2.65 lbs.
2. Leather Multi Compartment Smart Laptop Briefcase – Alessandria
This is a top-of-the-range luxury briefcase from Italy. Alessandria is a multi-compartment smart laptop briefcase that's also durable and fashionable as well. The briefcase is made of high-quality full grain leather and features a solid build designed to securely carry all your items and accessories wherever you go. Some of the key features Alessandria brings to the table are four main compartments suitable for A4 document folders, notepads, books and a laptop up to 15.6 inch. It also has two openings in the back designed to be attached to a trolley when you are travelling. It's hard to even find the right words to describe the superiority of this luxury Italian briefcase when compared to others.
Useful features:
Made of full grain leather;
4 compartments;
2 exterior pockets with closure;
2 outer openings on the back side to attach to trolley;
3 interior pockets;
Adjustable and detachable leather shoulder strap;
Suitable for 15.6″ laptop;
Suitable for A4 document folders;
Metal closure;
16.14 x 4.72 x 12.4 inch;
3.97 lbs.
3. Leather Briefcase With Detachable Shoulder Strap – Illusions
This beautiful soft leather briefcase Illusions might mislead with the first picture impression. However, don't get fooled, as it's our most popular briefcase among our grand collection. It is the favorite among our clients primarily due the soft structure, which makes everyone who first touches it fall in love. But besides the emotional part, this briefcase is truly amazing. Classic style does not mean in any way that it's not suitable for today's modern needs and tempo. In contrary, Illusions leather briefcase is up to whatever task you have in mind. And trust us, your image as a leader will flourish with Illusions briefcase at your side.
Useful features:
Made of full grain leather;
Cotton lining;
2 main compartments;
Padded pocket for a tablet or a smaller laptop;
Enough room to fit a laptop up to 15″
Specialized pockets for smartphones, pens and cards;
A carry handle for comfortable carrying experience;
Detachable and adjustable shoulder strap;
Multiple pockets outside and inside of the bag;
Perfect for A4-sized folders and documents;
One outside zip pocket;
15.7 x 4.3 x 11 inch;
3.52 lbs.
4. Leather Briefcase with 3 Compartments – Canova

This is a perfect option for anyone looking for an executive leather briefcase that will set him apart from the rest of the crowd at the office. Canova is made of full grain and hand stained calfskin leather, which embodies a high level of professionalism and is extremely durable in addition to giving you a sleek professional look. The interior of the briefcase is lined with a natural lining which demands practically no effort to keep it clean. It comes in a rigid structure ensuring your laptop's safety at all times.
Other useful features:
3 main compartments;
Inner open and zippered pockets for credit cards, keys and other valuables;
Pen holder inside;
Suitable for A4 format;
Can hold 15.6″ laptop;
Metal closure;
16.54 x 6.1 x 12.2 inch;
4.48 lbs.
Buy it here
Leather Multi Compartment Smart Briefcase with Front Pockets – Ventimiglia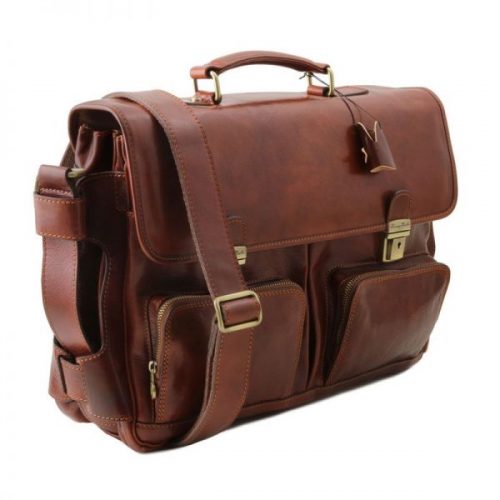 Ventimiglia is a very exclusive and high-end Italian leather briefcase. The price indicates that it's certainly not for everyone. However, if you are a busy person that needs a briefcase that will not only meet your needs, but would also make an impression on people, Ventimiglia is the real deal. It's made of the highest quality leather that will ensure the briefcases lasts your forever. In addition to the quality, it's filled with numerous pockets and an organizer panel that will make your life easier while browsing inside. So, to sum it all up, this briefcase is for people that understand the importance of high quality product and don't mind spending an extra dollar for one of the best ones out there.
Useful features:
2 compartments;
Exterior 2 front pockets with closure;
Exterior 2 open pockets on the front side;
Pocket on the back side with closure;
Exterior 2 opening on the back side to attach to trolley;
Interior zip pocket;
Adjustable strap;
Detachable shoulder strap;
Leather and cloth shoulder strap;
Suitable for A4 document folders;
Suitable for 15.6″ laptop;
Metal closure;
18.11 x 4.72 x 12.6 inches;
3.95 lbs.
Why Should You Get An Italian Briefcase?
A good looking briefcase projects a professional aura, especially when matched with formal wear. It shows a high level of seriousness in your field of work. It is no wonder why one of the most common gifts given to fresh Law School graduates or someone who has finished an MBA is usually a high-quality leather briefcase. Therefore, if you fit anywhere within the frame, an Italian briefcase might be the right choice for you as well.
But why Italian you may ask. And it's a perfectly normal question. Well, to be blunt and straight to the point, there aren't any better ones out there. Yep, we said it. Italians are known for making the best leather goods in the world, and briefcases are no exception. Therefore, if you want the best bang for your buck, choose Italian.
Other Best-Selling Luxury Italian Briefcases
Final Words
In this article, we have covered some of our best luxury Italian leather briefcases that are handcrafted using the finest full grain leather to give you a sleek and practically functional case. We chose the briefcase products based on their quality, design, attention to detail, size, and overall craftsmanship. The briefcases have a classic design with a touch of modern and contemporary styles. However, each and every one of these briefcases are made with today's modern man and woman in mind. That means that they are packed with useful features to meet today's contemporary needs.
Either way, whether you decide to go with one of our briefcases or not, as promised, here is your gift – 15% discount coupon code on all of our briefcases. Use code – bestbriefcase.
Hope you enjoyed the read. Join our family by following us on Facebook!