Are you looking for a classy, stylish and inexpensive leather document holder? Then it seems you have come across the right place. Our genuine leather portfolio document holder – Age of innocence is just the right item you were looking for. It's made of full grain leather that will last for ages while making amazing first impression over people you are looking to impress. This case can be used as a document holder as well as a case for your laptop. Whichever the need is for moment, it will be there to support you. This awesome portfolio is unisex, meaning it is more than suitable for both men and women. Are you still not convinced?
Features
Materials
Exterior made from full-grain calfskin that will last you for decades
Interior fully lined with leather
Tan
Hand-dyed using the vegetable tanning method
This artisan technique maintains the natural look of leather
Vegetable tanning gives the leather a natural earthy smell
Laptop size
Fits a laptop up to 13" (e.g. MacBook Pro 13" or MacBook Air 13")
Gadget friendly
Separate compartment for your laptop
Organizer panel for cards and pens
Pocket for your cellphone
To stay organized
Multiple compartments and pockets to organize your files
Suitable for letter-sized legal pad and A4 documents
Better safe than sorry
Reliable brass hardware
Secure closure with a working  key lock
Dimensions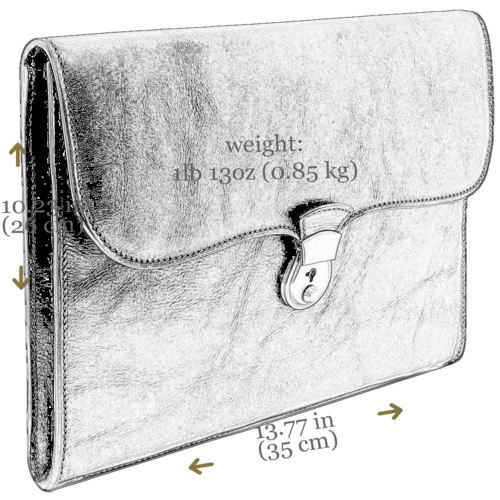 Materials and Tanning
This amazing genuine leather portfolio document holder – Age of Innocence comes from Italy and is made of full grain Italian leather. It ensures the durability, comfort and classy look. Interior part of the case is cover with leather as well in order to ensure the highest level of practicality. Not only it becomes easy to navigate, store and search within, but also it makes it easy to clean.
To extract the color of the organizer case, we used a special vegetable tanning method. The whole process includes the use of hands and requires nothing less than the highest quality of natural dyes. We assure that the dyes are pure and natural containing zero unethical or harmful ingredients. The vegetable tanning method allows us to retain the natural look of leather while adding uniqueness and authenticity to every product. In addition, vegetable tanning method gives the leather natural smell of earth, which reminds us of where we came from, what we have gone through, and what are we ready to accomplish.
You will also find a dust bag included in the package in case you have to store your new portfolio. It will keep it in the best possible shape while protecting it from sun, dust, accidental stains and scratches.