Men's Leather Weekend Bags
Perfect for a weekend getaway!
We are certain that you want to look stylish every day of the week, including weekends. Whether you are traveling on vacation or just visiting a friend for the weekend, you will need one of the luxurious men's leather weekend bags.
---
Mens Leather Weekend Bags for Sale
The handle is designed with a leather strap to hold the handles together and keep everything neat. When the bag is sitting on a flat surface, the handles will remain together, so when it is time to pick it up, you do not need to fumble around. Instead you will just lift up the bag and be on your way.
No every consumer has the extra cash on hand to invest in designer brand leather weekend bags. When purchasing designer brand bags, consumers are paying mostly for the brand. Our bags are designed with the utmost care and quality materials, without the exuberant price tag. We offer a wide array of bags for a fraction of the cost, when compared to designer brands. Our customers are amazed at our prices and high-quality leather weekend bags.
Traveling can be very exciting, but it can also be difficult to keep those much-needed items within hand's reach at all times. With limited space on airplanes, trains and subways, travelers find that a medium-sized bag works better than an oversized bag. We offer bags of all sizes, with plenty of storage space and compartments for all of your accessories. You will find a our weekender bag large enough to hold your laptop, cosmetics, attire, keys, mobile phone and other accessories. The compartments are plenty, so you will have a special space for each of your accessories. When you reach into the bag, you will know exactly where to find every single item you have stored inside it.
Stylish & Cute Weekender Bags for Men
We design our weekend bags to offer customers a long service life, without fading, cracking or peeling. We hand select the materials utilized to make each of our bags, just to make sure they are the highest quality available. We also provide each customer with a 100 percent cotton dust bag for storage. The storage bag will fit perfectly over the weekend bag to keep protect it from sun and dust exposure, as well as scratches and stains.
The cotton material will also absorb moisture and allow the leather to breathe. We want you to feel confident in purchasing our products.
Frequently Asked Questions
What payment methods can I use?
To purchase our leather bags you can use most of the debit/credit cards as well as PayPal. Once you type your billing and shipping information on the checkout page, below you will be given a choice to pick one out of the two payment methods. If you choose PayPal, you will be redirected to their page to either sign into your PayPal account, or if you don't have one, pay with a debit/credit card on their page. If you choose to pay with a debit/credit card, you will be asked to type your debit/credit card information on the same checkout page. We use Stripe services to accept debit/credit card payments. Both methods are safe and sound, and thus you don't have to worry about anything.
When can I expect my order to arrive?
All orders are typically shipped out within 1 business day. If you make an order in the early morning, your bag will most likely be shipped to you on the same day. If you make an order later in the afternoon, your package will be heading to you within the next business day. Therefore, keep in mind that if you order a bag on Friday afternoon, it will be shipped to you Monday morning.
Can I change my order?
It depends whether or not your bag was already shipped to you. Therefore, in such case please contact us at support@dominileather.com and use your order number as a subject. We will be more than happy to make changes to your order.
How do I cancel my order?
You can cancel your order only if it has not shipped yet. So, please contact us immediately at support@dominileather.com to request for an order cancelation. If it has not been shipped yet, we will allow you to choose a new bag, or get a full refund. If, however, it has been shipped to you, the order will not be cancelled.
What if I don't like my bag? Can I exchange it for another?
We offer a 14-day return on our bags. If you feel that you don't like the bag, we will allow you to exchange it for another one. In such case, please contact us at support@dominileather.com. Usually, we will wait for the bag to arrive to us, and then give you store credit or full refund.
Can I choose a shipping method?
All of our packages are shipped with UPS. You will not be allowed to choose a different shipping method. However, if you, for any reason, would like us to use a regular post mail to ship your bag, please leave us a note with your order and we will be more than happy to fulfill it. For special requests, please contact us at support@dominileather.com.
What kind of maintenance is required for your bags?
Real leather requires some sort of maintenance. Only plastic bags can be resistant to water, scratches, sun and so on. Our leather bags are soft and beautiful, and thus will require you to take some action to ensure they serve you to the fullest. However, the maintenance is simple. Apply some conditioner from time to time to maintain the shiny look. Keep it from getting too wet and when it does get wet, do not leave it out in the direct sun light to dry out. When you store it away, make sure to put it in the dust bag. That's it.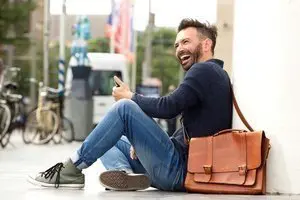 I highly recommend everyone Domini Leather bags, because their products are top quality. Expect these leather weekend bags to be much more beautiful from what you see in the pictures.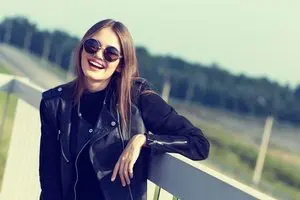 I absolutely love it. Do not be fooled by the pictures as these leather weekenders are much more beautiful in real life.