48 Hour Leather Bags for Women
In today's fast-paced lifestyle, taking long vacations is becoming less and less possible. Some women are choosing to dedicate their youth years in making money, forcing some of them to work without any break year after year. While we do not encourage such behavior in any way (it's simply not healthy nor durable nor sustainable), some women simply don't have a choice. Especially if they are looking for a promotion within a few years, or they have started their own business. However, most of the time they will at least have their weekends to themselves. That's exactly where our 48 hour leather bags for women come into play.
---
Women's 48 Hour Leather Bags Online
First of all, it's of crucial importance to mention the material behind 48h leather bags. It's as the name suggests – leather. However, it needs to be distinguished from other "leathers" out there. You see, there are many types of leathers out there. There are even "plastics" that can be called leather as long as there are some percentage of leather in the mix. It's called bonded leather.
We, however, can't emphasize it enough, are as far from it as possible. At Domini Leather we sell items made of full grain leather ONLY. That means that whichever brand, type or color you pick, you can be certain that it's made of full grain leather. For those that are not familiar with the term – it's the top notch material. There is nothing really above it if it has anything to do with leather.
Full grain leather ensures the durability, longevity and awesomeness of each and every bag. And that's our main purpose of existence.
48 Hour Leather Bags for Women for Sale
We strive to provide the most competitive prices on the market. These bags will never be as cheap as plastic bags with similar purpose and appearance. However, you will see the difference the second you open the delivery box. That shiny and smooth look, awesome smell and tender touch will put a big smile on your face. At the end of the day it's the emotion that counts with every purchase. And if there isn't any, the purchase will not be satisfying. However, with our 48 hour leather bags for women, you will feel that beautiful feeling. It's a promise.
Frequently Asked Questions
What payment methods can I use?
To purchase our leather bags you can use most of the debit/credit cards as well as PayPal. Once you type your billing and shipping information on the checkout page, below you will be given a choice to pick one out of the two payment methods. If you choose PayPal, you will be redirected to their page to either sign into your PayPal account, or if you don't have one, pay with a debit/credit card on their page. If you choose to pay with a debit/credit card, you will be asked to type your debit/credit card information on the same checkout page. We use Stripe services to accept debit/credit card payments. Both methods are safe and sound, and thus you don't have to worry about anything.
When can I expect my order to arrive?
All orders are typically shipped out within 1 business day. If you make an order in the early morning, your bag will most likely be shipped to you on the same day. If you make an order later in the afternoon, your package will be heading to you within the next business day. Therefore, keep in mind that if you order a bag on Friday afternoon, it will be shipped to you Monday morning.
Can I change my order?
It depends whether or not your bag was already shipped to you. Therefore, in such case please contact us at support@dominileather.com and use your order number as a subject. We will be more than happy to make changes to your order.
How do I cancel my order?
You can cancel your order only if it has not shipped yet. So, please contact us immediately at support@dominileather.com to request for an order cancelation. If it has not been shipped yet, we will allow you to choose a new bag, or get a full refund. If, however, it has been shipped to you, the order will not be cancelled.
What if I don't like my bag? Can I exchange it for another?
We offer a 14-day return on our bags. If you feel that you don't like the bag, we will allow you to exchange it for another one. In such case, please contact us at support@dominileather.com. Usually, we will wait for the bag to arrive to us, and then give you store credit or full refund.
Can I choose a shipping method?
All of our packages are shipped with UPS. You will not be allowed to choose a different shipping method. However, if you, for any reason, would like us to use a regular post mail to ship your bag, please leave us a note with your order and we will be more than happy to fulfill it. For special requests, please contact us at support@dominileather.com.
What kind of maintenance is required for your bags?
Real leather requires some sort of maintenance. Only plastic bags can be resistant to water, scratches, sun and so on. Our leather bags are soft and beautiful, and thus will require you to take some action to ensure they serve you to the fullest. However, the maintenance is simple. Apply some conditioner from time to time to maintain the shiny look. Keep it from getting too wet and when it does get wet, do not leave it out in the direct sun light to dry out. When you store it away, make sure to put it in the dust bag. That's it.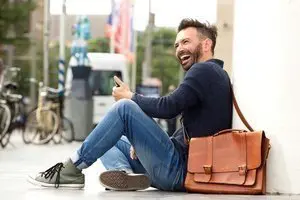 I highly recommend everyone Domini Leather bags, because their products are top quality. Expect these leather bags to be much more beautiful from what you see in the pictures.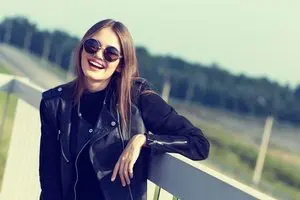 I absolutely love it. Do not be fooled by the pictures as these leather bags are much more beautiful in real life.