Organizing one's belongings is the most crucial part of any working professional. Whether you are going to work every morning, or you have a private business, it is necessary to know where everything is and how to reach it. At all times. A great shoulder bag is a vital accessory when it comes to dressing yourself up in the morning. It should be durable with comfortable straps making it easy to carry all the stuff around. Furthermore, it's a huge plus if a leather bag could also compliment your overall look. Such combination is especially hard to find, taking the fact into account that shoulder bags with lots of pockets usually look a bit nerdy.
Well, in fact it's hard to find if you do not know where to look! While the leather should be of the top-notch quality, it also has to be designed greatly so it can fit a lot of your belongings. With that in mind, the organization within the compartments is vital. Just imagine what it would look like if you could not find something at a crucial moment. Whether that includes your keys, phone or wallet. It's essential to separate the items correctly.
Shoulder Bags With Lots Of Pockets
Think about the things that you carry with you in your everyday bag. There should be enough space to hold important papers, phone, charger, wallet, and other personal belongings. Furthermore, it would be great if the bag could fit a lunch or even a tablet. That is why you should search for a shoulder bag that comes with lots of pockets. Having everything separated is vital if you want and need to feel organized.
The quality of the bag is the next thing you should consider before buying it. Everything should fit and feel really well. The straps should be wide enough and sturdy. Otherwise, they might dig into your shoulders. All that depends on the material of the bag. While some women and men opt for cloth bags, leather is the way to go. Not only does it offer higher quality, but it will also last far longer than any other bag. However, bear in mind that leather needs to be taken care off as well. Clean it properly every week, keep it in a dry place, and you will not have to buy another one in decades.
Leather shoulder bags with lots of pockets just might be the best investment anyone could make. And, if the quality is not enough to convince you, just remember that leather complements any outfit wonderfully.
Brown Leather Laptop Bag With Shoulder Strap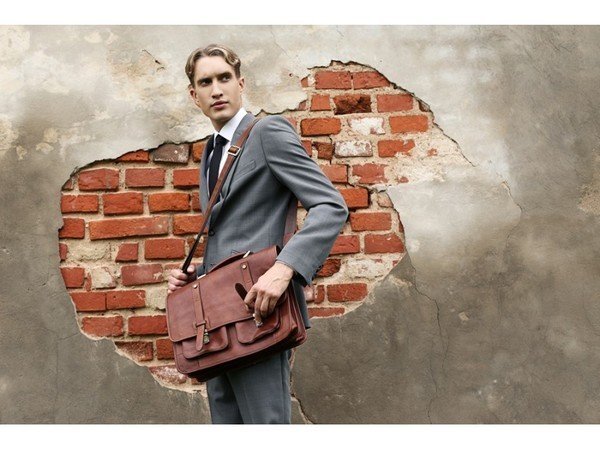 It is a perfect choice for you if you are looking for style and convenience, all in one place. This bag comes with two main compartments where you can put your work and personal items. Also, there are multiple pockets with a zippers for more important belongings. It is big enough to fit a 14 inch laptop, tablets and A4-sized document folders. A perfect combination for fashion lovers who adore comfort.
Click here to see the product:
Dark Brown And Simple Leather Messenger Bag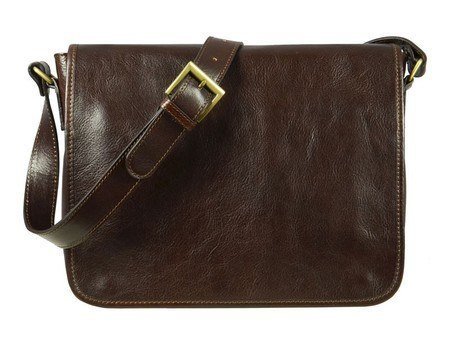 It is a beautiful bag that will surely keep all your belongings safe. Do not let the title fool you. Even though it has a simple design, this bag comes with one main compartment, one inside pocket and one pocket on the outside. That way, you can separate everything nicely and not worry whether you are going to lose something. Although it is a bit smaller then the first bag, it can very well fit the A4 folders and has organizer panels for smartphone, cards and pen.
Click here to see the product:
Orange Classic Carefree Messenger Bag
This great messenger bag comes in a fantastic color that complements any outfit. Yet, it will not overpower it. The shoulder bag is adjustable so that it will fit everyone. Furthermore, it comes with two main compartments, an inside pocket, and an organizer panel. While it won't fit a laptop, however, any tablet will fit in this awesome bag with ease.
Click here to see the product:
Light Brown Minimalist Handbag For Men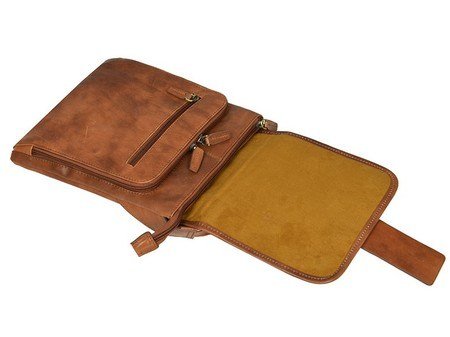 This minimalist handbag is perfect for those who wish for a subtle, yet practical design. The strap is detachable, and there are many fastening options, including turning it into a backpack. Furthermore, it is large enough to carry all your gadgets, and there are many inside pockets which allow better organization.
Click here to see the product:
Light Brown Tote Bag For Women
This light brown tote bag will be a fantastic companion for the always busy businesswoman. It is large enough to carry multiple gadgets, and the classic design is complimentary every day of the week. Furthermore, there is a pocket for just about everything, all at a hand's reach because of the floor-to-floor zipper.
Click here to see the product:
We Have What You Are Looking For
Everyone's always on the hunt for the most beautiful shoulder bag – useful, yet stylish; large, but not enormous. There are many on the market, but the quality is always questionable. Keep in mind that you are going to carry such bag every day, so the straps have to be durable and sturdy. Furthermore, one large compartment will not do you any good when looking for your keys. Opt for bags with lots of pockets. They will help you keep the inside tidy, making you the most organized person on the street or in the office.
We have plenty of leather bags that come with or without shoulder straps. We focus on the quality and durability first, but we understand the importance for any leather bag to be comfortable, convenient and stylish. Check out our Leather Bags for men collection and see for yourself!
Hope you enjoyed the read. Join our family by subscribing to our newsletter and follow us on Facebook!