Men have a tough time finding the perfect bag, whether it is for work or everyday occasions. There is a lot of things they have to take into consideration, not just the style and what they are made for. Most men even think that their only option is to rock a backpack. At least I did for a while. However, fashion is more accepting of men nowadays. That means that there are more choices. Hmm, like top leather messenger bags for men are just as suitable as backpacks or suitcases.
A messenger bag is an excellent option for any business professional out there. It can withstand the pressure men put  it through every day. If it is quality made, it will not only help you carry everything with you, but it will not fall apart any time soon. It will be your friend until you get bored of it.
If you wish to make your messenger bag your go-to everyday bag, then opt for a leather one. Leather is a rather forgiving material. Harsh weather or rain will not affect it too much. It will also be durable enough if you fill your bag full of bricks. Of course, not literally. But if you are the type of person who "loves and needs" all the stuff inside the bag, then leather is the way to go. Not to mention that you will look classy and savvy.

Brown Classic Carefree Messenger Bag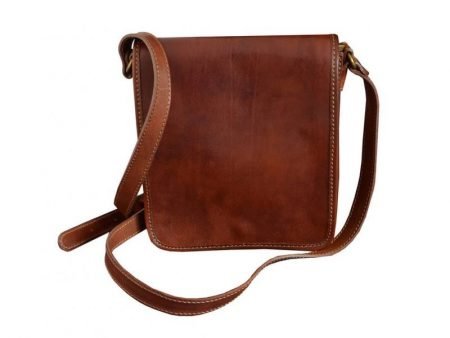 A brown classic carefree messenger bag is the perfect example of a stylish, yet durable bag. Made of high-quality Italian leather, this bag will surely go with any outfit you have in mind. Furthermore, it is formal and casual at the same time, making it a valuable investment for every man. It contains two compartments, an inside pocket with a zipper and is perfectly suitable for a tablet. Therefore, if you are looking for an inexpensive and yet awesome leather messenger bag of a smaller size, this might be just the right bag for you.
Dark Brown And Simple Leather Messenger Bag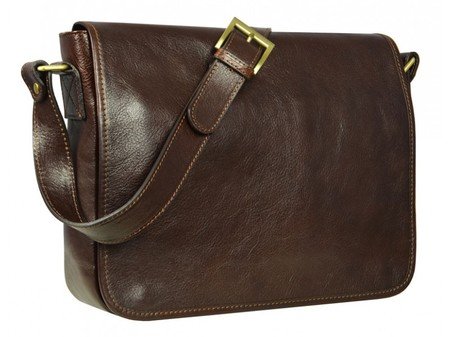 This great dark brown and simple leather messenger bag is for the no-fuss men out there. The simple design allows you to go out and about in style. However there is nothing simple about the bag.This bag is suitable for larger paper sizes, and it can carry a lot thanks to one large compartment. It is of course also equipped with inside zip pockets to keep smaller items well-organized. This awesome messenger bag will easily fit a laptop, tablets and smartphones. It is a quality bag for a quality man. Are you the one?
Brown And Simple Leather Messenger Bag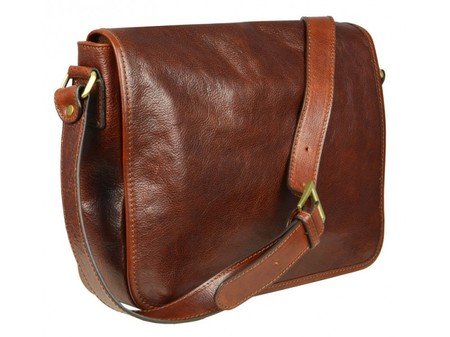 Brown and simple leather messenger bag is a brighter brother of the above mentioned dark brown messenger bag. The inside is the exact same, with one large compartment and an inside zip pocket. It's for those men that look for more natural colors. After all, when it comes to leather, nothing beats a good old brown. Sometimes it's worth going with the flow rather than swimming against.
Modern Brown Leather Wallet With Detachable Shoulder Strap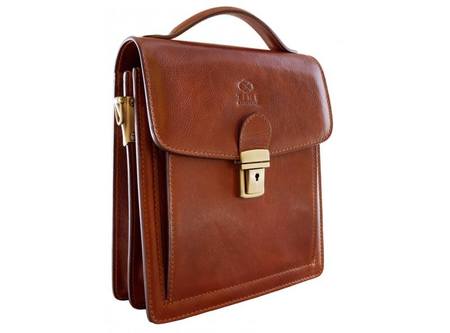 As the name implies, it is more of a man purse. Or as you wish to call it. An amazing, comfortable, durable and stylish messenger bag that not every man will dear to carry around. It takes a real, super self-confident man whose believes and views will not be shaken by some doubters and nay-Sayers. Fits most of today's tablets and kindles. It contains two main compartments and an additional pockets outside and inside of the bag. Great choice for real man!
Messenger One Compartment Leather Shoulder Bag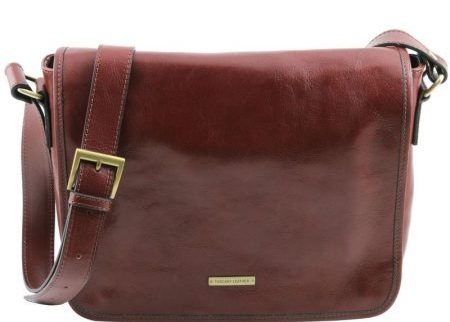 It's a versatile model that will inevitably turn you into an office fashion icon. This beautiful bag comes in several different colors. Therefore, it won't be hard to choose the one that will suit any outfit you may choose. In addition, the leather strap is wide enough, so it will not dig into your shoulder. After all, user experience is perhaps the most important factor when it comes to leather messenger bags. Furthermore, this bag offers a clean-cut look, so you will always look very professional when you carry it. This bag is certainly designed with a modern man in mind. So if you are looking for a clean and classic look, look no further and check what this bag has to offer! The comfort is also guaranteed.
Top Leather Messenger Bags For Men
It is equally important to look good and feel good if you are a working man. You have to be able to organize everything you bring with you to work without feeling uncomfortable. Furthermore, the bag itself should have a perfect balance between casual and professional, leaving you with more ease at where and when to rock it.
Not all messenger bags are quality made. Most men usually tend to spend on a budget, and they opt for cloth messenger bags. Still, is it worth the money? Probably not.
Leather is the best option you could pick for a bag because it will last you a lifetime. With proper and careful care, it will take years to show any sign of wear. And when the signs of wear start showing, they are like scars on men, make your bag look only better.
Furthermore, leather messenger bags are a stylish option for the modern and fashion-conscious man. They compliment every suit and every casual outfit, even your workout clothes. Who says that you have to sweat and carry an unsightly bag as well?
Finally, bear in mind that leather messenger bags never go out of style. Fashion may change, but their quality will never fade away. They are the real winners when it comes to men's accessories.
Everything You Need Is Here!
Investing in a quality leather bag should not be a luxury you only can allow yourself occasionally. Every man deserves a fantastic work bag, so why should you be any different? Each of these bags has enough space and pockets, so it will please most business professionals. Furthermore, the quality and the leather makes them an incredible value for money because they do last forever. Not only will they be around safe and sound, but they will go with any suit you have. With proper care, every day could be the best day ever with a perfect leather messenger bag.
Hope you enjoyed the read. Join our family by subscribing to our newsletter and follow us on Facebook!