Unlike women who almost always have a handbag with them, men are not used to carrying bags. They would rather choose to carry their things in their hands, which is why they often run the risk of losing stuff! Some men, however, choose to carry a backpack, which is pretty understandable. This is what they were used to carry when they were still in school. But when they become professionals and start working in an office setting, carrying a backpack could seem inappropriate. In fact, wearing a backpack while on a formal suit is just unsuitable.
Backpack vs. briefcase: which is better? Below we cover some of the major reasons why men should transition to using a briefcase instead of backpacks. Especially when it comes to carrying documents, laptop, and everything else!
Backpacks Don't Look Very Professional
A backpack is synonymous to schoolchildren and that alone is enough reason why it's not really suitable in a professional setting. You probably remember those moments when you first went to school and one of the first things that your mom bought for you was a backpack! Indeed, it's such a joy to see little boys carrying backpacks going to school. But seeing older men carrying a backpack is a different story, especially if they are wearing office clothes or suits.
Whether you are working in the field of finance, law, medicine, or in other fields, a backpack is just not the most suitable bag to carry. Especially if you're wearing suits or a uniform. It just will not go well with your clothing and the professional image that you are trying to portray. Remember, you're no longer going to a school where you need to carry books and other school supplies. At this stage in your life, you'll be meeting with clients, serving patients, and performing other important tasks that call for maturity. Only schoolboys rely on backpacks. Professional men need a briefcase since this is what matches with their professional image.
What is the Best Alternative?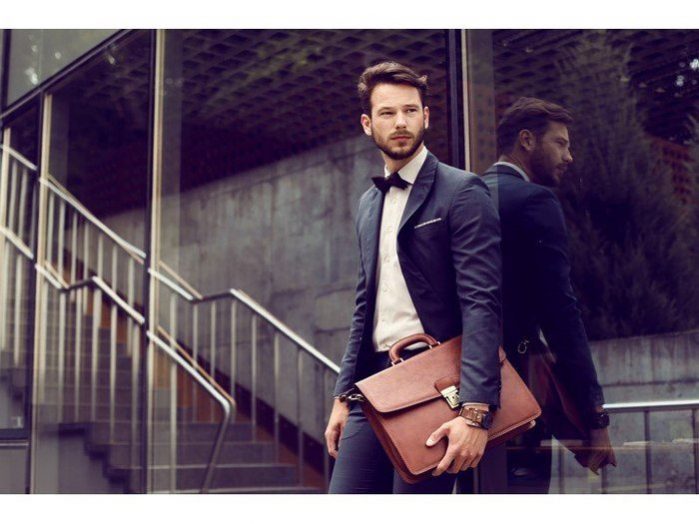 A briefcase is no doubt the best alternative to a backpack for professionals. This is a timeless piece of accessory that goes perfectly well with a man's professional image. So now that you're in the world of professionals, it's time to ditch your backpack and transition to using a briefcase!
When shopping for a briefcase, you'll find that there are lots of options available to you. They are made with different materials and are available in different colors and styles. You'll find thin briefcases that can be used to store files, papers etc. There are also those that could accommodate a laptop along with other electronic gadgets.
While it's worth investing in a handmade briefcase that costs several hundred dollars, you can always check with your father. Maybe he can hand down his old and trusty leather briefcase to you. Also, take the time to visit second-hand shops and thrift stores and see if you can find a reliable briefcase that costs less than a hundred dollars.
Backpack vs. Briefcase: Which is Better?
There's no point in associating yourself with your childhood past by wearing a backpack now that you're a working professional. Now that you're no longer in school, it's time to switch to a leather briefcase. As mentioned above, a backpack could ruin your clothing and image, which is not really what you want when you're meeting with clients. Of course, you can still carry a backpack but only when you're going on out of town trips or trekking with friends!
However, if you absolutely refuse switching away your backpack, then at least check out our leather backpacks. They are a lot more professional and solid looking, therefore will not hurt your image as some other might. You might even pull one of as a briefcase in certain situations.
Hope you enjoyed the read. For more cool articles and information please follow us on Facebook and Instagram.