Getting dressed for work in the morning can sometimes be a hassle. You have to figure out how to look presentable, yet comfortable. Furthermore, the bag you are going to wear to work will decide how your day will go. The color and the model are equally important, and the bag itself should complement the outfit, not overpower it. Therefore best designer tote bags for work could work very well in such case. They grew in popularity over the years, and many women have at least one in their collection. Not only are they able to fit lots of stuff (and we know that women like to keep lots of stuff), but they are stylish enough for any occasion.
A tote bag is usually left unfastened for more comfortable use, and it should come with two sturdy handles. The quality of the handles is crucial because a tote bag can fit quite a lot inside and therefore become quite heavy. The heaviness might hurt your shoulders, alter your posture and eventually lead to many serious health problems. Therefore it is essential to consider the width of the straps before buying a bag.
Leather Is Way To Go
Furthermore, the materials that many manufacturers use to make tote bags vary. If you are looking for a cheaper alternative, do not expect much quality. They usually make the bags from recycled materials that just do not last that long. Although recycling is a truly applauding action, however you can get that done in other areas and not risk your looks and health.
The leather is always the best option because. For one, it will last a lifelong while maintaining its original looks and comfort. In addition to that, it will go with any outfit, casual or formal. Leather also comes in many complementary colors, so it never goes out of style. Although one thing needs to be mentioned: due to natural coloring techniques, two bags colored in the same manner may slightly differ.
Buying a leather tote bag will certainly be an investment. It may cost just a little bit more than other material bags, but taking quality, durability and comfort into account, it is worth it. You are going to wear it every day, and fill it to the brim with your work and personal belongings. That is why the quality is vital when picking out one of best designer tote bags for work.
Best Designer Tote Bags For Work
You should look for a leather tote bag that has some fastening system. Whether that includes a zipper or a flap with magnetic clasps – it is up to you. Nevertheless, it is vital to keep the inside of the bag nice and secure. You can wear your tote bag over the shoulder or in your hands. Leather is, again, the best option. The warmth of your hand and the grip will not destroy the handles, so you will maintain the quality for many years to come.
Finally, a leather tote bag is the fabulous accessory every woman needs. You can dress it down, dress it up. Work becomes enjoyable when you have a leather tote bag with you. Besides, if it is of high quality and finely stitched, you will enjoy it for a long time. Perhaps a lifetime.
Vintage Leather Tote Bag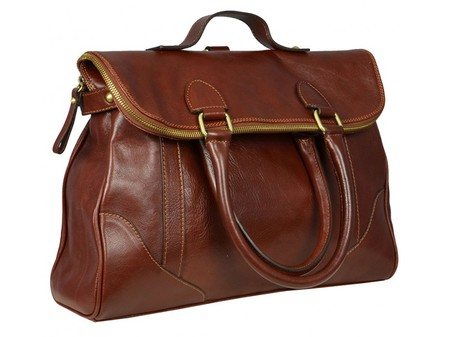 This could be your new go-to bag if you want a classic look every day. It stores most laptop sizes, and the quality is there as well – we used pure Italian leather to make it. Also, the straps allow you to wear it as a backpack as well. Women's vintage leather tote bag contains two compartments and inside zip pockets – perfect to keep your belongings nice and tidy. Suitable to carry A4 folders, therefore a perfect choice for a business woman.
Click here to see the product:
Light Brown Tote Bag For Women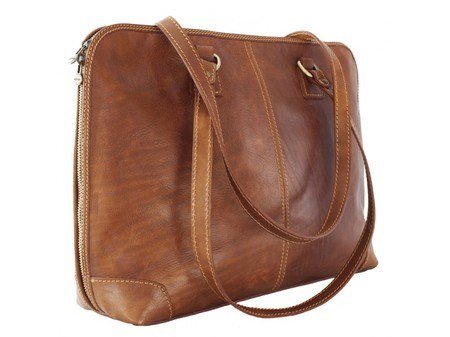 It is a beautiful choice if you prefer large bags with lots of pockets. It comes with two sturdy leather handles that will not get destroyed while carrying it every day. Furthermore, it has a floor-to-floor zipper, so all your belongings will be safe and secure. Although it has only one spacious compartment, however it is full of pockets to keep your belongings organized. Perfectly suitable for A4 documents and folders and you will even be able to fit your table at convenient reach.
Click here to see the product:
Long Handle Brown Tote Bag For Women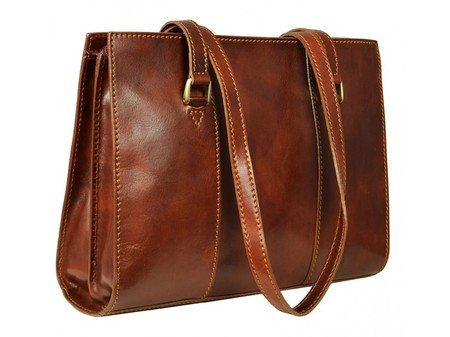 This amazing long handle brown tote bag for women features a compact and sturdy design. The classic shape never goes out of style, and the handles allow you to wear it over the shoulder as well. Furthermore, the storage space is large enough to store everything you might need during the day. It contains two compartments inside and extra pocket for smaller things like pens and pencils.
Click here to see the product:
Brown Fashion Travel Bag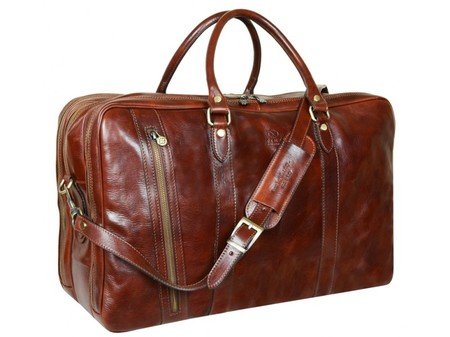 This great brown fashion travel bag is perfect for men and women that commute to work. Although it is not defined as a tote bag, however it can very well perform the function of a tote bag. It allows you to have everything in one place, without carrying an additional bag. The compartments are large enough to fit a laptop, and there are three of them. You also get multiple pockets to separate personal belongings and keep them organized. Floor-to-floor double zipper will ensure safety and comfort.
Click here to see the product:
Classic Large Multi-Purpose Leather Bag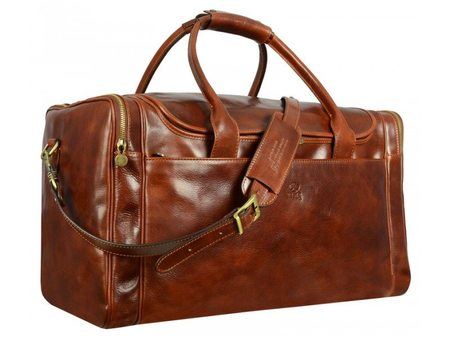 This is the best choice if you are an organized individual with a fashion taste. Not only will this bag come in handy on multiple occasions, but it will also fit everything inside. It also comes with a detachable shoulder strap, so you have more styling options. Suited for both, men and women, and as the name suggests, it can serve you for multiple different purposes. It has one large compartment with inside pockets that will fit from your laptops and tablets to sports wear and shoes. Just an awesome overall leather bag.
Click here to see the product:
Conclusion
Designer tote bags for work are an investment every businessperson should make. It does not matter if you are a man or a woman. Everyone wants more arrangement options, and any of these bags will help you with that. There are multiple styles to choose from, but you should always pay attention to the quality and the material. Furthermore, it is crucial to find a bag that can adjust to your lifestyle and needs. Therefore, a leather designer tote bag for work is the best option if you want long-term durability and style.
Hope you enjoyed the read. Join our family by subscribing to our newsletter and follow us on Facebook!