Getting dressed for work in the morning can sometimes be a hassle. You have to figure out how to look presentable, yet comfortable. Furthermore, the bag you are going to wear to work will decide how your day will go. The color and the model are equally important, and the bag itself should complement the outfit, not overpower it. Therefore one of our best designer tote bags for work could work very well in such case. They grew in popularity over the years, and many women have at least one in their collection. Not only are they able to fit lots of items, but they are stylish enough for any occasion.
A tote bag is usually left unfastened for more comfortable use, and it should, most of the time, not always, come with two sturdy handles. The quality of the handles is crucial because a tote bag is quite spacious and if fully filled with your belongings can become quite heavy. The heaviness might hurt your shoulders, alter your posture and eventually lead to many serious health problems. Therefore it is essential to consider the width of the straps before buying a bag.
[
Good Read:
Types of Handbags Explained
]
Leather Is Way To Go
Furthermore, the materials that many manufacturers use to make tote bags vary. If you are looking for a cheaper alternative, do not expect much quality. They usually make the bags from recycled materials that just do not last that long. Although recycling is an applauding action, however you can get that done in other areas and not risk tampering your appearance and comfort.
[
Interesting:
How to Tell Leather Quality
]
Leather is always the best option, because, for one, it will last a lifelong while maintaining its original look and comfort. In addition to that, it will go well with any outfit, be it casual or formal. Leather also comes in many complementary colors, so it never goes out of style. Although one thing needs to be mentioned: due to natural coloring techniques, two bags colored in the same manner may slightly differ.
Buying a leather tote bag will certainly be an investment. It may cost just a little bit more than other material bags, but taking quality, durability and comfort into account, it is worth it. You are going to wear it every day, and fill it to the brim with your work and personal belongings. That is why the quality is vital when picking out one of best designer tote bags for work.
[
Good Read:
How to Take Care of Leather Bags
]
Best Designer Tote Bags For Work
You should look for a leather tote bag that has some fastening system. Whether that includes a zipper or a flap with magnetic clasps – it is up to you. Nevertheless, it is vital to keep the inside of the bag nice and secure. You can wear your tote bag over the shoulder or in your hands. Leather is, again, the best option. The warmth of your hand and the grip will not damage the handles, so you will maintain the bag in good shape for many years to come.
Finally, a leather tote bag is a fabulous accessory every woman needs. You can dress it down, dress it up. Work becomes enjoyable when you have a leather tote bag with you. Besides, if it is of high quality and finely stitched, you will enjoy it for a long time. Perhaps a lifetime.
And here is the list of our 5 best designer tote bags for work. Enjoy!
1. Vintage Premium Leather Tote Bag / Backpack – Charlotte's Web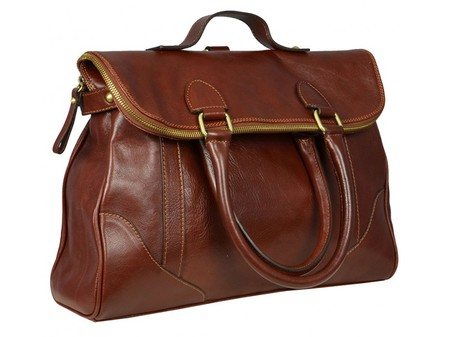 This could be your new go-to bag if you want a classic and yet elegant look on a daily basis. Charlotte's Web tote bag can fit a laptop up to 15″ if worn as a tote bag, and up to 13″ if turned into a backpack, which can be done in a matter of seconds. The quality of the tote bag should not be questions as only a full grain Italian leather was used in its making. This women's vintage leather tote bag contains two main compartments and a inside zip pocket – perfect to keep your belongings nice and tidy. Suitable to carry A4 folders making it a perfect choice for a self-respecting business woman.
Other useful features:
Interior is covered with cotton lining;
Fits a laptop up to 15″ as a tote;
Two compartments and inside zip pockets to organize your belongings;
Suitable for A4 documents and folders;
15.7 x 4.3 x 11.4 inch;
3.08 lbs.
Buy it here
2. Large Italian Leather Tote Bag with 2 Long Handles – Mariana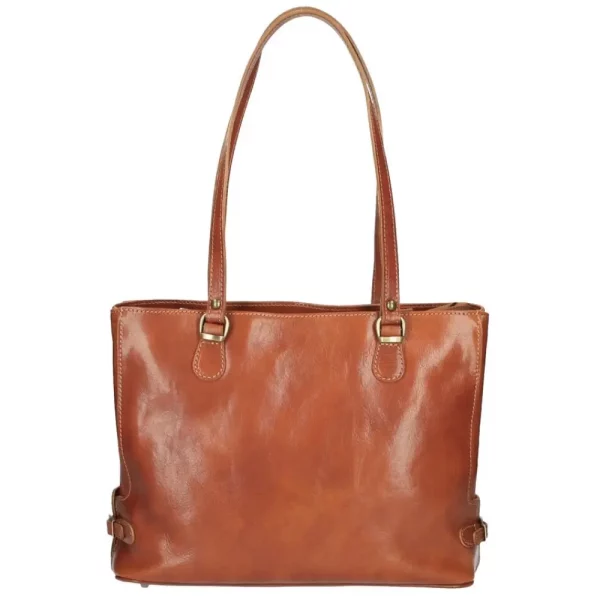 Mariana is one of our most versatile and classic tote bags any woman would enjoy. Two long handles make it super easy to wear it over the shoulder, even more than other similar bags. Inside you will find two main compartments along with one zippered compartment, one zippered pocket and two open pockets. Thus it's easy to see that Mariana is a great tote bag for any woman that appreciates having many pockets and enough space. It will also easily fit a 15.6″ laptop and A4 document folders, which is relevant for those women who look for a versatile bag for multiple occasions. So, if you are looking for a great tote bag for a great price, Mariana is second to none.
Other useful features:
Full grain leather;
Cotton lining;
Semi-rigid structure;
Exterior zippered pocket on the back side;
Zipper;
14.57 x 4.72 x 11.02 inch;
2.43 lbs.
Buy it here
3. Italian Leather Shoulder Tote Bag with Long Handle – Melissa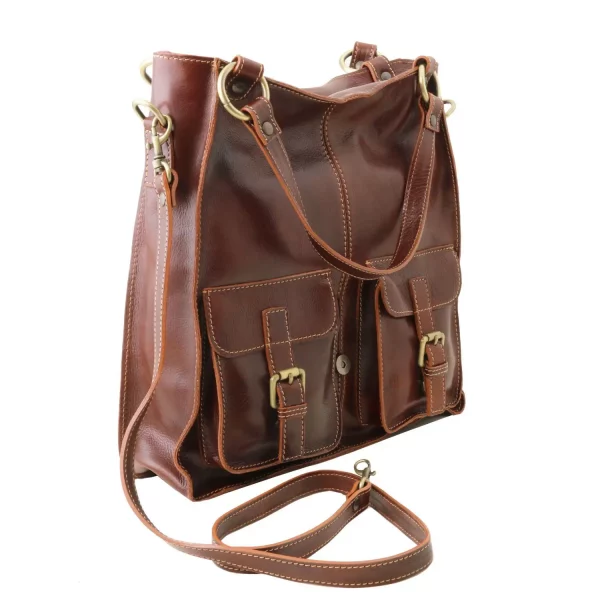 Melisa is a very loved tote bag by our clients. It contains two handles that are fairly long, but not long enough to be worn over the shoulder. With that in mind we added a beautiful shoulder strap that can be removed at will. It's great for any occasion, be it work or pleasure. Full grain leather that it was made out of ensures it looks classy within a formal environment, while the design can prove to be playful enough for a daily use. It comes with one compartment that fits a 13.3″ laptop and A4 document folders, in case that is something that you require a tote bag to be able to handle. So, if you are looking for a great overall tote bag that has a shoulder strap, Melisa would be a wise choice.
Other useful features:
Cotton lining;
Rigid structure;
Interior zippered pocket and pen holder;
Exterior 2 front pockets with closure;
Exterior pocket on the back side with closure;
Zip closure;
Magnetic snap button closure;
14.17 x 3.94 x 14.57 inch;
2.65 lbs.
Buy it here
4. Large Premium Leather Tote Bag with Shoulder Strap – Ilenia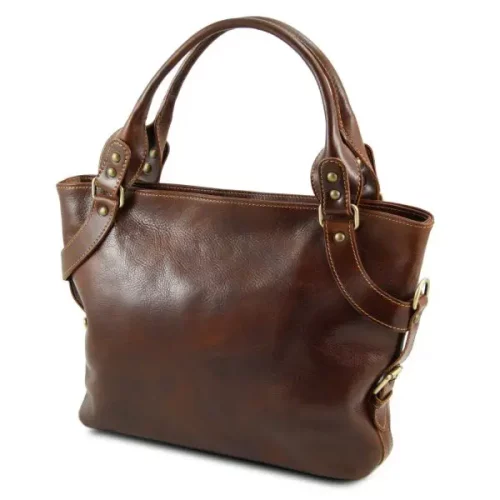 If you need size without damaging your appearance, Ilenia leather tote bag might do the trick. This beauty is a large one, and yet stunning and practical. If two handles prove it to not be enough, it comes with a detachable shoulder strap to finish the set. Inside you will find two compartments that are large enough to fit a laptop and A4 document folders. While it's more of a purse than a laptop bag, the size of it allows you to fit quite a large laptop, up to 16″ even. Inside you will find plenty of pockets to enhance your organizational situation wherever you are and whatever you do.
Other useful features:
Full grain leather;
Cotton lining;
Rigid structure;
Exterior pocket on the back side with closure;
Interior zippered pocket;
Interior zippered compartment;
Zip closure;
16.54 x 4.72 x 11.02 inch;
2.43 lbs.
Buy it here
5. Italian Leather Tote Bag – Scarlet Letter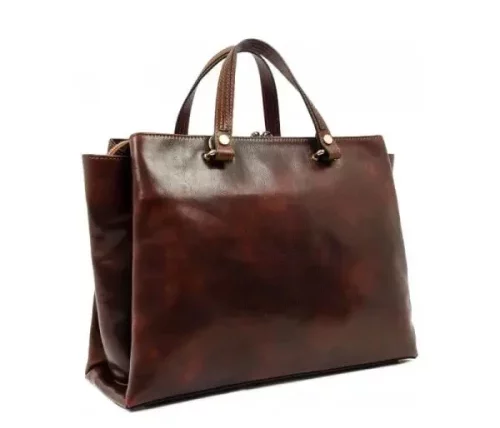 Last but not least, Scarlet Letter tote bag is a stunning leather bag for any occasion. Made out of premium full grain leather, you will see and feel the quality before you even touch the bag. The tote bag can fit a laptop up to 12″, which proves that it's not the biggest tote bag out there, but nonetheless impressive. Inside you will have everything that you will ever need when it comes to pockets and comfort. Therefore, without further ado, take a good look at this tote bag, as it has a lot more to offer than it might seem from the first look.
Other useful features:
Adjustable shoulder strap;
Three large separate compartments and an inside zip pocket for smaller items;
Zip opening allows convenient access;
A large pocket for a smartphone;
Exterior made from genuine full-grain calfskin;
Interior fully lined with cotton and easy to clean;
15.74 x 5.11 x 10.23 inch;
3.08 lbs.
Buy it here
Best Designer Tote Bags for Work
Designer tote bags for work are an investment every businessperson should make. It does not matter if you are a man or a woman. Everyone wants more arrangement options, and any of these bags will help you with that. There are multiple styles to choose from, but you should always pay attention to the quality and the material. Furthermore, it is crucial to find a bag that can adjust to your lifestyle and needs. Therefore, a leather designer tote bag for work is the best option if you want long-term durability and style.
Hope you enjoyed the read. Join our family by subscribing to our newsletter and follow us on Facebook and Instagram.