The world of fashion keeps changing, and with that, new bag choices appear every day in the places you have never imagined. Whether you tend to go for the designer pieces, or you are the type of person who is always skulking around fast fashion stores, the options are endless. In fact, that applies to everything, from jewelry to bags. One of the most popular bag choices nowadays is a messenger bag. There are many reasons why this might be the best choice for any woman or man out there. The perfect messenger bag is usually large enough to carry a laptop and other gadgets inside while complementing your looks. However, it should not be bulky, and you should be able to wear it anywhere you go. But you probably catch yourself thinking, where can I buy a messenger bag? It always depends on what you are looking for. But it's a very good thing that you have come across our store as we offer plenty of options.
Where To Find A Messenger Bag?
So, when you finally decide to go looking for a messenger bag, be careful where you shop. Most fast fashion stores offer low quality bags at lower prices. That way, you might be able to afford a bag, but is it sustainable? If you have to change the bag every year, you will be spending more money buying poor quality. There is a saying that a greedy person always pays double. So don't be greedy of saving extra 20 or 40 dollars, as it will come back to haunt you in a form of a new bag purchase. And at the end you will end up spending way over what you planned.
That is why you should be looking into making a proper investment. Investing in a leather messenger bag is a fantastic idea because you are thinking of your future. While it may cost more now, it will pay off in the end because you are getting long-lasting quality. In general, leather is the way to go. That's for sure. Dive right into our leather messenger bags collection and see what we are talking about.
Some Of Our Best-Sellers
Men's Leather Messenger Bag – The Stranger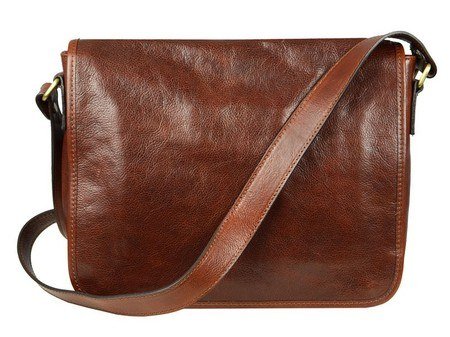 An absolutely amazing choice for someone who is not looking for a fancy looking bag. While it may have simple design, there is nothing simple about it. It's a superb quality leather messenger bag that will get its work done for years to come. It will provide a sophisticated look to its wearer while being comfortable. The bag comes with one large compartment big enough to fit a smaller laptop or A4 sized document folders. It has plenty of zip pockets inside and out that are extremely useful pocketing smartphones, business cards, passports, etc. So don't think little of this bag and check it out.
Features:
Made of full grain leather
Cotton lining
1 main compartment
Interior zip pocket
Exterior zip pocket right at your side
Suitable for A4 documents and folders
Can fit a 12″ laptop
Organizer panels for smartphone, cards and pens
Comes with a dust bag
Buy it here
Premium Leather Briefcase – The Magus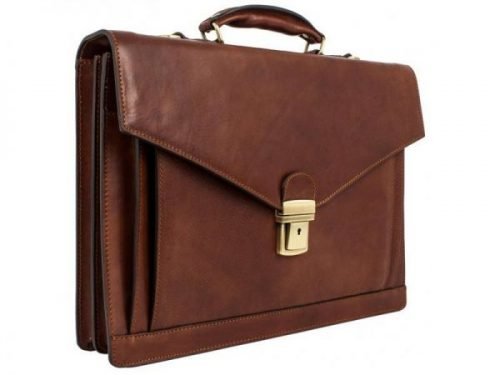 A true businessmen's or businesswomen's bag. It will make you look sophisticated, smart and organized, which is highly recommended with your boss hanging around. I mean if you can increase your chances of getting promoted simply by rocking a cool leather bag, why would you not do that? This amazing leather messenger briefcase will fit your 13″ laptop and A4 folder documents. It also comes with a detachable shoulder strap, so it can rock two looks: highly professional and casual professional. You always want to keep both options. In addition, the bag is full of different size pockets to meet any of your needs.
Features:
Made of full grain leather
Tanned by hands with vegetable tanning method
2 main and 2 smaller compartments
Enough room to fit a laptop up to 14″
Padded pocket for a tablet or a smaller laptop
Specialized pockets for smartphones, pens and cards
A carry handle for comfortable carrying experience
Detachable shoulder strap
1 inner and 1 outer pockets with zippers
Perfect for A4-sized folders and documents
Push button with key lock
Buy it here
Men's Leather Briefcase With Detachable Shoulder Strap – Illusions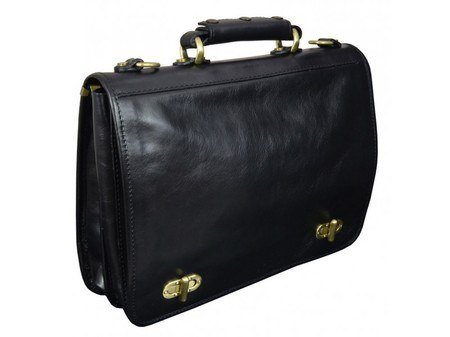 Another superb option for people who love classic brown and black colors. One of our most popular products for a reason. This beautiful leather briefcase will take your appearance to the whole new level, while still remaining in the professional zone. It fits large laptops (up to 15″) and of course A4 sized folder documents. Comfortable carry handles are complemented with detachable shoulder straps for maximum comfort and positive experience. The bag contains organizer panel for smartphone, pens and business cards.
Features:
Made of full grain leather
2 main compartments
Enough room to fit a laptop up to 15″
Padded pocket for a tablet or a smaller laptop
Specialized pockets for smartphones, pens and cards
A carry handle for comfortable carrying experience
Detachable shoulder strap
Multiple pockets outside and inside of the bag
Two compartments for best comfort and organization
Perfect for A4-sized folders and documents
One outside zip pocket
Twist-lock closure.
Buy it here
Sizes And Shapes Of A Messenger Bag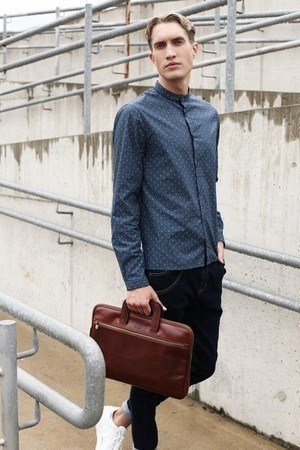 A messenger bag can be a square or rectangular shaped bag that you can fill to the brim with everything you might need. It's suitable for work or business occasions, but you can also wear day-to-day. It is a thankful model to add to your collection because, if it's quality made, it's quite sturdy and durable. When shopping for a messenger bag, you have to consider what you will be using it for. If you are in college and you are only going to carry the books and a laptop in it, opt for a smaller and perhaps simpler model.
However, if you are a business-savvy man or a woman, then a bigger messenger bag could be the right choice for you. You can carry your laptop, phone, wallet and any work folders inside it. In addition, it should complement every outfit you may choose in the morning, so there is no need to change bags every day.
Features Of a Messenger Bag
When it comes to features, an excellent messenger bag is spacious and well-organized on the inside. The lining should come with multiple pockets, and the material should be easy to clean. If the lining is removable – even better. You can then wash it more thoroughly. A messenger bag should come with high-quality zippers as well. While it may look obvious now, most fast fashion stores tend to overlook this part of the design. That is why zippers break often, and you have to replace them regularly.
If you opt for a high-quality leather messenger bag, you will be done with a bag buying for a while. The bag of your choice should flatter your overall look and also need to perform its main function very well – which is to put stuff in.
Furthermore, you should also consider the handles and the straps. Many poor quality handles tend to break fairly quickly. In addition, low quality straps may dig into your shoulder. That is why leather is your best material if you are looking for durability, comfort  and in general the best value for money deal.
Final Words
Investing in a beautifully made messenger bag requires a lot of research and window shopping, whether the brick-and-mortar shops, or e-shops. However, do not get discouraged on your journey. While many brands offer a variety of options, it can still be overwhelming to think of where can i buy a messenger bag.
Bear in mind that it's better in the long run if you pay more for one high-quality bag. Otherwise, you will be spending more money each year trying to replace all the parts that broke on your poor quality bag, or worse, buy a new low-quality bag.
Furthermore, fast fashion stores usually do not make classic designs. Therefore, if you are on the hunt for the perfect messenger bag, opt for smaller retailers and manufacturers, like us. That way, you will know for sure that you are paying for high-quality material and exquisite design. Don't forget to browse our messenger bags.
If you enjoyed the article, please follow us on Facebook and Instagram for more similar content.