Leather is one of the most durable materials. Because of this, leather bags will probably last a long time and get stained at one point or the other. We don't have a perfect solution for every leather-related problem you might face, but below are some first aid tips for preserving the beauty of your leather. If you are trying this at home, keep in mind that cleaning methods can sometimes cause damage, because every piece of leather is different. To avoid this, always do a spot-test on a hidden corner first. Therefore, without further ado, let's dive into the learning of How To Get Stains Out Of Leather.
RELATED: Taking Care Of Leather (Good read if you want your bag to last a lifetime)
Ink Stains
Leather absorbs ink very quickly and it might be hard to take it out. This is because ink is a dye, and it's made to not be removable.
If you see the stain while it's fresh, try using any mild leather cleaning product or rubbing alcohol quickly. There are various home remedies recommended for removing ink, but beware. There is a good chance that any product that removes ink will damage the color of your leather too.
If the ink marks are small, sometimes they will disappear in time without any treatment. If nothing works, don't despair, it's still possible to save your leather. You'll need to take it to a professional, though, but they will be able to remove ink stains no matter how large they are. With really tough stains, the area might need to be recolored.
Urine Stains
Human and dog urine usually don't cause damage to leather. A mild solution of detergent or soap in water is usually enough to get the stain and the smell out. To clean urine stains, first remove any cushions or stuffing that can be removed. Use a damp cloth and try to soak up as much urine as you can, but be careful not to over-soak the leather. Then you can use diluted soap or another cleaning product to wash the area. We suggest Nature's Miracle, a great product for cleaning pet stains, available in pet stores.
Keep in mind that very time you are using water on leather, you must treat the entire area evenly edge to edge. Leather needs to dry evenly, otherwise you would end up with water stains.
While dog urine can be easily removed, this is not the case with cat urine as it causes permanent damage. There might be hope if you see it while it's still wet. Nature's Miracle might help it by weakening the chemical properties of cat urine. However, there is a good chance that you will still end up with stains. In that case, the solution is to have the leather reconditioned or refinished by a professional.
Oil Stains
A couple of years ago, my son brought home a hot pizza and threw it on the table, right on top of my leather jacket. The oil dripping from the pizza managed to leak on the leather. What are the chances, right? My go-to solution for cases like these is cornstarch, and it worked this time.
If you put cornstarch on the oil stain right away, it will probably absorb the oil before the leather does, thus eliminating the stain. Oil stains that have already dried out can be treated this way too, but this method requires some patience. Rub some cornstarch on the stain and keep rubbing until you feel the spot getting warm. You might need to do this a couple of times, but keep trying and the cornstarch will eventually absorb the oil. If you don't have cornstarch on hand you can try using talc.
Cornstarch is a really simple and safe remedy. It's worth a try on any oily or greasy stain. I gave this advice to my friend and she succeeded in removing a week-old lipstick stain.
Water Stains
You might not think that clean water will cause stains to appear on leather, but it does. They might be water rings from a glass or spots from random drops of water. If anything wet touches your leather, water stains will appear. However, they are really easy to remove.
What you'll need is only some water and a clean sponge. The water shouldn't be too hot or too cold, room temperature is best. What makes watermarks appear as stains is the point of demarcation, and you will want to eliminate it.
How to do this? Simply go over the whole area with water. You'll want to cover the whole visible area so the slight difference in color won't be noticeable. You don't want to soak the leather, just get it slightly damp.
To do this, dip the sponge in water, but make it as dry as possible by wringing it. Gently go over the whole surface without rubbing. The part with the stain will need most water, and you can use a bit less on the rest of the area. The whole area will then dry evenly, and the stains will be gone. No matter how impatient you are to get the stains off, let the leather dry naturally. Using high heat methods, such as blow drying will only cause more damage.
You can try this method with marks from coffee, tea or juice but it's not guaranteed to work, since the color from the liquids might leave it's on mark.
Leather and water don't go well together, as water will actually dry the leather out. To keep it in good condition, use a leather conditioner after treating with water every time. The Leather Solution Cleaner, Conditioner and Protector is a good, all-in-one choice.
Grease Stains
If you catch a grease stain early, you might be able to simply wipe it off with a dry cloth. If this doesn't work, don't try using water because it will not work on grease stains and it will just dry out the leather. Instead, try using cornstarch. Take a generous amount and tap it into the spot in question. If the stain is still there, let the cornstarch sit for a couple of hours or overnight. The cornstarch will eventually absorb the grease and then you can simply brush it off.
Dark Stains
A mix of cream of tartar and lemon juice works best for dark stains because it has a mild bleaching effect. Those could be stains from food or blood, for example. Mix equal parts of lemon juice and cream of tartar and cover the stain with the mixture. Let it sit for 10 minutes. Wipe the paste with a wet cloth. If paste residues are still present, you can add a few drops of mild sap to water and use this mixture to clean the area again. When the area dries out, apply leather conditioner to keep your bag soft and shiny.
Conclusion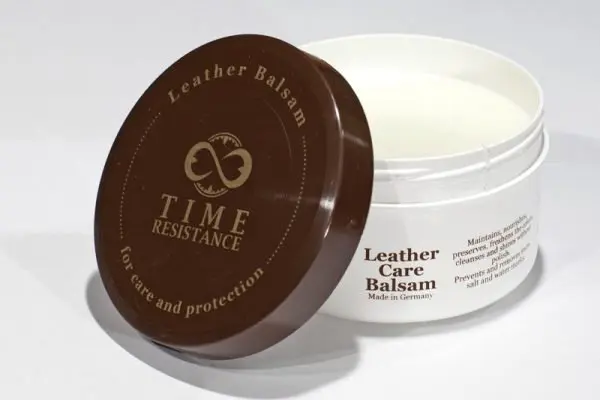 Learning how to get stains out of leather is not that difficult. Of course, there are certain situations where no tools and knowledge will help salvage your bag. Therefore, it is much better and easier to simply take care of it. That's when our leather care balsam will become an irreplaceable friend.
But we, humans, tend to make mistakes, and we should not punish ourselves if something did happen to them. The tips mentioned above will help you in some situations. Especially, if these methods are applied immediately after an accident. If not, well, then you can hit a store for a new bag.
Hope you enjoyed the read. Join our family by subscribing to our newsletter and follow us on Facebook!