If you are a beginner in the field of crafting leather, then this article is for you. We will try to explain how to use rivets on leather, which is inevitable part for any wanna-be leather crafter.
Leather is such a forgiving material which makes it easy to work with. However, despite how good it is, it's also very possible to ruin it completely. Therefore, without further ado, let's move on to the "How to Use Rivets on Leather".
What is Rivet?
Rivet is a term used for a permanent fastener, which is usually mechanical in nature. It is a cylindrical shaft with two ends. One end has a head, while the other end, called the tail, does not. Rivets are a perfect way to attach two pieces of leather together. Also, they can be used as decoration. In order to start riveting your leather, you will have to obtain a few select tools that will enable you to do just that. In addition to rivets and a rivet gun, you should ensure that you have enough leather, as well as a drill for making holes.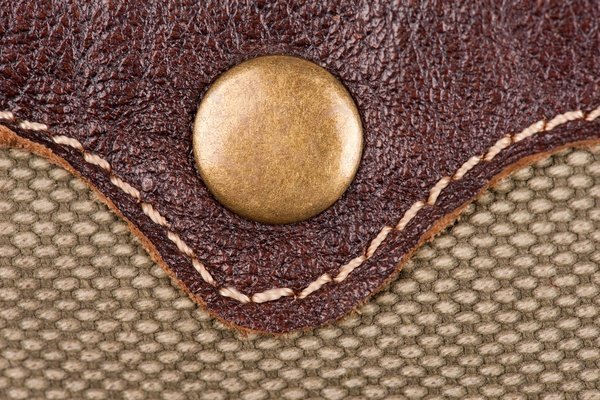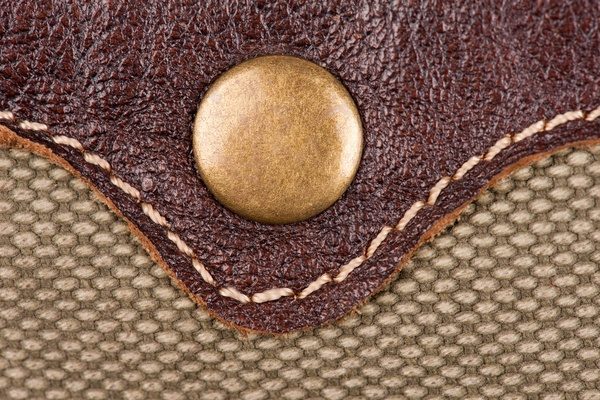 Rapid Rivets
Rapid rivets are the easiest to install and also the quickest, as the name suggests. What's really interesting about rapid rivets is that they have a cap on both sides, which is not that common. This is why they are sometimes dubbed as double cap rivets. There is a variation of a rapid rivet, which has one end that is hollow or decorative in nature.
In order to attach a rapid rivet, you will have to punch a hole in the leather you are working on. The size of the hole should be the same as the rivet stem. The next step is inserting the stem on one side of the hole and attaching the cap to the other. If you want to keep the cap rounded, you should use a shaft that has a concave end.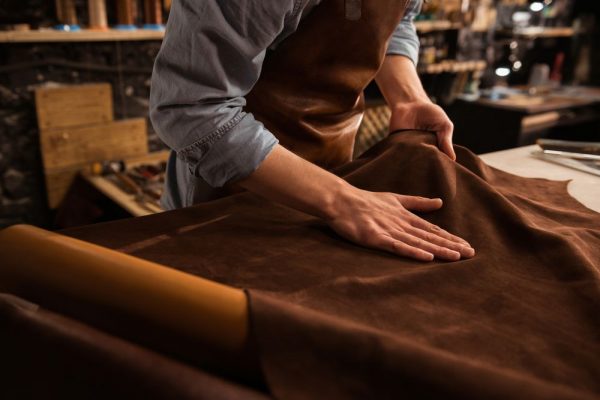 Flat Top Rivet
That being said, if you prefer to have a flat top rivet, or if you don't have a rivet setting tool, you can set the rivet with a hammer. However, if you are planning on doing that, you should be aware of the fact that it is a lot easier to destroy or leave a mark on the rivet.
Rapid rivets come with caps in different sizes, which is important for the aesthetics. In addition to that, they also come with stems in different sizes. You need to make sure that the stem is not too long, in order for it to be set in a right manner. To do that, you should ensure that the stem is not extended beyond the leather for more than 1/8 of an inch. If the stem is longer and you do not have other options, you can use nippers to cut off the stem at the desired length. If you decide to do this, you should first check if it works on a piece of scrap leather.
Which Tools Are Used To Rivet Leather?
The tool for making holes that is the easiest to use is the Rotary Punch tool, which is also the most convenient one, as well. It consists out of a rotating head, which has various punching blades, which you can use to make holes of different size. To use the Rotary Punch tool you just need to press the handles, until a hole appears.
Rotary Punch tool is perfect for riveting leather straps, but they have limited functionality on other types of leather goods. This is mainly due to the fact that you can only use it up to two inches from the edge of the leather. Its functionality for thick leather is also somewhat lacking.
Keep The Metal Sharp
To get the most out of your riveting tools, you need to make sure that the blades remain sharp. You can do this either by sharpening the blades when they get dull or by getting new ones. If you can't seem to make a clean punch, you can swivel the leather to get to the other side. This is also a sign that you should replace or sharpen the blades.
Manual Punches
Manual punches are not that convenient to use, but they offer the most versatility for riveting. By using manual punches, you will be able to reach those hard to reach places, as well as punch through thick or tough leather. To use a manual punch, simply hold the punch straight on top of the leather and hit it with a mallet. Usually, one punch is enough to make a hole, but sometimes you will need to perform that action a couple of times, especially with thick leather.
When using manual punches, you should avoid doing that on a hard surface, such as metal or quartz. If you don't, you'll end up with dulled punches, in no time at all. Manuel punches come in many different sizes and shapes, which is one of the main reason why they are one of the most versatile tools you can use.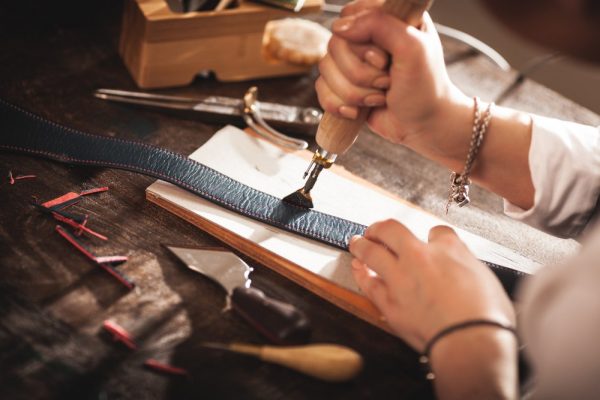 Conclusion
Thus, we hope we have clarified the question of how to use rivets on leather. In addition, if you are just getting into the whole leather crafting field, please read How To Make A Leather Bag At Home for extra tips that could be relevant to you.
If you don't feel like making leather bags for men or women yourself, you can check out our big collection.
Hope you enjoyed the read. Join our family by subscribing to our newsletter and follow us on Facebook! We try to add new How-To guides and in general interesting and useful information at least once a week.