Leather is an incredible investment, especially if you already know how you are going to use it. You can use this material for just about anything. For example, you can buy a few yards of high-quality leather and refurbish your old sofa. Or, you could buy a bit less and make a leather bag at home.Of course, you must have the basics of leather working.
However, when it comes to buying leather, it is vital to consider certain factors. Finding a good store is easy, but you will not get the right price if you do not know what you are looking for. Therefore, here is a little guide that will help you make the right choices when shopping for leather. So, where can i buy leather?
[
RELEVANT: How Much Does Leather Cost?
]
Going to a leather store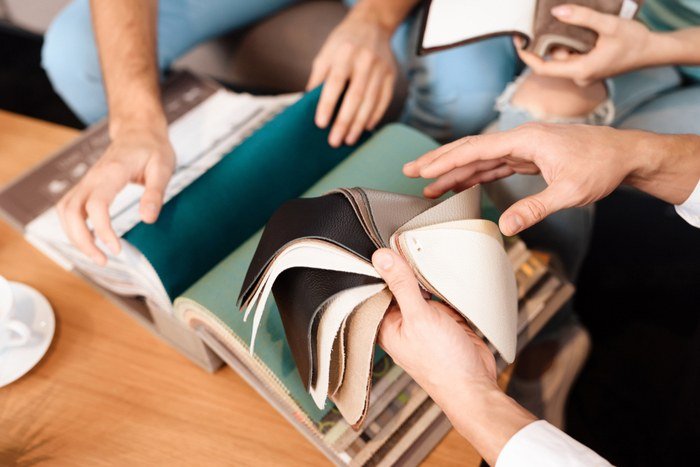 There are leather stores where you can go and browse through many different types of leather. These stores are usually your best option because it is important to see the pieces with your own eyes before swiping your credit card.
When you find your perfect store, try to arrange a meeting with the manager. That is especially important if you are buying in bulk. The store has to make sure they have everything you need.
Remember to go to the store during the day, so that you could see the leather and its texture in natural light. And, before you purchase anything, think about how you will use the material. It is vital to buy the right kind of leather because some types cannot be used for certain projects.
Buying leather online
Most leather stores offer online shopping as well. You can just go to their website and pick the leather you want to buy.
However, shopping online is not the safest option. First of all, the colors you see on the website might not match the final product. Therefore, if you buy something that looks gray, but it's actually blue, you will waste both your time and money.
In addition, you cannot haggle while shopping online. Most sales associates will try to give you the best price, but they cannot do so if you are behind a computer screen. So, it is probably a better idea to go to the store instead.
Lastly, you have to bear in mind that leather is expensive. If you happen to stumble upon a website with low-cost leather, you should tread lightly. Low-cost leather is usually bonded leather, which means that you are not getting 100% real leather.
Also, the supplier will have to ship your purchases. If you are in a different country, that could take anywhere from one week to one month.
Pay attention to these details when shopping for leather
Before you spend your hard-earned money, consider these factors:
Is the leather high-quality?

You have to prepare yourself to spend a lot of money of high-quality leather. But, because of that, you have to make sure that the leather is not low-grade. You can do so by consulting an expert or going to the store and inspecting the leather.

Am I overpaying for the leather?

Even though high-quality leather is expensive, sometimes suppliers raise their prices because they know that some kinds of leather are extremely rare. Because of that, you need to think about whether or not the material is worth the money. And, you can always try to lower the price, especially if you are making a bulk order.

What am I going to use it for?

Going to the store and picking the first piece of leather you see is not smart shopping. Make a plan and stick to it. Decide what you are going to use it for, and then try to find leather that will give you the best results.

What kind of leather do I need?

Of course, you should know the answer before contacting the store. But, it is also important to check whether or not the store has the particular type of leather. For example, full grain leather is rare, and some stores do not carry it.

Should I contact a tannery?

You can always call a tannery and order your leather. However, remember to prepare all the necessary information in advance. In addition, bear in mind that tanneries usually avoid small orders. They will respond to a bulk order because it generates a more significant profit.
Where Can I Buy Leather?
Are you tired of fast fashion stores and low-quality accessories? Then it might be time to switch to luxurious leather. Browse our great collections for men and women
Hope you enjoyed the read. Join our family by subscribing to our newsletter and follow us on Facebook and Instagram.