In this article we cover the best backpacks for business professionals that commute to work. To such a person, a backpack is one of the most important items as it provides a convenient way to carry all the work essentials to and from work. However, as much as you like a backpack, you still need to maintain your professional appearance. You can do that by investing in a product that doesn't make you look like a bum in a business world. You need a high-quality backpack that merges comfort and style to maintain the professional image of your company or organization.
Besides giving you a professional corporate image, the backpack should also be functional and safe enough. After all, you will carry your laptop and other work-related items, which need to be safe. It should also be comfortable to carry around while leaving your two hands free to handle other important matters on the move. The right backpack will not only help to keep your gear and other important items safe, but will also help you stay organized and maintain a professional look.
With so many backpacks on the market today, it can be difficult to find one that accurately meets your work needs and personal style. To help you make a more informed purchasing decision, we have taken the trouble to research different options that are available today and present you with a list of the best backpacks for business professionals.
Following are our top five best backpacks for business professionals:
1. Taipei 3 Compartments Leather Backpack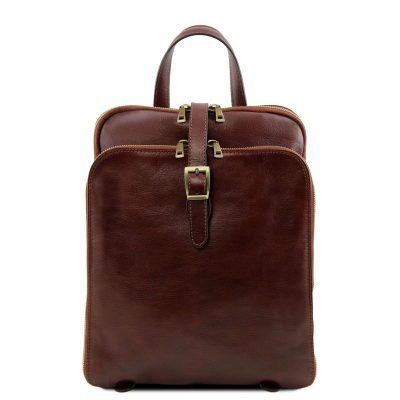 This is a cool and practical backpack designed for both male and female professionals. It comes with three compartments to help you organize your items in a more professional manner. It is not a huge backpack, but is still spacious enough to carry everything you need to work or to a distant business meeting.
The bag is made of full grain leather and features a classy, comfortable, and durable exterior. The backpack's interior is made of 100% cotton. It is soft enough for your delicate items such as your laptop, tablet, and phone. It is not only durable, but easy to clean and maintain too.
To see the backpack, click here
2. Oldschool Leather Backpack – The Sun Also Rises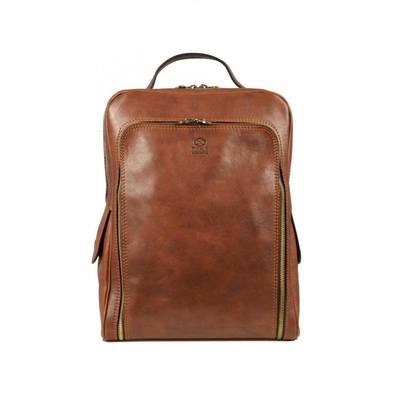 The OldSchool Brown Leather Backpack is exclusively made in Italy, the international capital of leather. It provides sufficient storage to carry your work or business stuff in the most convenient way. The backpack is made from the highest quality full grain leather that ensures strength, durability, and a more professional look. It is also designed to match perfectly with your attire, whether formal or casual. The bag's front panel features a large zippered compartment that's easy to open for quick access to whatever item you need. It also comes with a durable ergonomically designed handle and a soft comfortable shoulder strap for easy portability.
To see the backpack, click here
3. Women's Leather Laptop Backpack – Clarissa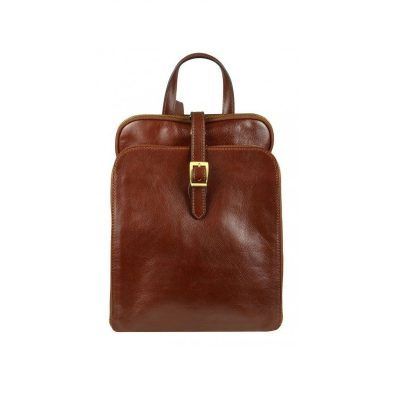 The Women's Brown Leather Laptop Backpack is a perfect choice for the professional lady who needs a sleek looking bag to carry her business or work stuff without compromising her style. Made of high-quality leather, this women's backpack has several pockets and compartments to securely hold your items including work documents, electronic devices, laptop, phone, keys, cosmetics, and much more. Another great feature of the backpack is its durable and comfortable padded handle. The backpack has a bottom panel that rests on a flat surface. It will allow you to retrieve any item you want without having to lay the backpack on its sides. It is the best backpack for professional women.
To see the backpack, click here
4. New Bangkok Leather Laptop Backpack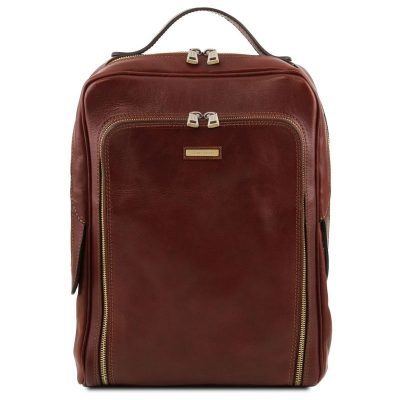 If you are in the market for a versatile leather backpack with a professional style and design, then look no further than the New Bangkok Leather Backpack. It comes with all the practical features you need in a professional backpack including high-quality leather exterior, 100% soft cotton interior, a large single compartment with enough space to carry your essential stuff, an exterior front pocket complete with its own closure, backside exterior pocket, credit card and pen holders, adjustable shoulder straps, A4 document folders, and much more. The backpack is designed to fit a 13-inch laptop comfortably. The Italian made backpack is designed with genuine leather.
To see the backpack, click here
5. Seoul Leather Backpack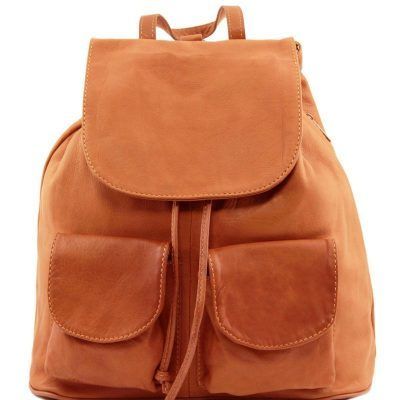 This Italian made leather backpack is a great option for anyone looking for minimalist design in a laptop backpack. It comes in a comparatively larger size than the original Seoul Leather Backpack but is still small enough to fit in an overhead bin. The backpack is also unisex which means it can be used by both men and women. Some of its key features include a large single compartment, two exterior front pockets with closure, an exterior side pocket with closure, an interior zip pocket, two extra interior pockets, two adjustable leather straps, a magnetic button closure, a drawstring closure, and much more. The backpack comes with a protective dust bag too.
To see the backpack, click here
Other Best-Selling Backpacks for Business Professionals
Conclusion
The backpack products covered in this article provide an effective way of merging comfort and style for the professional business people. They not only give you a sharp professional look but are functional too. You can rely on the backpacks to carry important work-related and personal items while commuting to and from work.
The backpacks covered in our review provide efficiency, style, and excellent functionality.  Each model has a well-padded compartment designed to securely hold your laptop and other electronic devices as well as a change of clothes and other business essentials. They come in a compact size to help you go through airport checks, train stations, and other places without delay. The backpacks also come in a sleek and stylish design. You don't have to slip into your office or business meeting looking like a bum. They are also designed to reflect your style. The backpacks on our list have separate well-padded compartments to hold a wide range of personal and work items. They are perfect for the business professional who frequently carries his or her work home.
Hope you enjoyed the read. Join our family by subscribing to our newsletter and follow us on Facebook!