In this article we cover the best backpacks for business professionals that commute to work. To such a person, a backpack is one of the most important items as it provides a convenient way to carry all the work essentials to and from work. However, as much as you like a backpack, you still need to maintain your professional appearance. You can do that by investing in a product that doesn't make you look like a bum in a business world. You need a high-quality backpack that merges comfort and style to maintain the professional image of your company or organization.
Besides giving you a professional corporate image, the backpack should also be functional and safe enough. After all, you will carry your laptop and other work-related items, which need to be safe. It should also be comfortable to carry around while leaving your two hands free to handle other important matters on the move. The right backpack will not only help to keep your gear and other important items safe, but will also help you stay organized and maintain a professional look.
With so many backpacks on the market today, it can be difficult to find one that accurately meets your work needs and personal style. To help you make a more informed purchasing decision, we have taken the trouble to research different options that are available today and present you with a list of the best backpacks for business professionals.
Following are our top five best backpacks for business professionals:
1. Leather Laptop Backpack – Nagoya
This beautiful leather laptop backpack Nagoya is elegant, practical and extremely durable business travel backpack. It is made of full grain leather crafted to ensure durability, comfort, and a classy style. Its interior features 100% cotton material that's not only soft but also keeps your stuff safe from scratches and damage. It is loaded with plenty of very useful features that even a seasoned traveler will appreciate. Nagoya is not the most spacious backpack out there, however we believe it's not about the quantity that you bring along that matters. Therefore, Nagoya will allow you to really think it over what items deserve to be in it, and what not.
The backpack comes equipped with 1 main compartment that is suitable for laptops, document folders and anything else of similar size. Its semi-rigid structure will protect whatever you throw at it, but will also feel nice when you have to actually touch it with your own hands. In other words, Nagoya is quite a balanced backpack.
So if you are looking for practical and cozy backpack to bring along on your business trip, it should be no other than Nagoya.
Useful features:
Shock-absorbent;
Open pocket on the front side;
Pocket with closure on the front side;
2 openings on the back side to be attached to a trolley;
Interior padded partition;
Numerous inner pockets;
Suitable for A4 format;
12.2 x 15.35 x 5.91 inch;
2.98 Lbs
Buy it here
2. Leather Laptop Backpack with 3 Compartments – Phuket
This beautiful leather laptop backpack with three compartments Phuket is a great backpack for your travels with all the features you might possibly need. It will ensure that your laptop stays safe and sound wherever you go by plane, car or any other way. It has a design that fits well in both formal and casual environments. The backpack is made from Italian full grain leather which provides it with a sleek and superb look. In addition to the looks, full grain leather is the top notch material which will ensure that it serves you for years if not decades to come.
The interior of the backpack is lined with cotton, ensuring practicality and ease of care. After all, nobody wants to purchase a backpack and have to spend too much time to keep it clean.
Some of its key features include three spacious and well-padded compartments, protective metal feet on the bottom, a handy exterior pocket at the front complete with closure, zip pocket, pen holder, and interior padded partitions. It is large enough to hold a 13.3-inch laptop and has zip closures on three sides.
It's very similar to Geek's backpack in terms of appearance and practicality. Phuket is slightly more expensive due to higher quality materials used all around.
Other useful features:
Semi-rigid structure;
Shock absorbent;
Front pocket with closure;
Multiple interior pockets;
Adjustable shoulder straps;
Suitable for A4 format document folders;
Suitable for 10″ tablets;
Holds a laptop up to 13.3″;
10.63 x 6.69 x 14.57 inch;
3.09 lbs.
3. Women's Leather Laptop Backpack – Clarissa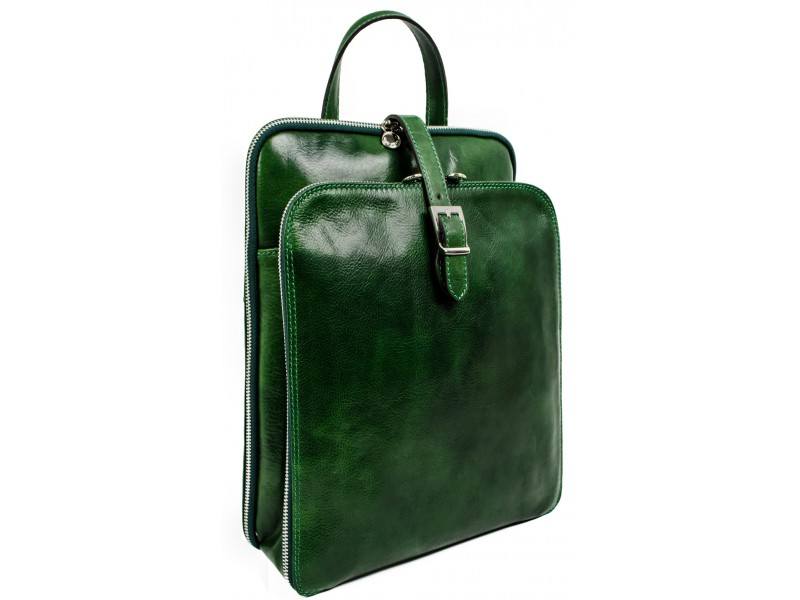 This particular women's leather laptop backpack – Clarissa is the perfect choice for the professional ladies who need a sleek looking bag to carry her business or work belongings without compromising her style. Made out of high-quality full grain Italian leather, this women's backpack has multiple pockets and 2 main compartments to securely hold your items such as work documents, electronic devices, laptop up to 13″, phone, keys, cosmetics, and much more. Another great feature of the backpack is its durable and comfortable padded handle. The backpack has a bottom panel that rests on a flat surface. It will allow you to retrieve any item you want without having to lay the backpack on its sides. Also, one of the key features making this our most popular model is that it turns into a shoulder bag. Therefore, you will shoot two birds with one shot by getting our Clarissa.
Useful features:
Turns into a shoulder bag;
Two compartments;
Carry handle for easy carrying in hand;

Organizer panel for smartphone and cards;

Room for laptop up to 13";

Suitable for A4 documents and folders;
Floor-to-floor double zipper openings allows convenient access;
10.4 x 13.4 x 3.94 inch;
1.98 lbs.
To see the backpack, click here
4. Leather Laptop Backpack – New Bangkok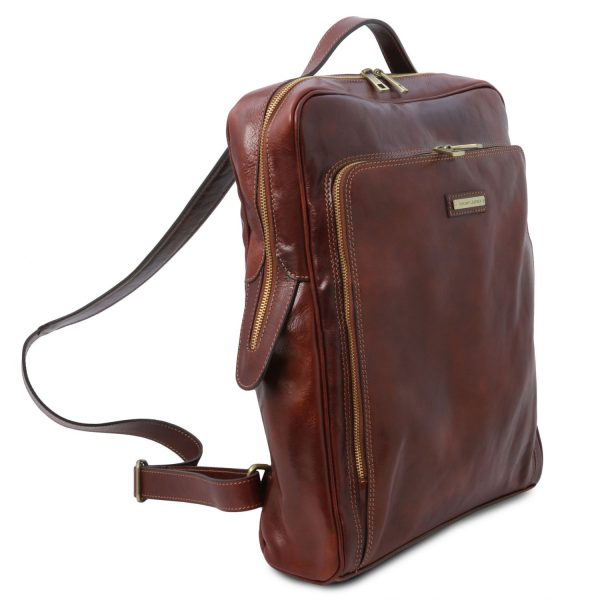 This is a practical leather backpack designed to carry your laptop securely wherever you go. It comes with all the features you need in a comfortable and reliable backpack for both casual and formal occasions. The backpack is made from full grain leather. Leather ensures durability while giving the backpack a comfortable and classy look. Full grain was softened a bit to turn it into a semi-rigid structure, in order to make it more comfortable and cozy. However, because backpack's primary function is to protect and care for your laptop, it could not be turned into soft leather type of backpack.
The interior of the backpack features 100% cotton material that is both soft and secure for your laptop and other electronic gadgets that you carry around every day. It is a perfect choice for anyone who carries along his or her laptop everywhere they go. It also comes with a dust bag to protect the bag from damage due to dust, stains, sun, scratches, and stains. It comes in handy in case you choose another bag to meet your travel needs.
Other useful features:
1 main compartment;
Exterior front and back pockets with closure;
Multiple interior pockets and pen holder;
Suitable for A4 format document folders;
Holds a laptop up to 13.3″;
Adjustable shoulder straps;
11.02 x 3.54 x 14.37 inch;
2.2 Lbs.
Buy it here
5. Large Leather Unisex Backpack – Zulio
If you are looking for a full grain leather backpack that would not weigh too much, look elegant and professional, then our large leather unisex backpack Zulio will do the job. It's light in weight compared to some of its competition, which was attained without sacrificing its quality one bit. On the inside you will find one large compartment ready to take in a laptop, A4 document folders or larger books. Also, in addition to the main compartment, you will also have one slide in pocket for a tablet computer, a large zip pocket and two smaller open pockets for your maximum comfort.
The main compartment along with its pockets is protected by a zipper closure. Outside you will also have one large open pocket, which is covered by an additional flap with two magnetic buttons. Therefore, you can rest assured that your items inside are well protected at all times. And it's needless to say, but the backpack comes with adjustable leather straps as well, which will make sure it best suits your size.
Useful features:
1 main compartment;
1 slide-in pocket for computer tablet;
1 large zip pocket;
2 open pockets;
1 large open pocket;
Holds a laptop up to 15.6″;
Suitable for A4 document folders;
12.2 x 15.35 x 3.74 inch;
2.43 lbs.
To see the backpack, click here
Other Best Backpacks for Business Professionals
Conclusion
The backpack products covered in this article provide an effective way of merging comfort and style for the professional business people. They not only give you a sharp professional look but are functional too. You can rely on the backpacks to carry important work-related and personal items while commuting to and from work.
The backpacks covered in our review provide efficiency, style, and excellent functionality.  Each model has a well-padded compartment designed to securely hold your laptop and other electronic devices as well as a change of clothes and other business essentials. They come in a compact size to help you go through airport checks, train stations, and other places without delay. The backpacks also come in a sleek and stylish design. You don't have to slip into your office or business meeting looking like a bum. They are also designed to reflect your style. The backpacks on our list have separate well-padded compartments to hold a wide range of personal and work items. They are perfect for the business professional who frequently carries his or her work home.
Hope you enjoyed the read. Join our family by subscribing to our newsletter and follow us on Facebook!