Whatever your job might be, your work outfit should be as elegant and sophisticated as possible. Needless to say that, in addition to your good taste of dressing up, you ought to bring a beautiful and professional looking bag with you as well. Messenger bags are an excellent option for any business person in the world. They greatly contribute to your overall look, adding a little sophistication and taste. However, choosing your best messenger bag for work can be a bit overwhelming. Gladly, we are here to cover some of the best tips for where and how to choose leather bag for everyone's taste.
Also, just below check out our best 5 picks for leather messenger bags.
Men's Leather Briefcase With Detachable Shoulder Strap – Illusions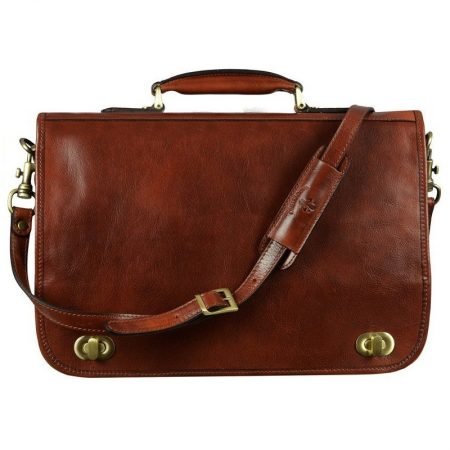 It's one of those multi-functional bags that are always in style. Not only does this bag offer a lot of space inside, but it also features a beautiful wide strap and multiple interior pockets. Furthermore, you can rest assured to be able to fit your laptop inside. The bag also comes with a comfortable handle just in case you want to give your shoulders some rest. This bag is for everyone that wants to have one of the best messenger bags out there. The high quality Italian leather will ensure this bag will be your partner in crime for years to come.
Buy it here
Men's Leather Messenger Bag – The Stranger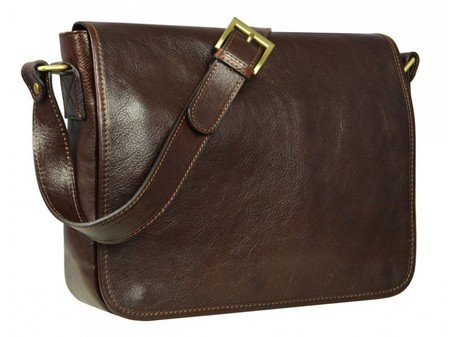 This is the perfect example of a minimalist messenger bag for work. It comes in a vibrant, brown color that will compliment any suit you might choose. Furthermore, the lining is 100% cotton, so this bag is also quite easy to clean. The Dark brown and simple leather messenger bag is for those who want to show off their fashionable side while also having enough place to store their belongings. A win-win situation for the owner. The dust storage bag that comes with the bag will keep it in a great condition for decades.
Buy it here
Leather messenger bag ANCONA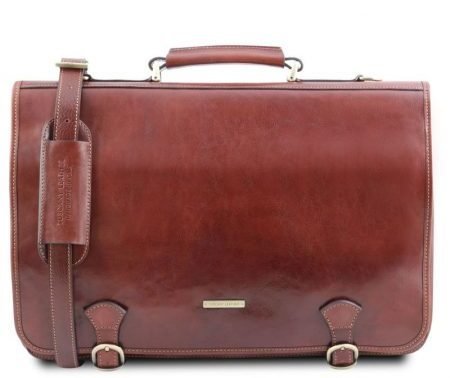 This is a fantastic leather messenger bag for work Ancona that will surely get you noticed in the office. It comes in three classic colors that are perfect for any wardrobe. The handle and a detachable shoulder strap may turn this beautiful messenger bag into a briefcase just in case you need a more formal outlook for certain situations. Furthermore, there is also room for your work laptop as well as A4 document folders. In short, it's exclusive Italian messenger bag that is suitable for any situation and event.
Buy it here
Capri Leather Messenger Bag 2 Compartments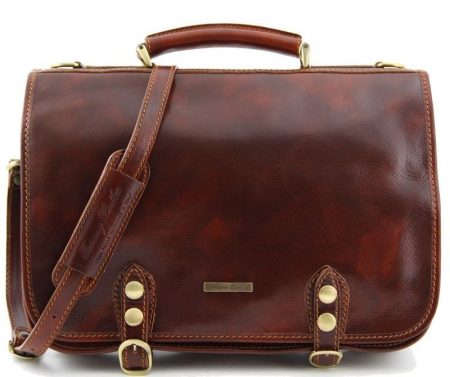 It's a beautiful messenger bag for men and women who want more organization options. It's spacious to fit a 16″ laptop, and you also get multiple interior and exterior pockets for your phone, cards and other necessities. The bag comes with a snap button, so you could open it easily while keeping your items safe and sound. Detachable shoulder strap lets you carry it on a shoulder, or as a true briefcase. It's your choice. It is truly crafted to meet today's contemporary needs while maintaining solid and exclusive self-image.
Buy it here
Messenger One Compartment Leather Shoulder Bag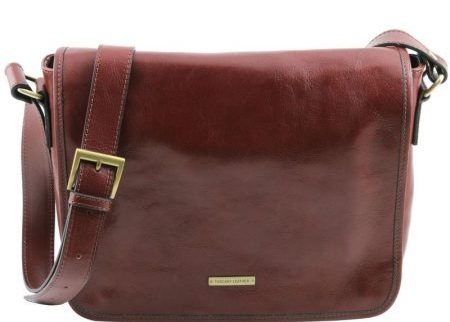 It's a versatile model that will inevitably turn you into an office fashion icon. This beautiful bag comes in several different colors. Therefore, it won't be hard to choose the one that will suit any outfit you may choose. In addition, the leather strap is wide enough, so it will not dig into your shoulder. After all, user experience is perhaps the most important factor when it comes to leather messenger bags. Furthermore, this bag offers a clean-cut look, so you will always look very professional when you carry it. This bag is certainly designed with a modern man in mind. So if you are looking for a clean and classic look, look no further and check what this bag has to offer! The comfort is also guaranteed.
Buy it here
Our Other Best Messenger Bags for Work
Benefits Of Leather Messenger Bags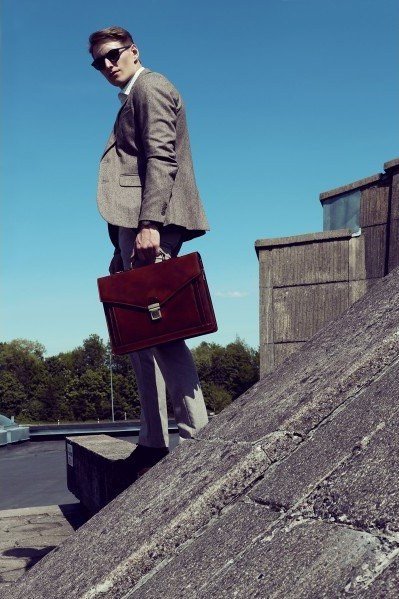 There are many benefits to owning best messenger bag for work, or in general, any great leather bag. First of all, they are quite spacious, and they can comfortably fit both personal and work items. The leather is relatively "skinny" material and therefore it does not puff-up your bag. It's important for your overall outlook.
Secondly, great leather bags come with a long enough handle and a cross-body strap. Such handles and straps are convenient and comfortable allowing you to carry them everywhere.
Furthermore, any best messenger bag for work come with a neatly organized inside lining. That way, you can easily store all your belongings in their rightful places. Later on, when you need something from the bag, you do not have to rummage around and disturb its contents. It's an extremely important aspect of any bag. Don't forget, a bag serves you.
Factors To Consider
When looking for the best messenger bag for work, there are some factors you should consider. Firstly, always look for quality instead of quantity. Two or more low-quality bags could never replace one fantastic model. Therefore, if you wish to get the best value for your money, opt for a leather messenger bag.
Why leather you may ask? Leather is a rather forgiving material that should last a lifetime. Surely will last for decades if taken care of. Caring for your leather bag is not complicated. You should just clean it correctly with the right cleaning tools and store it in a dust bag when you are not using it. That way, you can expect to keep your bag in the best condition for many years to come.
Secondly, when picking out the best messenger bag for work, look at the lining and the stitching. Is the bag sturdy enough and can it carry a lot of weight? Leather bags are strong. Therefore, you can put a lot of items in them, and you do not need to worry about them breaking under pressure.
Lastly, the organization is critical when it comes to the best messenger bags for work. Look for bags that have many pockets and a large zipper. That way, you can rest assured knowing that your belongings will stay secure all day long.
In addition to that, it would be nice if the bag came with a wide cross-body strap. It will allow you to take the pressure off your hand and carry it on your shoulder. And, since leather straps are strong, they will be carrying the bulk of the weight. It's a good thing to consider especially if you load up your bag with heavy things, like books for example. Shoulder straps will ensure that the weight is distributed across the body as well as possible, preventing you from having posture problems any time soon.
Conclusion
When choosing the best messenger bag for work, both men and women have to consider the style and the ease of use. Luckily, there are many models out there, and a messenger bag is always an excellent choice. Not only will this bag keep everything inside safe and secure, but it will also look great for any occasion. However, when picking out your messenger bag, look for quality leather and fantastic stitching. That way you can rest assured that, with proper cleaning and care, your beautiful messenger bag will last for decades to come.