What is a good laptop bag? It comes down to your preferences and so the answer to this question is sure to be different from person to person. However, we certainly can provide some useful tips for finding your perfect bag. From the quality of the material to deciding which size is best for your laptop, we've got some of the best tips to make your search simple and painless. We understand the how crazy it might become looking for something on the internet. Therefore, with that in mind we assembled this article to help you out in the process.
So what is a good laptop bag? What features make a laptop bag one of the best? How should you choose your laptop bag sizing? What's an example of a quality laptop bag? Our tips and tricks will help you to answer each of these questions, and maybe even walk away with the laptop bag of your dreams.
Features of a Quality Bag
These are three of the most important features you should be looking for in any laptop carrying case. These features will make or break a design and should be taken into consideration before anything else. If any of these features are of a lower quality, then the rest of the bag will likely follow suit. Don't spend hundreds on a bag that doesn't offer you anything in return. So let's dive right into the three crucial features to consider before making a purchase decision.
1. Material
First and foremost, knowing the material you're looking for is one of the best ways to narrow down your search. The most common laptop bag materials – leather, mesh, and nylon – each offer their own pros and cons.
In our opinion, leather dominates other materials due to many reasons. It's extremely stylish thus ensuring that your appearance is well improved along with your met needs. Also, if well taken care of, leather is extremely durable and timeless. It will age along with you without losing it's charm and maintaining its form. Of course, like anything natural, it needs you to take care of it. Therefore you need to consider that it might be needy from time to time. But nothing is easy worth having.
2. Size
The bag size is just as important as the material. If you choose a bag that's too big or small for your laptop, then you're putting your device at risk. A good laptop bag is designed to properly fit your device and will protect it from too much movement.
To not make a mistake during the sizing, refer to our How to Measure a Laptop for a Laptop Bag article. It covers everything you need to know before you can start shopping for the right size laptop bag.
3. Carrying
Versatility is key and having a bag that offers you many different carrying options is a fantastic way to go. The best laptop bags come with a handle/strap combo so that you're not limited to how you can carry your bag.
Our Favorite Laptop Bags
We have chosen two options. One is slightly more economic, the other is more exclusive. Either one of them is perfect for your laptop, as long as it fits it correctly. So let's look into them:
Urbino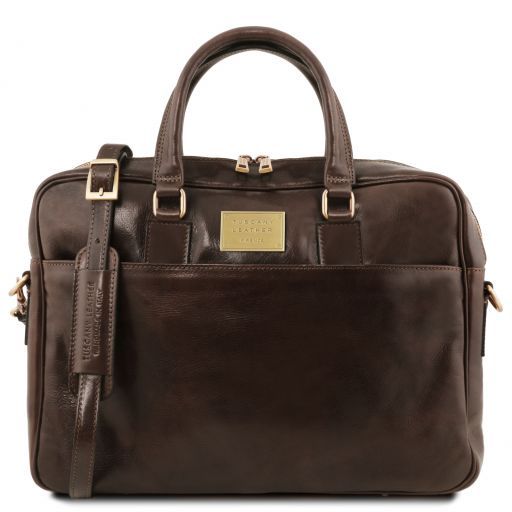 It's an excellent and pure Italian leather laptop bag. It has everything your laptop and your self-image might need, and more. The bag is made of full grain leather that is soft and plesant which will last you for decades, if taken cared of. It comes with two inner compartments, well padded and prepared for your laptop. The interior is covered with cotton and has plenty of inner and outer pockets for your maximum comfort. So if you are looking for a leather laptop bag that is reasonably priced, but is surely of top quality, Urbino is your choice.
Other useful features:
Trolley sleeve to attach to rolling suitcase
Protective metal feet on the bottom
Front pocket with closure
Internal laptop pocket
Inside zip pocket, 2 open pocketsm 2 pen pockets and credit card pockets
Internal padded partition
Adjustable and detachable leather shoulder strap
Can fit A4 format
Can hold a 15.6″ laptop
Dimensions – 15.75 x 11.81 x 5.91 inches
Weight – 3.09 lbs
You can find it here
San Miniato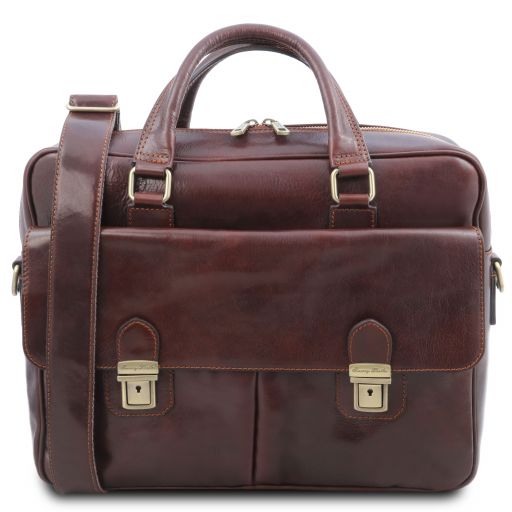 San Miniato leather laptop bag is as good as it gets when it comes to these type of bags. Yes, we understand that taste of style is very subjective, and if you don't like how it looks, nobody and nothing will make you buy it. However, if you like its appearance, then know that it's as good as it gets. San Miniato is made of full grain leather and is of a semi-rigid structure. It ensures the maximum protection, cosiness and comfort for your yourself and your laptop. The interior comes with 3 cotton-covered compartments that will make every reach for your laptop as pleasant as you would like. So if you are looking for something exclusive, there you have it.
Other useful features:
Trolley sleeve to attach to rolling suitcase
Outside front open and 2 zippered pockets
Pocket on the back side with closure
Interior 3 pen pockets, zip pocket and 2 open pockets
Central laptop compartment
Adjustable and detachable leather shoulder strap
Can fit A4 format
Zip closure
Kiss-Lock
Dimensions – 15.75 x 12.6 x 3.54 inches
Weight – 3.31 lbs (1.50 kg)
You can find it here
Final Words
So if you find anything like the abovementioned leather laptop bags, which are unisex and thus are perfect for both men and women, then you are good to go. If not, and if these are too expensive, continue your search. But don't forget that nothing easy is worth having!
If you enjoyed it and would like to get more information and articles of such kind, follow us on Facebook.