You have certainly heard of the term "messenger bag". They probably don't need a special introduction for most of you, as the majority of you have probably owned one at some point in life. But for those who are not at all familiar with the term, let's try to answer the question of what is a messenger bag.
[Good Read:
Where Can I Buy a Messenger Bag?
]
Today, messenger bags are one of the original staples of a hipster style, but they have been around for much longer. Messenger bag is a classic, practical and stylish accessory, which is a good choice for both men and women. However, they are favored by the men.
This article will cover everything you need to know about messenger bags and will tell you a rather interesting story about the origin of these beautiful and yet very practical bags.
Perfect Bags for Men
For men, they are a safe bet, providing functionality and style. Messenger bags are usually very spacious and have many compartments, which makes it easy to find your belongings relatively quickly. They come in various sizes too, so you can find one that is just right for your needs. Forget about not being able to fit your laptop, as most of them by default are really spacious, and even have specialized and padded compartments just for your laptop.
Men's messenger bags became popular during the 90's. Their style has remained unaltered too much, as classic does not like too many changes. In the last decade, they have become an urban fashion icon and men started wearing messenger bags everywhere. That includes from New York to Milan and from London to Tokyo. But they actually have a much longer history than that. Have you wondered where do they come from?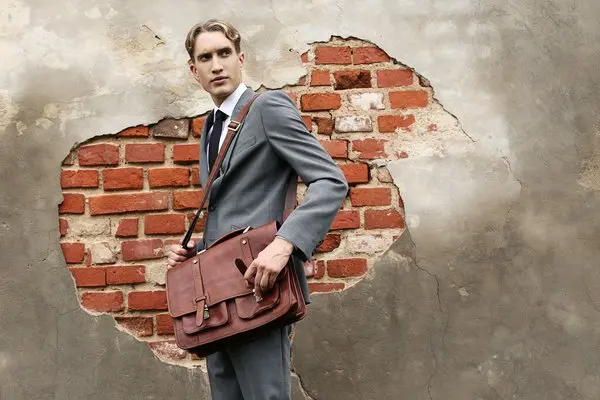 The Story Of The Messenger Bag
Messenger bags have had other names before. They were known as courier bags, carryalls and satchels.  These names are used interchangeably even today. Messenger bags have been around for ages. Initially, they were literally used by messengers (or postmen) for carrying mail. Pony Express staff and bike couriers were one of the first to carry them. Even today, some Royal Mail couriers use over-sized messenger bags.
The history of the modern messenger bag actually starts in the 1950's. De Martini Globe Canvas Company designed the bag to be used by line workers. Messenger bags were made to accommodate all the tools they needed to work with, so the bags were very spacious and functional. The material used for the original messenger bag was cotton canvas lined with waterproof fabric. There were pockets inside for keeping invoices and the bag closed with two straps. These bags were not available in stores at the time, as they were exclusively issued and used by various companies.
From 1965, bicycle messengers started using the De Martini canvas messenger bags. During the 70's and 80's, Globe Canvas remained the main supplier of messenger companies in New York and companies started requesting specific colors. Every messenger company issued bags in a different color and you could see where a messenger is employed only by the color of their bag.
In 1984, John Peters upgraded the classic messenger bag. This brought the messenger bag out of the courier business and into the fashion world. They made the bag from nylon instead of canvas and added binding and light-reflective stripes. They've also added buckles which made the messenger bag even more practical.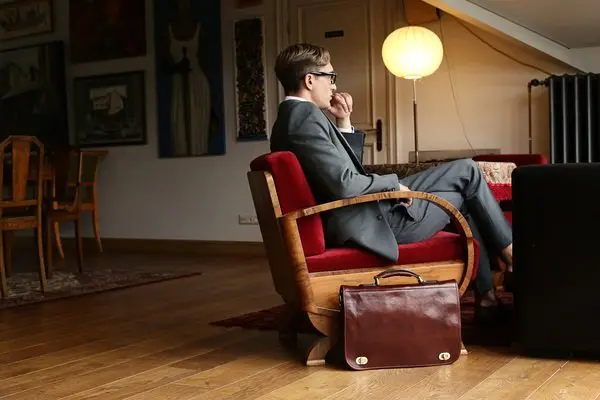 The Messenger Bag Today
Today the messenger bag has the same form – a rectangular form with a long strap, worn over the shoulder or across the body. The original De Martini bag still exists, but there are also many variations, including different materials. Canvas and nylon messenger bags still exist, but leather has become the most popular and practical of them all.
What makes the messenger bags so great for today's men is their versatility. They are more casual than a briefcase, and yet more professional than a backpack, so they can fit into every context. Choose a leather messenger bag instead of canvas and you'll get a perfect bag for urban settings, not too casual and not too formal.
The Pros and Cons of the Messenger bags for Men
Messenger bags or backpacks? Those two options are very similar in function. If you are walking or biking a lot, doing errands around town, you must be familiar with this dilemma. There are definitely two best choices when you need to carry a larger load of things with you around town.
So, which one is better – a backpack or a messenger bag? It depends on many factors. The messenger bag is definitely a good choice in many cases, but neither of them is perfect. Let's examine the pros and cons of the messenger bag to better understand it.
[Good read:
Best Messenger Bag for Work
]
Pros
A messenger bag will give you a professional look with maximum functionality
More and more people find themselves carrying their laptops around these days. Whether you are a student, a freelancer, or just commuting to work, there is a good chance you'll need to take your laptop with you more often than not.
Let's face it – carrying a professional laptop bag or an old-fashioned briefcase while walking around town is not very cool for younger and more hip individuals. Backpacks, on the other hand might give an impression of unprofessionalism during certain occasions.
Therefore, the perfect middle solution is a messenger bag. It's quite similar to a professional laptop bag and more classical briefcase, and equally (or maybe even more) functional. As a bonus, you get to look professional and show off your style at the same time.
It's easy to stay organized
In some situations, like when you want to write something down quickly or find your phone, you'll realize the downside of the backpacks. It can take a lot of time to find the thing you are looking for. Furthermore, taking down your backpack every time you need something is time consuming and awkward. In addition, reaching for the pockets behind the back is just uncomfortable.
The messenger bag allows you to have all the things you need at an arms reach. Pockets and spacious compartments allow you to keep the most important things in order. Therefore, you can quickly reach for anything you want at anytime.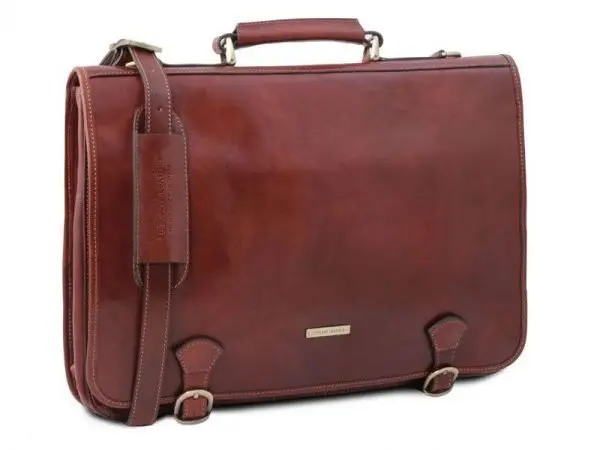 Cons
Bikers might find them uncomfortable
Many people enjoy biking to work or just riding around town. However, bike rides can easily turn to a nightmare if you are not adequately equipped. Of course, whether riding a bike turns out to be enjoyable highly depends on several factors. Those include the town you are in, the place you're going to and on the weather conditions.
Still, no matter what the circumstances are, you will need to carry around some things with you from time to time. You'll surely want to bring your laptop, some books or other equipment sometime. So what type of bag to carry? The truth is, it's not an easy choice for bikers.
Let's be honest – backpacks are not that great when riding to work or to a meeting. They might seem like the most logical choice, but you'll definitely end up with a sweaty back. Backpack are suitable for long rides, but they are definitely not the best choice for commuting.
For shorter trips, messenger bags might be a better choice, especially if you are not carrying too much stuff. They will make it easier to find your items and they are a lot less awkward if you need to make several stops and put things in or out of your bag often. However, there are a few points that make them uncomfortable for bikers:
They too might make you sweat because they hang low on your back when riding;
Messenger bags are not suitable for carrying heavier loads, since they can throw you off balance;
They put uneven stress on your shoulders, if loaded heavily.
Not as stable as a backpack
No matter if you're biking or not, you might find that messenger bags are a bit more clumsy than backpacks. The backpack sits comfortably on your shoulders, distributing the weight evenly. The messenger bag, on the other hand, weighs on only one of your shoulders, which can be uncomfortable if the bag is loaded too heavily. They can also be a bit unstable, which makes them move around. If the strap on your bag doesn't have a good grip, the bag will slide off your shoulder very easily. To avoid such thing to happen, you would must wear it as a crossbody bag, which means across your body.
The messenger bag is the best choice if you're are not going to be carrying too much weight for too long. Look for messenger bags with padding on the shoulder strap as they are much more comfortable.
Final Words
We hope to have answered to your question of what is a messenger bag. In general, any bag has its uses, its pros and its cons. There is no such thing as the single best bag ever. Of course, we could attempt to find the best bag, just like analysts always choose their best car options. However, it's all up to individuals and their needs. Dive right into our collection of leather messenger bags and you will find absolutely anything you may need. From leather backpacks to leather duffle bags and more.
And as promised, a little gift for our awesome readers. Use coupon code bestmessenger to get 15% on all of our messenger bags.
Hope you enjoyed the read. Join our family by following us on Facebook!