There are many benefits to using a leather backpack – they are stylish, convenient, and versatile bags that can meet almost any of your needs. But are leather backpacks durable? Yes! Actually one of the biggest pros of using a leather backpack is its durability. Leather backpacks are strong, sturdy bags that still somehow manage to be stylish despite their functionality.
But not all leather backpacks are created equal. Let's go over some of the key factors that will impact just how durable your leather backpack will be.
[Good Read: Best Backpacks with Lots of Pockets]
Types of Leather
One thing that will impact the durability of your leather backpack is what is made of. There are four main types of leather (and many more subtypes), and they will help you determine how durable your leather backpack is and how much it will cost. Of course, you have to bear in mind that material alone will not ensure the durability and longevity of your backpack, as where and who used the material to make the final product matters very much. But nonetheless, it gives you a good place to start. So, let's dive to the four main types of leather/
[Good Read: How to Tell Leather Quality]
1. Full Grain Leather
Full grain leather is the highest quality leather, and it will also be the strongest and most durable leather too. This is because the leather has not been treated in ways that could alter the leather fibers, helping them retain their inherent strength.
Instead of wearing out, it will develop a patina, which not only adds to the aesthetic of the bag, it also provides a thin layer of protection for your leather backpack. This includes damage like corrosion, wear, tear, and more.
[Good Read: What is Full Grain Leather]
2. Top-Grain Leather
Top-grain leather is most commonly used in luxury goods, and it is the second-highest quality of leather. Top-grain leather is made by splitting the leather hide and sanding away any imperfections. This process does make it weaker than full grain leather, but it is still very durable. Instead of patina, it will develop pinna to protect it from damage from daily usage.
You can learn about the difference between full grain and top-grain leathers here.
3. Genuine Leather
Genuine leather is the least expensive and the lowest quality of real leathers. Because of this, it will be less durable and wear out sooner than other types of leather. It is susceptible to tearing, so it's not ideal for a leather backpack which you tend to charge heavily.
Nonetheless, genuine leather is still leather, unlike the next type of leather on the list. It is less expensive, which can be an important factor to some people, and looks great as well. We cover the subject of genuine leather in more detail here.
Our Sabran is a genuine leather backpack that is absolutely loved by our clients. It's not overly large, therefore it is very unlikely that you will charge it to the point of breaking and tearing.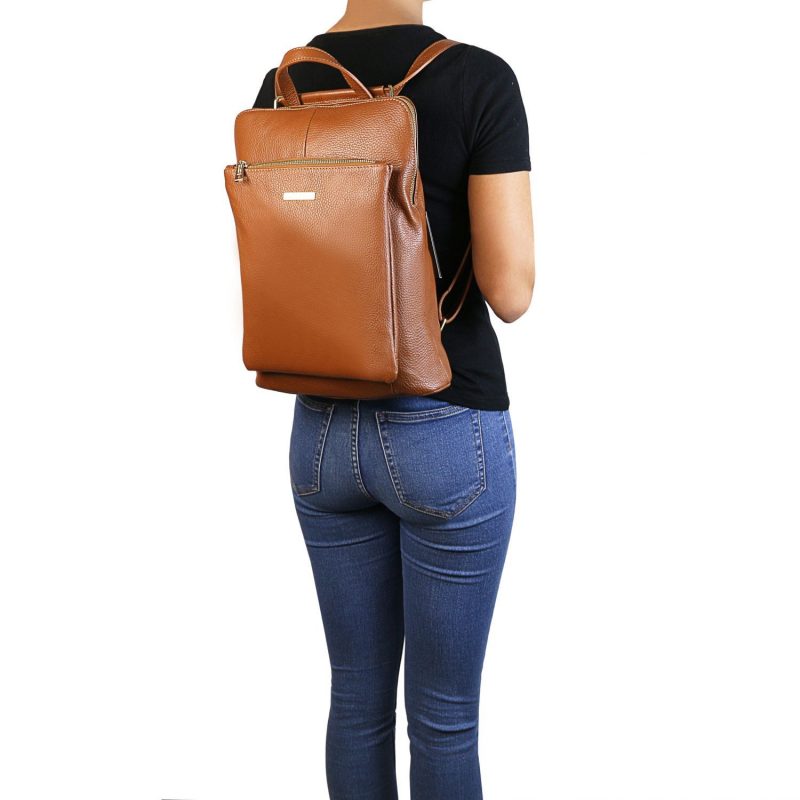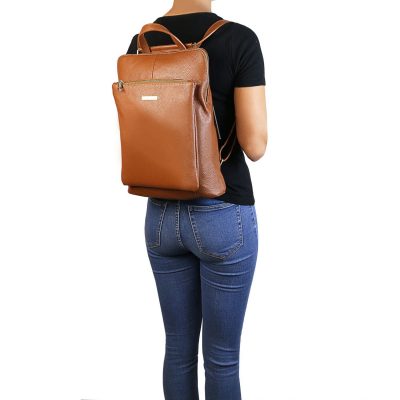 4. Bonded Leather
Now one of the leather types that you should avoid at all costs is bonded leather. The cost is actually what attracts people to it like honey attracts bears. It's not even leather, but rather leather scraps glued together by plastic-like material to hold it all together. It will neither serve you a long time, nor will it look beautiful and elegant, thus it makes sense not to even consider it.
[Good Read: What Does Bonded Leather Mean]
Water Resistance
Unless your leather backpack has been treated to be waterproof (which is impossible to fully attain), it will be water-resistant. That means that it will repel water in small quantities, though your leather will become saturated with heavy water. Therefore, if it's raining cats and dogs, you should not stay exposed to water drops for too long.
[Good Read: Are Leather Backpacks Waterproof]
Weight Capacity
Depending on the size, leather backpacks are manufactured to carry heavy weight loads. They are deceptively strong, no matter if it is a mini leather backpack or an extra-large one. Consider what you plan to use your backpack for and make sure that it can withstand your needs. For example, some leather backpacks are made to carry laptops, while others may sustain damage over time at the corners. Either way, if it's full grain or top-grain leathers, it is super unlikely that leather itself can tear. It's the seams that might be a weak link and therefore it brings us to our previous point above – it's very important who made this leather backpack, and where.
[Check out our BEST BACKPACKS FOR BUSINESS PROFESSIONALS]
Summary
Leather backpacks are stylish, long-lasting bags that can go from the classroom to the conference room with ease, making them a great investment. This staple piece can grow with you, supported only by its strength and classic look and feel. And are leather backpacks durable? Yes, they are durable, classy bags that transcend trend and are worth a look!
Before you go, check out our collection of leather backpacks. Majority of our backpacks were made of full grain leather while some of genuine leather. Either way, we are certain you will find something that you like.
If you liked the read, please join our family by following us on Facebook!