Handbags are among those things that we use every single day of our lives. Their role is very important since this is where we keep our valuables such as smartphones, wallets and numerous other important items. Therefore, when looking to buy a new leather handbag, make sure you choose the one that's reliable. It should be able to keep your belongings protected from theft and the inclement weather, as well as serve you for as long as possible before the need to replace it with a new one. But given the many different types of handbags available today, choosing the best one can be somewhat overwhelming. They are available in different styles, colors, and are made from different materials as well! Even if it's leather, there are many different types and subtypes of leather that you must pay extra attention to if you don't want to overpay in the long run.
[Good Read:
How to identify good quality leather bag
]
To help you decide on the type of handbag best suited to you, below you will find the main types of handbags of our western social culture explained, thus making your next shopping experience much more pleasant and better educated. So, without further ado, let's dive right into it.
1. Purse/Clutch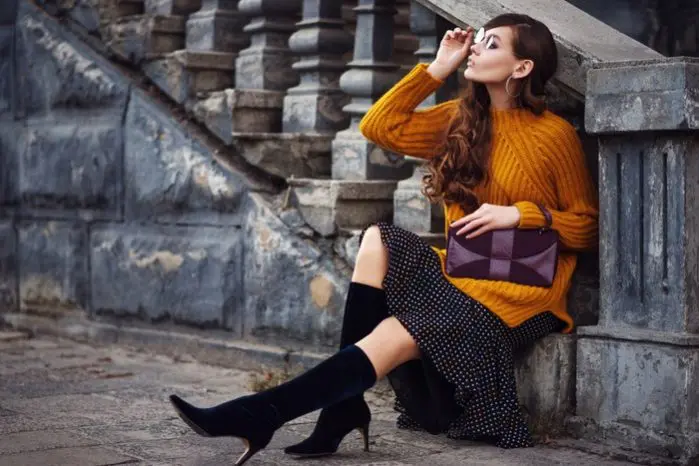 Purses, also called clutches or clutch bags, are among the smallest types of handbags in the market. Yes, we know that some of you out there might disagree with the first sentence stating that purses are small in general. According to our definition, they are smaller handbags that can even fit into your palm, just like a clutch. That's why we decided to couple the two together. But from now on, we will be referring to them as simply purses, as it is a more widely known definition for you fashionistas out there.
Purses are very stylish, and there is perfectly simple explanation for such reason. You see, they do not have what normal handbags have, size. Therefore, where it lacks in some areas, it has to make up in other ones. And those other ones happen to be style and design.
Most of the purses are rectangular in shape and have zippers or buckles as its enclosure. Some come with small wrist straps, while others come with detachable shoulder straps or chains. There are those that happen to have nothing – neither straps nor chains, forcing you to fully carry it in your hand, and thus are more known for its second name – clutch.
Since purses are in general small, you can only carry a limited amount of small items with you, such as bank and/or business cards, cash, smartphone and perhaps a smaller make up kit, etc. You will see these bags being worn in parties and formal events because they go well with a gown or a dress.
You can find plenty of leather purses here.
2. Tote Bag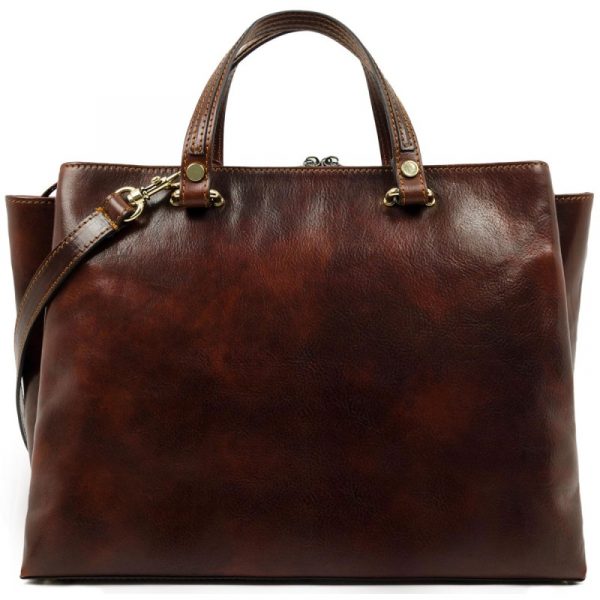 Tote bags are usually bigger in size compared to its other sisters. They are usually square or rectangular in shape and have a large and wide bottom. The top portion of the bag is more often than not open, which allows for an easy access to your belongings. Some have zipper closure included, of course, as bags with no closure at all are becoming less and less popular, for clearly obvious reasons.
Tote bags are more often than not equipped with two handles that are long enough to carry the bag over a shoulder. However, it's rather a preference than a rule. Some totes, like the one above, contain shorter handles and come equipped with a detachable shoulder strap. However, that does not make the bag less of a tote.
These bags are usually more suitable for shopping, which is why they are sometimes called shopper or shopping bags. They are very convenient to wear and has a somewhat large storage that could carry quite a few items.
However, more and more totes are becoming like normal purses, meaning that they are here to help you make a fashion statement while maintaining large volume inside and therefore, making your comfortable to do some small shopping. Once again, the definition becomes irrelevant if you like it and it suits your needs.
You can find the tote bag in the picture here.
Or visit our collection of Italian leather tote bags here.
3. Shoulder Bags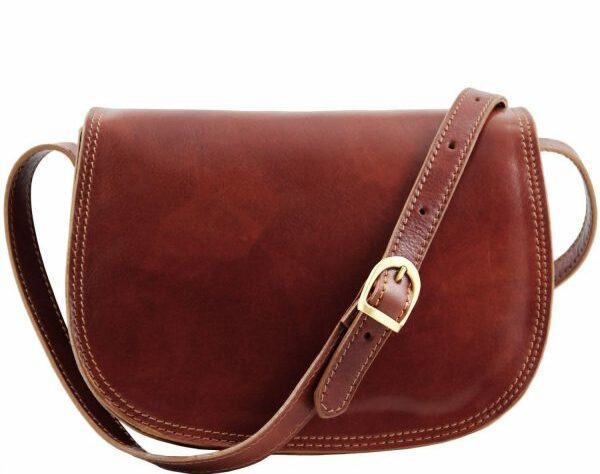 Shoulder bags are one of those categories that are not so obvious when it comes to handbags. But since the handbag definition is so wide, it certainly takes shoulder bags under its wing. These bags are somewhat similar to satchels and messenger bags, but the main difference remains in the design. Shoulder bags that fall under the handbag category are generally stylish and serve as an accessory first. And as we all know, an accessory is used to enhance one's appearance and boost confidence, and such shoulder bags are great at making both to happen.
When it comes to size and shape, there is a lot of freedom in defining it. There are so many different variations of shoulder bags that we would need a separate article to cover them all. But in short, there are no limits to our imaginations, and everything can go.
You can check out our leather shoulder bags collection here.
The bag above can be found here.
4. Satchel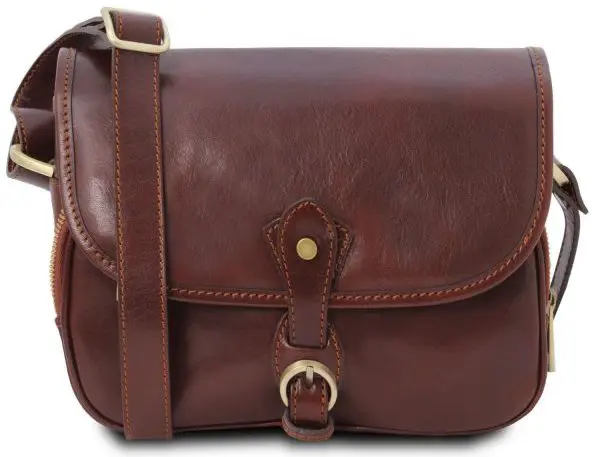 Satchel refers to those large and sturdy handbags that have a flat and wide bottom. The bag's main opening is covered by a flap and usually comes with two handles. It does not have to come with a flap, but it does in most cases. Also, it does not have to have two handles, as there might be one or even none, like in the photo above. However, we are talking about the large majority.
It may also come with a long shoulder strap, so you can simply hang it on your shoulder if you need to. Therefore, in some sense they could be called shoulder bags, which still fall under the handbag category.
Since satchels are a larger type of handbags, they are commonly used for carrying bulkier items like laptops, books, files etc. Both men and women wear satchel bags either for school, work, or travel.
Nowadays, the term has expanded somewhat including more bags of the similar appearance. Main consensus is that a satchel should be quite spacious with a wider bottom part. But at the end of the day, whether it's truly a satchel, or a messenger or any other bag, it does not really matter, now does it?
Check out our leather satchel bags here.
5. Bucket Bag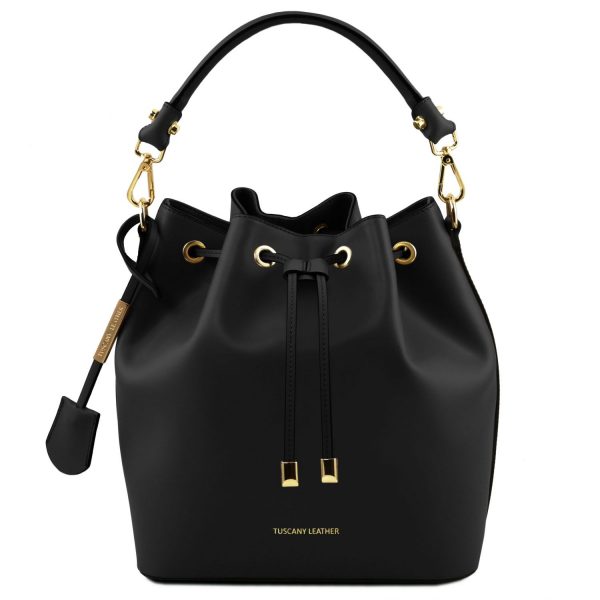 From the name itself, bucket bags are shaped like a bucket. Some of these bags are open on top, which is not very secure, but there are also those that have drawstring closures. These bags usually have shoulder straps and are used as a shoulder bag, while others have a handle over the top opening and can be used as a handbag.
A bucket bag has a roomy storage space and is capable of storing plenty of items, such as smartphones, wallets, vanity items, books, and many more. These bags are usually made from sturdy materials, such as leather. Due to their unique shape, they are sometimes worn as a fashion statement, but yet they are quite comfortable and useful.
Therefore, as you can see, these bags are also somewhat flexible when it comes to its final form and size. The best material to choose from is obviously full grain leather, as it will ensure that you look stylish, while the bag will last you for years.
If you want to check out the bucket bag shown in the picture above, click here.
6. Hobo Bag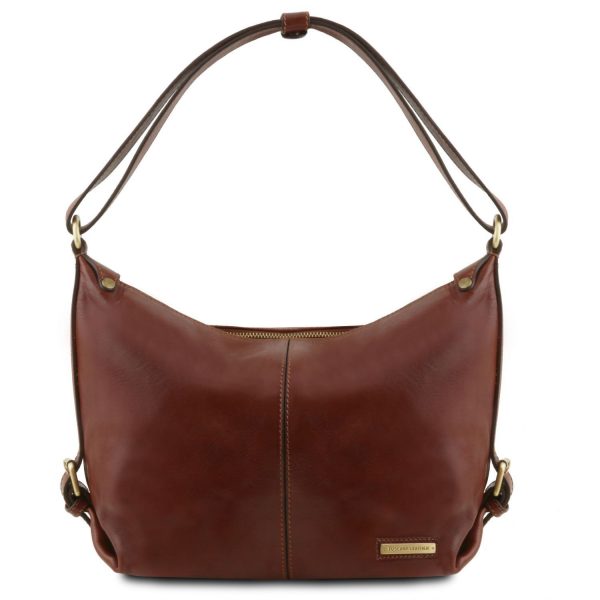 Hobo bags are in general roomy bags that have a wide opening on top to better accommodate bulkier items. These bags normally have a single long handle, which can be used as a shoulder strap, making them convenient to carry around either in your hand or on your shoulder.
A zipper secures the bag's main opening, and sometimes, the bag comes with several small compartments on the inside. Once again, it's not a strict rule that if broken, the bag won't be allowed to be called a hobo bag. But, taking many hobo bags into consideration, that's what a hobo bag is. And they have a solid fan base among women due to their laid-back style and spacious interior.
You can check out the bag in the picture here.
Conclusion
By now, you should be familiar with the most common types of handbags that you can purchase. As you can see, each bag has a different purpose and comes in different sizes. Therefore, when buying a handbag, you must consider its purpose. Are you going to store big items inside or would you simply want to use it to carry your smaller and most important ones? Answering this question will help you make a decision on which handbag you should buy.
However, we cannot end the article without stating the fact – pure and real full grain leather handbags is the only way to go. There are not that many of them in general, because making them is much more expensive for the brands. However, if you come across such a brand that does offer that, do not let go of them.
Hope you enjoyed the read. Join our family by subscribing to our newsletter and follow us on Facebook!