There are some people who tend to spend a lot of time deciding about a particular item to buy. This is especially true when buying important things such as a briefcase. Depending on the type of briefcase that you're buying, this accessory could cost a lot of money. Although some stores may allow a return or exchange of an item, the process could take time and is sometimes a hassle.
When shopping for leather briefcases, there are lots of factors to consider. Aside from the style, material, and size, color is an important factor to keep in mind as well. Unfortunately, deciding on the right color can be a challenge for most people. So read this article for tips on how to choose the most appropriate color for your briefcase.
(RELEVANT: Where and How to Buy a Leather Briefcase?)
Choosing the Best Color for Your Briefcase
Although the color may not be a big deal for some people, this is actually an important factor. Remember, this is the first thing that the people will notice on your briefcase when they see it. If you're a professional and you want to make a good impression on your boss, colleagues, or your clients, then you should be able to choose the right color for the briefcase that you plan on buying.
Think of the Corporate Culture
There are specific color motifs that are suitable in the corporate world, such as black, tan, beige, and brown. So if you're a professional and you would like to make a good impression, you better stick to these colors when buying your briefcase. Of course, there are also certain exceptions that you need to consider.
Below are some of the general guidelines when it comes to choosing the most appropriate briefcase in a corporate setting.
To be safe, always go for black. This color will never go out of style and it suits just about any type of environment. Furthermore, it conveys authority and power, which is great for managers, CEOs, and those who are in a managerial position. A black briefcase will also complement a dark colored suit. Also, experts recommend that those in the leadership position should opt for the thinner briefcase since the bulkier ones are only suitable to the subordinates.
Choose brown for a formal office setting. Just like black, brown also conveys authority and power, which makes it suitable to those in higher positions. Yet, the brown color also brings a sense of cordiality, so you will appear more approachable to the people.
For a casual office setting, a tan briefcase would be a perfect choice. This is basically a lighter brown shade that exudes a more relaxed attitude but still conveys power and authority.
As you can see, the culture of your work environment is an important factor to consider when it comes to the color of your briefcase. Are you working in an office setting with a more casual vibe? Or are you working in a more formal office setting?
If your work requires you to wear formal business suits, a black briefcase is more appropriate. On the other hand, if your office setting is more casual, then opt for tan or a lighter brown hue.
As much as possible, avoid choosing a briefcase that has more than two different colors. Also, don't go for those briefcases where the color of the stitching contrasts the color of the briefcase itself! These might look attractive and stylish to you, but they are somewhat tacky and won't go well in a business environment.
The Most Important Thing is to Choose High-Quality Leather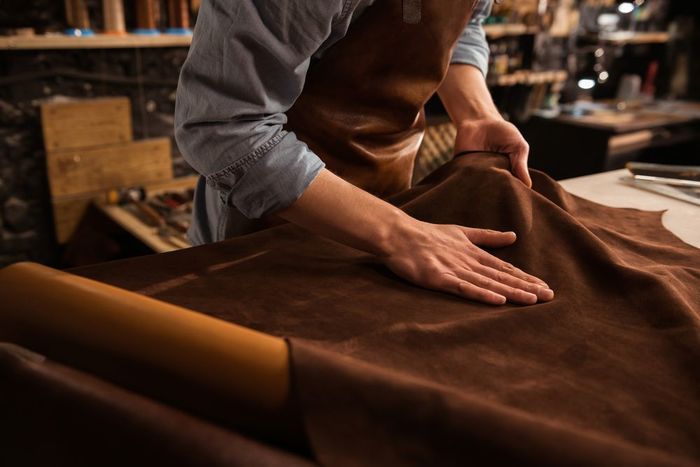 Whether you're going for black, tan, or brown, always choose briefcases that are made of high-quality leather materials. Aside from being durable, leather is highly resistant to dust, dirt, and stains. It looks very stylish as well and will remain looking good even after many years of use!
(TIP: How to Tell Leather Quality)
But not all leather briefcases are durable. Therefore, you have to also carefully check the quality of the leather material. Those that are made from genuine cow leather have a soft and supple texture. Others are made from leather materials sourced from snakes and crocodiles. These materials have more textures and patterns than cow leather, however are illegal in a lot of countries.
Final words
The color of the briefcase will usually depend on the buyer's personal preferences. Although black, brown, and tan are the most common colors for briefcases, you can also go for blue, gray, and even white! Just make sure that the color will match with your work environment and the color of your business suit. Here are some of our best selling leather brifecases:
Hope you enjoyed the read. Join our family by subscribing to our newsletter and follow us on Facebook and Instagram.