When it comes to messenger bags, size does matter, but the decision of size is based on you. If you need a bag to carry your laptop, work files, and much more, then it might not be a smart idea to keep it small. However, if you're tight on space and aren't bringing too much with you anyway, then don't waste it all on a large messenger bag. The size of the messenger bag comes down to what works best for you, so there are a few bits of information you should note before buying a messenger bag. Anything from the use of the bag to the style of commute will have an impact on which size will work best for you. Below you will find some tips for choosing the best messenger bag for you and put the question of "what size messenger bag should I get" to rest.
[Good Read: Are Messenger Bags for Guys?]
Decide What You're Using the Bag For
This might be the biggest factor that goes into your choice. If you're using the bag for small essentials throughout the day, then you might want to go with a smaller bag size. However, if you're bringing objects like a laptop along with you, then you'll want a messenger bag that fits your device. We recommend measuring the screen size – bottom left corner to top right corner – and choosing a messenger bag that can accommodate your device.
For a more detailed information regarding laptop bags, please read our guide to What Size Laptop Bag Should I Get. It partially answers the very question you are asking right now regarding the size of a messenger bag. And trust us when we say it, that every messenger bag can be a laptop bag, while not every laptop bag can be a messenger bag. Therefore, you will surely get something out of this article as well.
This will also help you choose the type of messenger bag you pick as some messenger bags are designed for specific uses. One example is a camera messenger bag: if you're bringing along camera gear and are looking through messenger bags, we recommend going with the product that is built for your camera. Some bags have specific uses and some sizes accommodate those uses best.
You also need to consider the presence of cushions inside. Some come as naked as a baby to the world, while others are well cushioned with specialized pockets and compartments. Therefore deciding what you are using the bag for is a crucial first step before making the final purchase decision.
How is Your Commute?
You could be limited based on how strenuous your commute is. If you're biking to and from work each morning and evening, it might be beneficial to get a smaller messenger bag that can handle the ride. Some large-sized bags might work well on a bike ride, but more often than not we recommend keeping the larger bags for when you're walking, driving, or on public transportation.
The best way not to screw up while purchasing one is to follow the reviews of other users. If you are new to the messenger bag game, then you might make a few mistakes along the way. Therefore, unless you are exactly sure of what you are looking for and what your needs are, check out out two best-sellers when it comes to messenger bags.
A Midsummer Night's Dream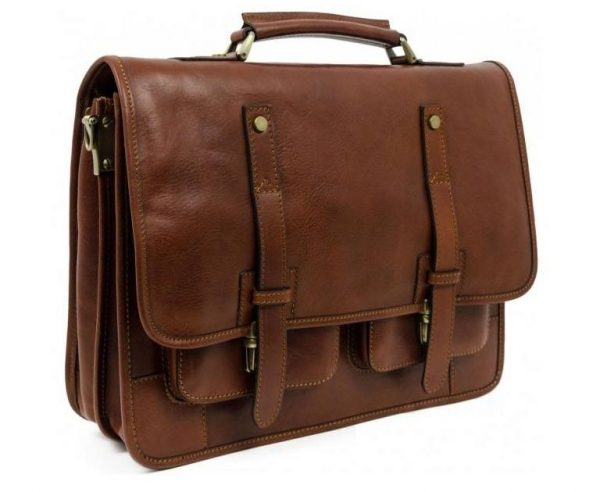 A Midsummer Night's Dream is by far one of our most popular models in general. While it contains "briefcase" in the title instead of a messenger bag, it is the definition of a messenger bag by its practicality, appearance and awesomeness. What makes it that special is it's transformational capabilities. This beautiful bag can be turned into a backpack in the matter of seconds, thus expanding your wearing possibilities and maximizing user experience. Made of the full grain leather, our Midsummer Night's Dream is as great as any leather bag can get. This bag would literally cost thousands of dollars if any of the big brands would put it on the market. That's why it's the smart decision to give little guys like ourselves a chance, because we don't charge the premium for our name.
Price: $487.50
Features:
Made of full grain leather
Interior covered with textile
Turns into a backpack
Enough room to fit a laptop up to 14″
Padded pocket for a tablet or a smaller laptop
Specialized pockets for smartphones, pens and cards
Two carry handles for comfortable carrying experience
Detachable shoulder strap
Two large compartments and an inside zip pocket
Perfect for A4-sized folders and documents
One outside zip pocket
You can get it here
Illusions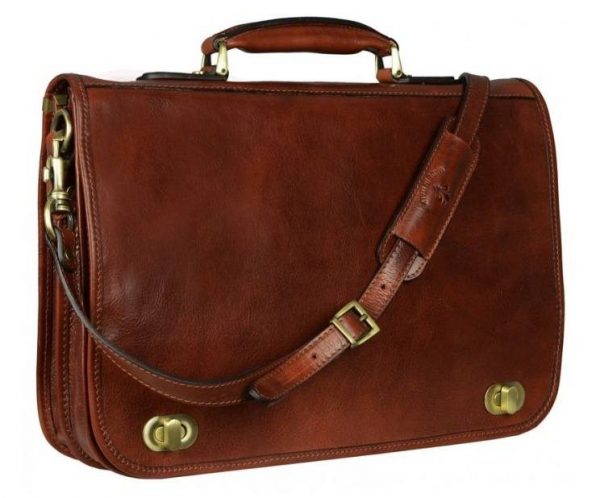 Illusions is one of our best-sellers bringing only the best reviews. We have not encountered an unhappy customer who purchased Illusions messenger briefcase. It is a very practical bag not containing any unnecessary or excessive features. Everything was calculated to the last detail making it an affordable, super long lasting and beautiful messenger bag. Interior is covered with leather, actually further prolonging its lifetime. A top handle, turning this otherwise a pure messenger bag into sort of relaxed-style briefcase, is perhaps what makes it that popular. Given it's price, it's really a no brainer to give this bag a chance.
Price: $281.25
Features
Made of full grain leather
2 main compartments
Enough room to fit a laptop up to 15″
Padded pocket for a tablet or a smaller laptop
Specialized pockets for smartphones, pens and cards
A carry handle for comfortable carrying experience
Detachable shoulder strap
Multiple pockets outside and inside of the bag
Two compartments for best comfort and organization
Perfect for A4-sized folders and documents
One outside zip pocket
Twist-lock closure
You can get it here
Benefits of Each Size
Large
This is the category where most messenger bags will fit. If you're carrying a laptop or textbook of any sort, then a larger messenger bag will be a smart choice. They offer you more space for more items and are perfect for bringing good books along with you, even when you're not in school or going to work. All of the messenger bags contain comfortable shoulder straps, therefore a big size will not be too much of a burden to carry along.
You might expect to fit a laptop as large as 17″ or 18″.
Medium
Smaller bags, like laptop bags, that can only fit a medium-sized device and some notebooks are likely to be classified as medium. You won't be able to bring your larger laptop and some textbooks, but you might be able to fit one depending on the size. These are slimmed-down, thinner versions of the large bags which are perfect for storage and easy transportation of similar items.
You might expect to fit a laptop up to 13″ or 14″. Don't expect for more.
Small
These are the perfect bags to bring along with you on a plane or tight mode of transportation, when all you need to bring along is your passport, wallet and some tiny paper stuff. You can fit a few of the essentials and look elegant or stunning while doing it. Small bags offer all of the fashion of a typical messenger bag but are limited to the essentials of the day.
You should not expect to fit in any laptop inside, but with certain models you might expect to fit a tablet such as iPad.
Final Words
So, what size messenger bag should I get? If you are honestly putting this decision on us, then we would bravely say a large one. After all, we are not talking about travel, duffle or sports bags. We are merely talking about messenger bags, and they are gigantic in any way. Because the large one will give you more freedom along the way. You don't know when will you need to upgrade your laptop to a bigger one, and having to change the bag just for that reason would be somewhat silly. So, in order to avoid any future regrets, get one of the two mentioned above and you will be golden.
We will even throw a discount of 15% so you could truly take advantage of them. The code is: bestmessenger.
If you enjoyed reading the article, please follow us on Facebook for more cool info and pictures.